German bobsleigh pilot punished for lending equipment to Russian Olympics champ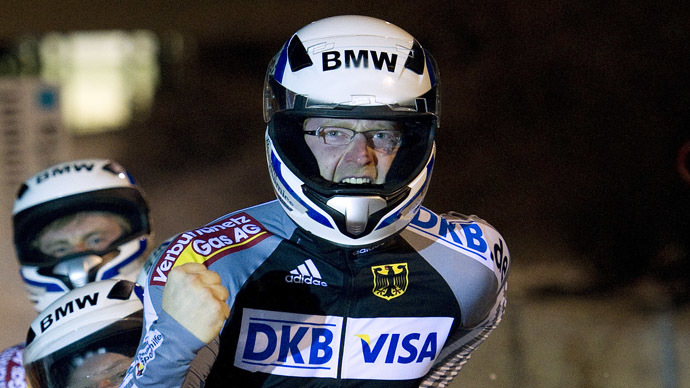 Germany's bobsleigh federation has banned former world champ Manuel Machata from racing for a year and fined him 5,000 euro for lending his equipment to Russian athlete Aleksandr Zubkov, who won two gold medals at the 2014 Sochi Games.
Machata disagreed with the ruling and will appeal once the German Bobsleigh Luge and Skeleton Federation (BSD) provides the reasons behind the decision in writing.
The story has also sparked criticism on the internet, with Machata's supporters launching an online petition to defend the German athlete's "absolutely fair gesture."
Machata, 29, who won the 2011 World Championships as part of Germany's four-man team, did not qualify for the 2014 Winter Olympics.
The athlete lent his private set of bobsled runners to Zubkov for a fee ahead of the Games in Sochi, where the Russian athlete brought his country two-man and four-man golden medals. Germany, which for years had one of the strongest bobsleigh teams in the world, left the Games with no medals for the first time since 1964.
Machata was banned from racing and fined 5,000 euro for causing "great damage" to the interests of the BSD, according to Inside the Games website. The federation did not place blame for the poor performance on the lent sleds, but said the issue was important in preserving the "national interest" of the team.
"Of course we are aware that sleds were traded internationally in the past," said BSD President Andreas Trautmann, adding that he had always been critical of such a practice.
The federation will use the Sochi Games as a chance to set clear rules for German athletes, the BSD head said. "This relatively harsh punishment against Manuel Machata should be a first step in order to preserve national interests," Trautmann added.
Meanwhile, the Russian triumphant athlete said he used his own sleds at the Games. Besides that, many other teams – including Canada, the UK, and Latvia – had similar equipment.
"When the Germans win, everything is ok," he told R-Sport website, commenting on the ban for Machata.
Zubkov said his team's victory was not because of the sleds, but rather because of hard work and an excellent performance.
"We did what we had to do at the home Olympics," he added.
Machata also agreed that the performance is at the core of the success - not the sleds. In an interview with Spiegel Online, he said he believes the BSD's decision was "unfair," since it should have established clear rules from the beginning.
The measure taken against Machata may raise an eyebrow, given the fact that the Russian Olympic skiing team helped their German rivals by giving them equipment needed to prepare their skis.
"I and we all in our team have never experienced such a special situation, such a kind of fair play," Alphonse Hermann, president of the German Olympic Sports Union (DOSB), told RT back in February.
You can share this story on social media: