Libyan forces clash with militia at Tripoli airport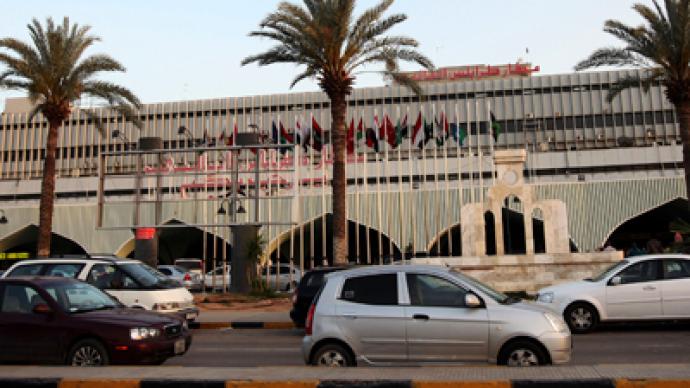 Thirty militiamen who had taken over Tripoli airport have been arrested following an operation conducted by around 5,000 Libyan security officers to regain control of the facility.
The armed assailants were demanding the release of their leader, who they allege had been detained by Libyan security forces on Sunday, and was being held at the airport. The militia men occupied the airport's runway on Monday, storming it with heaving machine guns and armored vehicles and positioning a tank outside. The group known as the al-Awfea Brigade escorted passengers to cars, telling them an evacuation was being conducted, CNN reports.More clashes broke out as militia groups from Tripoli, as well as the mountain town of Zintan, arrived at the airport to try to get the al-Awfea Brigade to leave.Black smoke was later seen billowing over the runway and sporadic gunfire was heard throughout the area.All flights into the airport were diverted to the military Mitiga airport, which is located 8 km east of the Libyan capital. All outbound flights were canceled.One Italian passenger who was due to fly out and later arrived at a Tripoli hotel described the situation as "chaotic.""There were about 200 of them who came into the airport, they were armed. We were waiting to board our flight and we could hear noises, people shouting," he told Reuters.The government sent emissaries to meet with the armed group, and there were reports of a deal under which the government would release the arrested militia leader in exchange. There appears to be some disagreement over whether the Awfea leader had actually been arrested.A spokesman for the ruling National Transitional Council said the kidnapped Awfea leader, Col. Abu Oegeila al-Hebeishi, had been detained by the Tripoli Security Committee last night for reasons he did not know. He was reportedly traveling from the al-Awfea Brigade base of Tarhouna, a medium-sized town located 65 km south of the capital.However, officials in the Libyan government later determined that al-Hebeishi had not been arrested, the country's labor minister, Mustafa A. Rugibani said. Rugibani also questioned whether news of the leader's alleged arrest was a ruse by the militia to create a pretext for the airport takeover.Militia members at the airport countered that claim, saying they would leave the airport once their leader was set free.Tarhouna's dominate tribe, also known as the Tarhouna, were favored by toppled Libyan leader Muammar Gaddafi and held many posts in the country's military under his rule. Tarhouna locals are viewed with suspicion by former rebels who fought to topple the Gaddafi regime.Bloody tribal clashes in the southern city of Sabha left 150 dead in March before authorities were able to negotiate a ceasefire. The previous month, violent clashes in the south-eastern district of Al Kufra claimed more than 100 lives.Libya's National Transitional Council (NTC) has struggled in recent times to rein in disparate tribal forces which fought on both sides of last year's civil war.Vijay Prashad, director of international studies at Trinity College and author of "Arab Spring, Libyan Winter", believes there is no stability and security in modern Libya. "The actual fights over the airport didn't just begin yesterday. There has been a series of clashes over the airport over the last several months," he told RT "The one that took place yesterday was around the town of Tarhouna, which is about 65 kilometers south-east of Tripoli. In Tarhouna, there is a very big divide between a section that looks back favorably to the Gaddafi regime and another section that is disposed to the current government in Tripoli. What happened yesterday was that one of the chiefs of an armed battalion, the al-Awfea, was arrested or kidnapped. The first story said that Mr. Hebeishi had been kidnapped. Today it seems that he has been arrested. And as a consequence of his kidnapping or his arrest – again it's not very clear what has happened to him – his supporters seized the airport." Prashad stressed that there was a great deal of jockeying for power and influence going on in Libya. "Given that the current government hasn't created any pathway for dialog and negotiations, and has just attempted to bumble through the present, it seems that this kind of conflict is not going to end very soon," he said.
You can share this story on social media: