Barcelona is London's new 'affordable suburb', blogger calculates
Published time: 31 Oct, 2013 13:07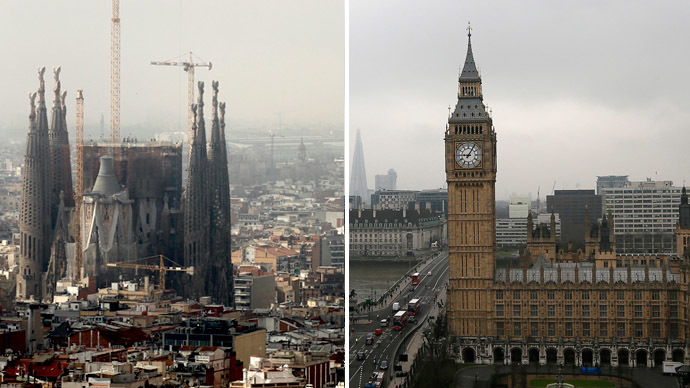 As housing prices skyrocket in the UK, it turns out cheaper to commute to London from Barcelona than to live in the English capital. What started as "a bit of fun with friends" has spiraled into a social media sensation for British blogger Sam Cookney.
Cookney made the calculations taking into account the cost of commuting by plane to London from Barcelona and the rental of a flat in the Catalonian capital. The blogger worked out that over a period of four days that he would save 330 pounds (US$530) if he lived in Barcelona.

"This still leaves me with 387 euro free compared to my London life, with which to enjoy fine bottles of 5 euro Rioja on one of my three balconies," wrote Cookney on his blog.

To start with, Cookney picked comparable areas in the center of both cities – upmarket Les Corts in Barcelona and London's West Hampstead. He worked out that a flat in West Hampstead would cost 1,505 pounds ($2711) each month, while a three-bedroom apartment in Les Corts would set him back a mere 680 euro ($938).

Cookney then factored in daily flights to and from London from Barcelona with low-cost airline Ryanair, which came to around 34 euro a day ($47). Moreover, he also included the price of a London travel card and transport to and from Stansted Airport to the north of London.

Blogged: It's cheaper for me to rent 3 bed flat in Barcelona and commute daily than rent London 1 bed http://t.co/zNwUhyPYam

— Sam Cookney (@Sam_Cookney) October 24, 2013
Addressing criticism about the accuracy of his calculations, Cookney told the Local that it was never a serious idea.

"I'm not seriously suggesting that people start commuting between London and Barcelona, and I'm not about to start doing it either," said Cookney, adding he just wanted to draw attention to "how property prices in London are not sustainable."

House prices in the British capital have soared since the onset of the economic crisis. Prices have grown by 5.8 per cent since this time last year, according to a survey by Nationwide Bank.

"The acceleration in house prices...will fuel concern that we could be on our way to a new housing bubble," Howard Archer, the chief UK economist with IHS Global Insight, told the BBC.

He forecasts that the inflation on housing prices could reach 8 percent by 2014.