British MPs want 11% pay rise, but refuse expenses cut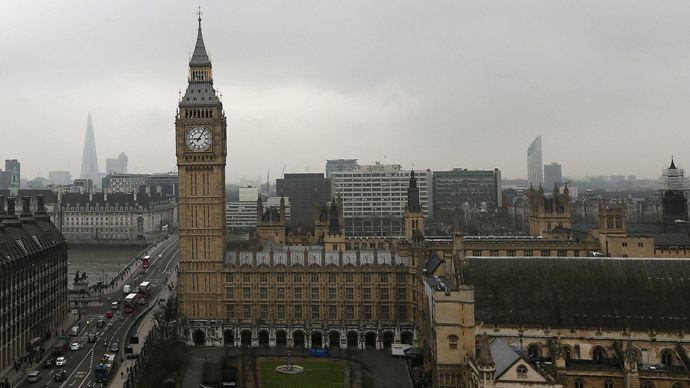 UK politicians are resisting a proposal by a watchdog to raise their salaries by 11 per cent in exchange for their expenses. MPs want to cling onto their perks which include hotels, free tea and biscuits and the installation of TVs in second homes.
The Independent Parliamentary Standards Authority (IPSA) has proposed a wage increase of £7,000 ($11,289) for members of parliament on the condition they sacrifice their tax payer-funded allowances. The 11 percent raise would boost politicians' salaries to £74,000 ($119,000) a year.

The IPSA found that last year the expenses cost UK taxpayers £161,000 ($260,000) which works out at around £250 ($400) per MP just for those perks the authority considers excessive.

The perks that MPs currently enjoy include:


£15 meals when parliamentary debates continue after 7pm
Free tea and coffee
Free accommodation in London hotels before 1am
Insurance for a second home
Installation of a television in a second home
Free taxis home
However, MPs have dug their heels in and complained that professionals such as doctors, lawyers and policemen claim expenses and therefore MPs should have the same right. They believe they should be compensated for "regular unsocial hours or residence away from home."

"We find it hard to believe that employers in other sectors would expect their employees to wait until 0100 before booking a hotel," said an official letter by parliamentarians to the IPSA.

As for the ban on the installation of a television in a second home, MPs strongly opposed the idea, maintaining that they need to be informed and "consider access to media and the Internet when residing away from home is a legitimate business expense."

The 11 percent pay rise is likely to go through in the coming weeks, despite resistance from the country's leaders.

"MPs' pay is a matter for IPSA. The prime minister's view is that the cost of politics should go down, not up," Prime Minister David Cameron's spokesperson told reporters Tuesday.

Given the current economic downturn, the UK government could face protest if they are seen to be increasing politicians' salaries.

'Deepest recession since WWII'

The financial crisis has hit the UK hard, with a recent survey by the Institute for Fiscal Studies claiming it is embroiled in the worst recession since WWII.

Between 2010 and 2011, 70 percent of employees who stayed in the same job faced real wage cuts, while one-third of those workers faced nominal wage freezes or cuts (12 percent experienced freezes and 21 percent had their wages cut).

In addition, the financial pinch has increased the number of UK children living in relative poverty by 1.5 million since the 1960s. A report titled "Great Expectations," by the National Children's Bureau, revealed that now 3.5 million children were living below the breadline.

In response to worsening living conditions in the UK, the Red Cross has begun formulating an emergency food aid plan to help the country's most needy. The is the first time it has carried out such an initiative in the country since WWII.

You can share this story on social media: