Police arrest four suspected terrorists in armed raids across London
Published time: 14 Oct, 2013 13:54
Edited time: 14 Oct, 2013 21:26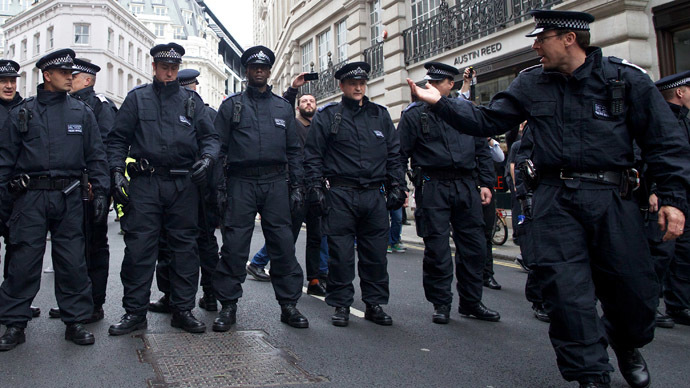 London's Metropolitan Police and the UK's secret service, MI5, announced Monday that had foiled a planned terrorist attack after arresting four men in the city at gunpoint.
The men, who had been under surveillance by police and MI5 for some time, were arrested under the Terrorism Act 2000 on suspicion of commissioning, preparing and instigating acts of terrorism.
Two men were arrested in Mansell Street on the edge of the City of London, near the East London Mosque, while one man was detained at a house in upmarket Westbourne Grove in west London and the fourth in Peckham Street, in a working-class area in southeast London. The arrests were coordinated and all took place at 7:10 pm GMT Sunday.
All the men have been taken to a south London police station, while six premises across the capital were searched.
The four men were planning a shooting-spree assault similar to the recent attack on Kenya's Westgate mall, an anonymous official told the Associated Press.
The official said exactly how far along in planning the men were remains unknown, though any attack was not imminent.
Metropolitan Police said the men were all British nationals between age 25 and 29, and that they had roots in Algeria, Azerbaijan, Pakistan and Turkey.
As most police officers in the UK do not carry guns, the use of armed officers for the raids raises the possibility that the police were looking at a possible plot to target the public with guns or explosive devices.
A man who spoke to the Telegraph, but declined to give his name, said that "quite a scene" had unfolded as he was walking past the Westbourne Grove arrest in the affluent Notting Hill area.
He said "there was quite a lot of police" and the men being arrested were "up against the wall" and "looked white."