Caught on dash cam: Lightning hits mother and her child on highway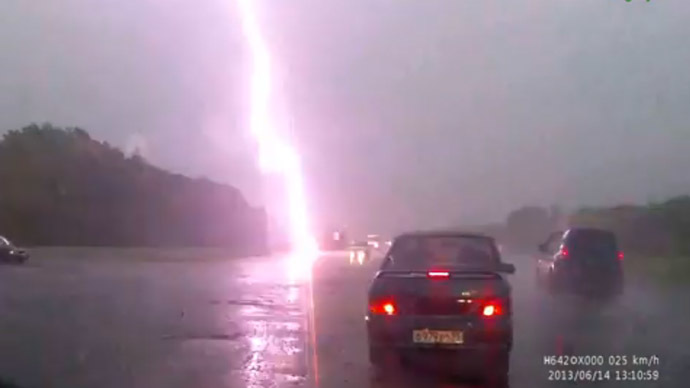 A mother and her little daughter have been struck by a lightning bolt in south-western Russia as they we hiding under their umbrella, with the shocking scene captured by the dash cam of a passing car.
The twenty eight year old mother of two Tatyana Makhneva and her daughter Aleksandra, aged 6, were quietly walking along the road  in Troitskoe village in the Omsk region when a brilliant flash split the sky.
The lighting falling to the ground struck their umbrella, the victims losing their consciousness.

"I walked a few meters away from them. The woman was holding an umbrella, the daughter was walking by her. There was a heavy downpour. Then there was a bright flash, and they were already on the ground, - a witness told Life news tabloid. "We ran to them and wanted to call an ambulance, but could not do it immediately – due to bad weather nobody's cell phone worked."
According to the owner of the dash cam Aleksandr Shachnev who uploaded the video to YouTube the child sustained burns all over her body and the woman's legs were covered in burns up to her knees.
Shachnev said that "the police and medics were there in fifteen minutes." At the moment when the mother and daughter were being taken away by ambulance, they came to their senses.
Both sustained 25 percent body burns and are in a serious condition, medics say. The mother is in intensive care while the child has been placed in a coronary unit.