Giant sinkhole swallows three buildings in central Russia (VIDEO)
A sinkhole measuring nearly 85 meters wide and 15 meters deep engulfed three houses in a town outside Russia's fifth-largest city Nizhny Novgorod as some residents of the small village were slumbering.
One of the houses in the town of Buturlino was completely demolshed. Residents managed to escape the building a few minutes before it literally collapsed like a house of cards on Wednesday night.

"I just barely left the house as everything around started to collapse," Aleksey Ionychev told Russia's Channel One.

"I looked and saw a poplar, 15 to 20 meters high, went under the ground and straight away I heard loud sounds of water running, like a waterfall, and then saw a 10 meters crater," the man said. "It's good that we are alive, but the house was new and everything we had, so to say, we lost. The house was not insured and of course no one cares about it."  

Initial reports suggested people were injured in the incident. However, it was later confirmed that no one sustained traumatic harm. "Information about dead and injured that appeared in media is not true,"  the head of the local administration Nikolay Chichkov told Rossyiskaya Gazeta.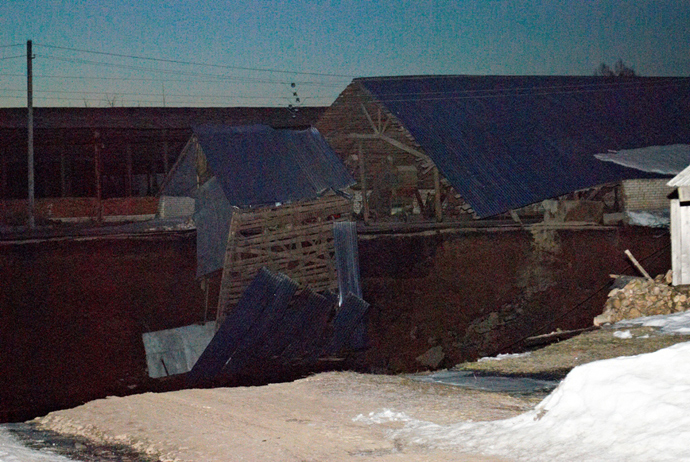 Thirty-three residents of nearby areas have been immediately evacuated. There were no people in one of the collapsed buildings, while the third damaged building was used for grain storage.

The Ionychev family reportedly moved to their relatives' house, along with other residents.

According to Chichkov, the sinkhole not only demolished the three buildings, but also caused ruptures in electricity and gas utility lines. By the afternoon, gas utilities and power had been restored. The sinkhole remains cordoned off by emergency services.

The reasons behind the accident have not been made public so far. "There is a version that the sinkhole was caused by subterranean waters, which rose due to snow melting," the regional head wrote on his blog.

Some experts also pointed to a railroad some 90 meters away from the place of the accident.  However, trains are still passing the scene, though they have been forced to slow down to 60 kph.  

The town of Buturlino, with a population of 6,500, is some 120 kilometers southeast of the city of Nizhniy Novgorod in central Russia. According to the 2010 census, Nizhniy Novgorod is home to over 1,250,000 people.

You can share this story on social media: