Libyan Assembly votes in favor of sharia law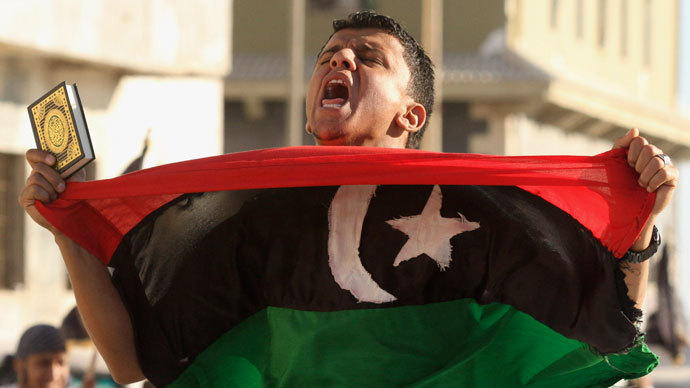 Libya's national assembly has voted in favor of making sharia law the basis of all legislative decisions in the county, meaning the Islamic legal framework will inform all future banking, criminal and financial cases.
"Islamic law is the source of legislation in Libya," stated the General National Congress in a statement released shortly after the vote was held. "All state institutions need to comply with this," it said.

The process by which the new sharia law system would be implemented was not immediately clear, but a special committee will review all existing laws to ensure their compliance with Islamic law, according to Reuters. The move came shortly before a separate vote to establish a 60-person committee which will be responsible for drafting the country's new constitution. 
Sharia law – the moral code and religious law of Islam –  is dissimilar to Western 'codified' law in that its moral and legal guidelines are looser. Its rulings are based on the Koran, the sayings of the Prophet Mohammad and Muslim traditions. In its strictest form, it is perceived to be the divine will of God. 
Although the sharia law is going to be the source of legislation, it is not actually becoming a law itself, Stephen Brown, contributing editor to political web portal "Front Page Magazine" pointed out.
"It is simply going to be the source of legislation, there's a real distinction there," Brown told RT, pointing out that a major part of Egyptian legislation, for example, is based on Islamic law. "Sharia law is not becoming the law of the country. So some of the parts are going to be left out or not going to be applied, probably beheadings and stoning, and that kind of thing, the stricter parts of it."
"I think it's a measure designed to appeal to conservative Muslims, to make them support the government," he added.

However, the move could have a very dangerous effect on the whole region, defense consultant Moeen Raoof told RT.

"It's extremely disturbing and dangerous if they implement this," Raoof, said. "I remember the revolutionary Muammar Gaddafi warned about this sort of steps being taken especially by people in Benghazi. And now it seems they've got a strong hold over the so-called government and are imposing their version of Wahhabi laws on the country which was a secular state mostly, and was surrounded by secular states."

The country remains in a chaotic transition period after the NATO-backed ousting of Muammar Gaddafi two years ago. Libya's administrative and security structures remain fragile, with the most recent escalation happening on November 15 when 46 people were killed in the Libyan capital.
You can share this story on social media: