Militia gunmen besiege Libyan Foreign Ministry, demand resignations (VIDEO)
Armed militia laid siege to Libya's Foreign Ministry, demanding the ouster of diplomats who held high-ranking positions in the Gaddafi regime. With the rebels gaining the upper hand, the new government is still unable to bring peace to Libya.
On Sunday morning, about 200 militiamen with AK-47 assault rifles and sniper rifles blocked the entrance to the Libyan Foreign Ministry in Tripoli, AP reported. The gunmen arrived at the scene in over 30 pickup trucks, some armed with anti-aircraft guns, giving them considerable firepower superiority over police and government forces .
They directed all street traffic away from the Ministry's buildings and voiced their principal demand: That former Gaddafi's officials be banned from holding senior positions in the Ministry. Reportedly, they have not entered the Ministry complex.
Negotiations with the gunmen are continuing, as their demand to sack key foreign service officers in Libya's embassies and consulates abroad could paralyze the Ministry.

Armed groups also tried unsuccessfully to storm the Ministry of Interior and state news agency, Prime Minister Ali Zaidan said.
"These attacks will never get us down and we will not surrender," he told the assembled media, Reuters cited.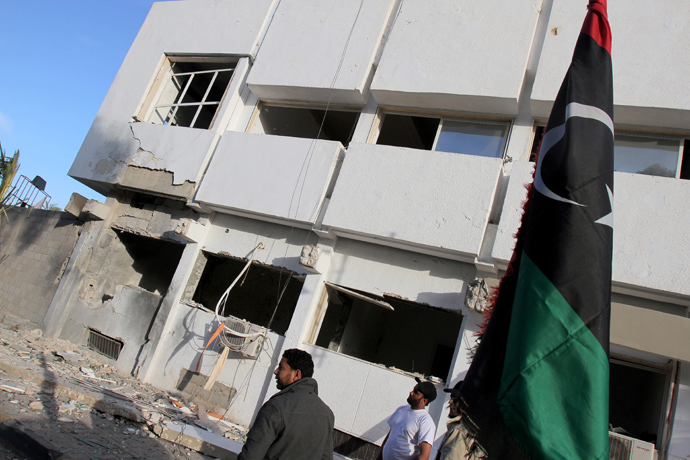 A year and a half after the overthrow of longtime Libyan dictator Gaddafi, the new regime continues to fail to stabilize the war-torn country. The internationally backed rebellion that ousted Gaddafi has given way to armed groups entrenching themselves and seizing power across Libya. This ultimately led to a spiral of violence.
On September 11, 2012, Islamists associated with the Ansar al-Sharia extremist movement stormed the compound of the US Consulate in Benghazi, killing US Ambassador Chris Stevens and three other American citizens. The death of Stevens became the first incident of a US ambassador being killed by violence overseas since 1979.
In more recent developments, a bomb went off near a police station in the second-largest city of Benghazi early Saturday, seriously damaging the building; no one was harmed in the attack. A week earlier, gunmen freed a number of suspects in a raid on another police station in the city. In early April, a similarly successful raid took place in Tripoli.

You can share this story on social media: