Russians regret leaving Libya, hope to return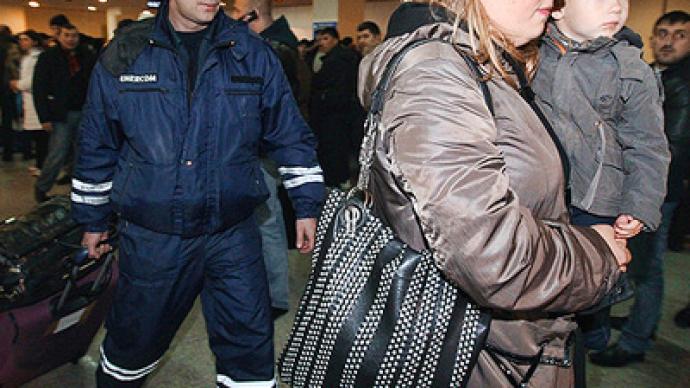 As tens of thousands are fleeing Libya, the international Red Cross has declared a humanitarian emergency on the country's border with Tunisia.
Meanwhile, hundreds of Russian citizens evacuated from Libya have been describing the scenes they saw as chaos erupted around them.Propelled by fear, held back by doubt – many of those who boarded the last Russian emergency plane from Libya did not want to leave, but then decided it is better to be safe than sorry.A sub-contractor for Gazprom, Alexey Gilev, says he has never cared much about Libyan politics. But that was until arguments were replaced by guns."It's equally dangerous [to be on either side of the conflict in Libya], because the regime suppresses its people with guns… And people got tired of the old regime," he said. "They get the guns and they just don't feel any responsibility when they start. And when they start it doesn't really matter whether it is a friend or foe."For years, it was a mantra for many foreign companies: ignore Gaddafi's quirks and you will be rewarded in oil revenues. But as Libya slips closer to civil war, this logic no longer seems bullet-proof. Yet even on the Russian plane, there were some who said that the grim predictions were blown out of proportion.Antonina, who has worked in Libya for 20 years, says she already regrets the decision to flee:"All those reports by Al Jazeera and other Arab-language channels cause sheer panic among the people. Nobody is attacking in Tripoli. There is no shooting. Yesterday I could easily go to see my friends. All the young people are supporting Gaddafi. Hospitals are working as usual, as are all the people. Banks opened today – everything functions. People want to live as they can."Yet, with the country awash with firearms, the current lull in violence increasingly looks like the calm before the storm. That is why Tripoli Airport is now busier than ever, with countries scrambling to pull their citizens out.Colonel Gaddafi is known to pride himself on being a shrewd negotiator, and it shows even in the way the evacuation of foreign nationals is being carried out. Over the past week, the government fee for servicing planes at the Tripoli Airport has more than tripled to more than US $80,000 per plane. Considering that expatriates used to make up about 20 per cent of the country's labor force, the flight from Libya is proving to be a very good source of cash.With fewer than 2,000 of its residents caught up in the unrest, Russia managed the evacuation fairly easily. Other countries did not fare so well.The Egyptian uprising may have inspired Libyans, but it also left thousands of Egyptian guest-workers stranded at Tripoli airport with very little, if any, assistance from their state.A few years ago, many countries raced to Libya, where oil reserves are the largest on the African continent. Nowadays, even more frantically, they are trying to get out. But for those fleeing the violence, it is just the matter of time before they return.
You can share this story on social media: