Foreigners leave Libya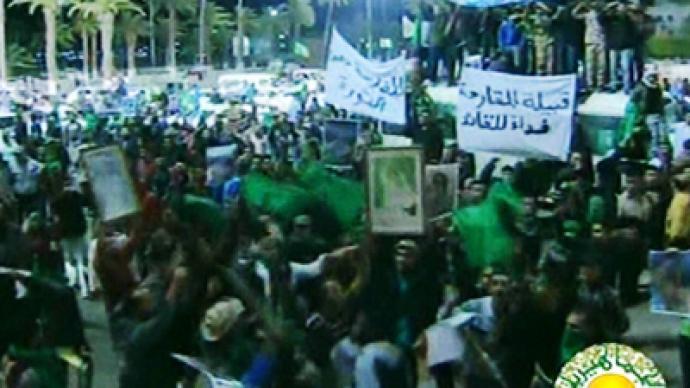 Several European countries, including Russia, are sending special planes to bring their citizens back home from the latest troubled North African country, Libya.
Russia has dispatched four planes to evacuate its nationals from Libya. The first plane for Libya has already departed.The airspace over Libya remains closed. Meanwhile, according to Interfax news agency, Russian Ambassador to Libya Vladimir Chamov has said that the authorities have given permission to Emergencies Ministry planes to evacuate Russian citizens. Emergencies Minister Sergey Shoigu asked the Russian Embassy in Libya to assemble all those who require evacuation in Tripoli.Earlier the Russian Emergencies Ministry said they plan to evacuate 1,263 people – of those, 563 are Russian citizens working in Libya, and 700 are Turkish and Serbian citizens working for the Russian Railways (RZhD) company. Ever since Libya was open for investments in 2008, there have been a number of high-tech investment projects. One of the biggest is the Russian Railways high-speed railway link that was due to be finished in 2012. Russia's Gazprom also signed a deal just last week with an Italian company to jointly work on an oil field. The majority of those who require evacuation are in the cities of Ras Lanuf, of Sirt, and in Tripoli. The Emergencies Ministry is going to resort to using a ferry to evacuate people from Ras Lanuf. From Tripoli people will be evacuated by planes, and from Sirt, both by planes and by ferry."Obviously, Russian nationals should be evacuated. The Emergencies Ministry has been quite successful in carrying out evacuations under such circumstances," Russia's former ambassador to Libya, Aleksey Podtserob said. "It's hard to predict what the current situation in Libya will lead to. There's one common reason for such revolts across the Arab world – it's the emergence of a new generation who are better informed, who have been brought up by television and to some extent by the internet, and who are ready to take responsibility for the country's fate."The Russian response to the turmoil in the Arab world is remarkably different from the approach taken by Western countries, especially the US pro-democracy rhetoric.At a security meeting on Tuesday, President Medvedev dwelled upon an issue of the real danger of political instability throughout the region of the Middle East and North Africa, saying that newly-appearing governments may not be capable to run a modern democracy."The situation in the Middle East and the Arab world is extremely difficult. In some cases we could witness the disintegration of big and densely-populated countries. Those countries could shatter into pieces," said Medvedev. "But the thing is the situation there was quite complicated before, and now there is a possibility that religious fanatics could seize power. That would set the region on fire for decades to come and would spread extremism further. The extremists prepared such a scenario for Russia before and they could try and make it a reality now, but they definitely won't succeed," claimed the Russian president.In a statement on its website, Russian Foreign Ministry has called for an end to the violence in the country, and for political dialogue.Foreign Minister Sergey Lavrov has warned Western countries that revolution for the sake of revolution can be counterproductive. He urged Western countries not to interfere in the region's internal affairs.Meanwhile, Europeans living and working in Libya are also leaving the oil-rich state. Portugal says it has sent a military plane to the capital. European companies have started the evacuation of thousands of their staff. British energy giant BP and Italy's ENI and Finmeccanica have already sent planes to Tripoli to evacuate their employees.International media is putting the death toll in Libya at well over 800 since Thursday. Protesters are urging the country's leader Colonel Muammar Gaddafi to step down.Members of the Libyan mission to the UN have called on the Security Council to intervene and help "stop the genocide" which they have said is being waged by Colonel Gaddafi's regime against the Libyan people."This is in fact a declaration of war against the Libyan people," the deputy permanent representative, Ibrahim Dabbashi, told reporters. "The regime of Gaddafi has already started the genocide against the Libyan people." The Libyan mission claimed hundreds had died in the first five days of the uprising in Libya, as live ammunition is being used in mass shootings of demonstrators.Libya's ambassador to India, who has already resigned, told Reuters that a fighter aircraft was used to bomb civilians in Tripoli."I call on the five permanent members of the [UN] Security Council. Now is the time to be fair and honest to protect the Libyan people," Ali Al-Essawi said. "Libyans cannot do anything against the air fighters. We do not call for international troops, but we call on the international community to save the Libyans."Meanwhile, Gaddafi appeared on state television for 40 seconds on Tuesday night, saying that he is in Tripoli and still in charge. In his brief speech, Gaddafi denied that he had fled the country and called on people not to believe the mass media on the issue.
Events that are taking place in Libya have a stark resemblance to what happened in Tunisia and Egypt, except there has been seen a much more violent response from the government. Former UK ambassador to Libya Oliver Miles says Gaddafi is so confident in using force against his people because he is a very different character from either Ben Ali or Mubarak."I wasn't surprised by the way he behaves. He's never been prepared to accept any idea of genuine opposition inside Libya. He's always accused anyone who opposes him of being – well, now it's on drugs, but before it always was in the pay of the imperialists or something," said Miles."He just can't get his head round the idea that there are people in Libya who would like to see a change, and that change means getting rid of him," he added.
Michael Klare, professor of Peace and World Security studies at Hampshire College, believes in the case of Libya it is too late for the Libyan Government to resolve the conflict peacefully, reassure its people and reinstate confidence in them and the economy. "In the case of Libya it's too late, because the government has used force to kill their own citizens. Once you do that, you cross the threshold and there's no going back. In the case of Egypt, when the military announced they weren't going to fire on the protesters, that opened the way to a peaceful transition which we have so far seen in Egypt. I think that's the crucial factor – avoiding conflict," said Klare.
The recent events in Libya have already pushed oil prices to a two-year high, and could possibly push prices even higher, as things stand.The recent rise in oil prices in the last few days can be explained by companies trying to foresee the potential risks, rather than by actual disruptions to supplies, believes financial adviser and wealth expert Marco Pietropoli."Of course, where the markets are looking forward and see, what if this spreads, and there's contagion, and what if oil supplies are disrupted. And this could keep oil prices high for some time to come."
You can share this story on social media: