All sides in Libya should focus on peace – Russian Foreign Minister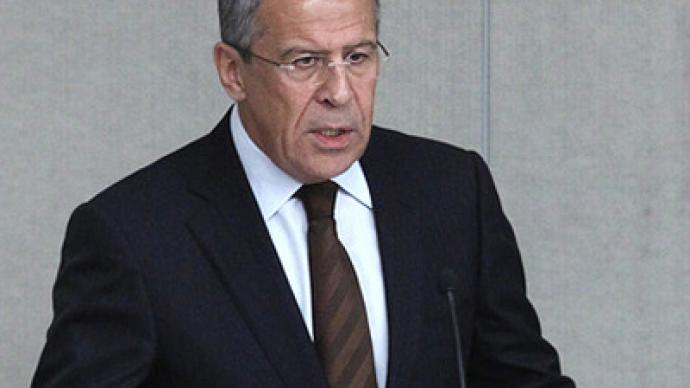 The International Contact group on Libya has agreed to give the rebels more money, with a temporary fund in place within weeks. Russia believes by making any decisions on the internal Libyan conflict, the Contact group is exceeding its authority.
Recently, the French Foreign Minister suggested Russia could become one of the members of the International Contact group on Libya. The International Contact group that includes NATO members, the Arab league and a number of international organizations was created at the April summit in London to provide political guidance for all military and humanitarian assistance operations in Libya. On Friday, Russian Foreign Minister Sergey Lavrov reacted by saying he believes the only body that should adopt and monitor resolutions on unfolding conflicts, such as the one in Libya, is the UN Security Council. He added that the UN has not delegated these rights to any other international group, therefore the creation of such groups seems excessive to him. "The Contact group has established itself. And now it's trying to take responsibility on to itself about the policy of the international community towards Libya. And not only Libya, we're hearing voices that are calling for this group to decide what to do in other states in the region," said Lavrov."We believe that all sides should be focusing on the peaceful resolution of the situation. And not supporting one side in what is essentially a civil war," he added.These comments were made at a joint conference of the Russian Foreign Minister and the Chinese Deputy Foreign Minister. Traditionally, Russia and China co-ordinate their views on major international events. The most recent example of that was in March, when both countries abstained from the no-fly zone resolution vote over Libya. What started as unrest in Libya has already claimed the lives of thousands of civilians. Russia again raised its voice against the Western military intervention in Libya, saying that NATO has gone far beyond its UN mandate by sending guided bombs on Gaddafi's compounds, and by considering a ground operation in Libya. Even China, which had been very diplomatic on the Libyan issue so far, is becoming more and more vocal, saying the only two options that may be considered in this situation are a peace agreement and an immediate cease-fire. Both Russia and China again stressed that a conflict between Gaddafi and the rebels is exclusively an internal matter for the Libyan people.
You can share this story on social media: