NATO hits Gaddafi compound as violence escalates in Libya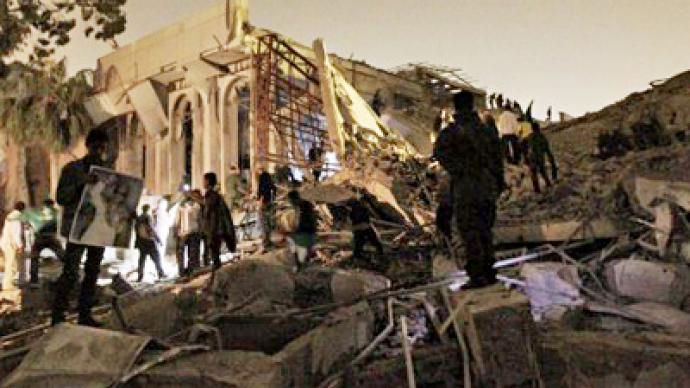 Moscow says it is ready to assist peace and dialogue efforts in Libya if all sides of the conflict adhere to the UN resolutions. Despite this, violence has yet to subside in the country torn between opposition and pro-Gaddafi forces.
Early on Monday NATO forces targeted a building inside Muammar Gaddafi's compound, which the Libyan government considers an attempt on life of the Libyan leader, Al Jazeera television reports. The television quoted the Libyan government official as saying that 45 people were injured in the attack, with about 15 sustaining serious injuries, some people are still missing. It is already the second reported attack on Gaddafi's compound. A car park, allegedly covering an underground bunker, was hit just two days ago. On Sunday, pro-Gaddafi forces bombarded the rebel-held town of Misrata. According to the government spokesman, Mussa Ibrahim, Gaddafi troops still hold plans to withdraw from the town but had to fire back when they were attacked.Despite the government saying its army is withdrawing from Misrata, rebels claim the announcement may be a trick to mask the troops' movements and incite violence between locals and rebels in nearby towns, Al Jazeera reported.   In a telephone conversation with the Libyan Prime Minister al-Baghdadi Ali al-Mahmudi on Saturday, Russian Foreign Minister Sergey Lavrov said that the main goal now is to prevent further civilian casualties in Libya.He added that Russia is ready to support the efforts of the African Union and the United Nations to take the developments to a political and diplomatic channel. According to RT's correspondent Egor Piskunov, who spent two weeks in the rebel stronghold town of Benghazi, rebel forces remain highly disorganized. "Many of them are young, many of them are teenagers, who just got their hands on Kalashnikov rifles and they are constantly shooting in the air in the city itself, when they are either celebrating something or commemorating something," he said. "It seemed to me it was actually even more dangerous to be inside Benghazi because of that, rather than on the front.""When we are talking about rebels' actions on the front, they are totally unco-ordinated, poorly trained," Piskunov added. "With many European countries now saying that they are going to send trainers to help organize the rebels, it is really hard to say how long this may take."
The fact that the rebels are now relying on international help makes the situation even more dangerous, promoting the idea of uprisings in other countries, warns Russian Foreign Minister Sergey Lavrov."We suspect that the rebels' unwillingness to negotiate is fuelled by the fact that the NATO states – the same countries that took it upon themselves to uphold the UN resolution – now seem to have taken the rebels' side. It seems the rebels' current intention is to rely on foreign aid to overthrow the regime and assume power. Sentiment of this sort is very dangerous. Unfortunately, it also seems to be contagious as we are observing it in other countries in the region. Deliberately escalating a conflict in the hope that the world community will come to your aid is essentially an invitation to a series of civil wars. Outside forces should not interfere, give advice or take sides in interior conflicts," said Lavrov.
Igor Khokhlov from the Institute of World Economy and International Relations says the coalition forces are going way beyond the UN resolution and this could lead to grave consequences for everyone involved. "NATO countries are doing everything to escalate the conflict to the level of an outright civil war. Definitely Russia is pretty dissatisfied with what is happening now in Libya," he said. "Now there are strong suspicions that NATO is supporting the rebels with arms. We can see [on television] lots of new weapons, we now see people who don't look like Libyans, possibly instructors, working there with the rebels. We see NATO aviation being very selective, hitting Gaddafi installations and places where Gaddafi may be – trying to kill [him]. This goes way beyond the UN resolution and it is absolutely unacceptable from the point of view of international law."Khokhlov also stressed that there is another factor that cannot be overlooked: "Another great threat is being ignored by the NATO countries – the involvement of Al Qaeda, which is a threat to all countries, including Russia. The [military] operation has turned into an all-out civil war in Afghanistan and now the Taliban and Al Qaeda control most of the country."
Mark Almond, who's a visiting professor in International Relations at Bilkent University in Turkey, says the two Libyan sides must be brought to the negotiating table. "If we want to avoid further harm to the civilian population in Libya, also the destruction of its resources, which after all is the principle of the UN resolution that started the outside intervention, then some kind of mediation is essential. But the problem is that the rebels feel that they are on the winning ticket, because they have the support of a hugely powerful alliance like NATO," he said. "Colonel Gaddafi seems to be willing to negotiate, but there is a great deal of distrust towards him, not just by the rebels, but by the international community [too]. Hence Russia's request that he abide by the demand for the ceasefire."
Francis Boyle, Professor of International Law at the University of Illinois, says the Libyan conflict is a well-planned mission with the next phase almost set in stone."Clearly what we see unfolding in Libya is a pre-existing war plan, by NATO, by the British, by the French, by the Americans to attack Libya. There is no way this amount of military force could have been put together in such a short period of time unless there was a war plan that was activated the moment there were disturbances in Benghazi," he said. "And now everything is going according to plan, which is why I believe that since they have failed to depose Gaddafi so far, the next stage will be moving to the ground invasion."
Dreams of prosperous Libya
While the violence is escalating in Libya, rebel supporters believe that they are fighting for brighter future and prosperity.  For years Saleem has been struggling to keep his auto parts shop running. He claims even opening it meant paying thousands in bribes to various officials, all linked to either Gaddafi or his family. "I will not even begin to describe how hard it was to start this business," he said. "Gaddafi has got his hands on everything. For decades he has been taking money from ordinary people. Now it is time for it to be returned."Sure, small private business does exist in Libya. However, with the Colonel and his close allies controlling all sectors of the economy, it is a huge struggle for any businessman to make a decent profit. The idea that the revolution will open the flow of cash for everyone to enjoy, is backed by all rebels – from farmers to the military command. "As I told you we are a rich country: we have oil, we have gas, we have a lot of industry in Libya. Economically we are not worried about that," said a spokesman for rebel military forces, Akhmed Bani. "In two years, I will invite you to visit Libya and you will see." However, some analysts do not share this optimism and doubt NATO is the guardian angel it promises to be.  "It has nothing to do with humanitarian aid, nothing to do with democracy, nothing to do with helping the people," said radio host and author Stephen Lendman. "It is to colonize them, exploit them [and] steal their resources."  With over 41 billion barrels, Libya's oil reserves are the largest in Africa and the ninth largest in the world. There is so much oil in the country that filling up a gas tank on a mid-size car costs less than US$10. In 2008 Gaddafi even promised every Libyan would be paid US$800 every month to share the oil revenues, but failed to keep his word. Despite Libya having the resources to do big business, it is just that for the past four decades it was done only by a circle of chosen people – the elite. The rebels in Benghazi say they are ready to fight to the end to build a more liberal and prosperous society. However, time will tell whether the opposition is strong enough for this change, or if the future of the Libyan people has once again been decided for them.
You can share this story on social media: