Protesters storm Libyan congress over 'unrepresentative' govt make-up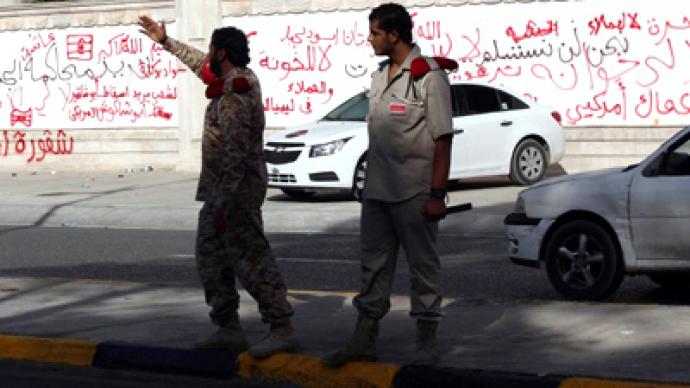 More than 100 protesters have broken into the Libyan National Congress, disrupting the MPs' work. The demonstrators are infuriated by the proposed make-up of the country's new government, saying it is not representative enough.
The demonstrators, who come from the western town of Zawiyah, one of Libya's oil hubs, traveled 50km from their home to the capital after the prime minister failed to select their nominee as oil minister."After we heard the list, everyone in Zawiyah was angry. Some even began protesting in Zawiyah's main square last night," one protester told Reuters.Dozens of angry people breaking into the congress's main hall forced a special session studying nominations for a transitional government to be canceled."[PM Mustafa Abushagur] said that he would form a coalition government, that he would look at experience. Zawiyah proposed candidates for oil minister, but he's brought in someone who is not well-known," the protesters said.They further accused the PM-elect of putting ideology first when choosing candidates, which resulted in several members of the political arm of the Muslim Brotherhood appear on the list. At the same time, the liberal National Forces Alliance was not represented at all, says the leader of the liberal coalition, Ibrahim al-Gharyani.The protesters left the congress, but carried on with their demonstration outside. The session on the transitional government is expected to resume later Thursday. The congress will vote on each of 28 candidates proposed Wednesday so the composition of the cabinet can become clear.Questions however remain whether the Libyan government can ever become fully representative. The biggest fraction in the 200-member National Assembly is the National Forces Alliance, which occupies 39 seats and complains they are not getting any ministerial posts. At the same time, 120 seats are taken by independent politicians clinging to personal agendas. Following the ousting of Colonel Muammar Gaddafi in October 2011, the country became engulfed in regional calls for separatism with eastern areas even trying to proclaim autonomy from the central government. Long-awaited parliamentary elections in July were marred by violent outbreaks and the various militias controlling most of the country still seem to be out of Tripoli's reach. Now the government faces the hard task of trying to re-unite an increasingly divided nation.
You can share this story on social media: