Libya ammunition depot blast kills over 40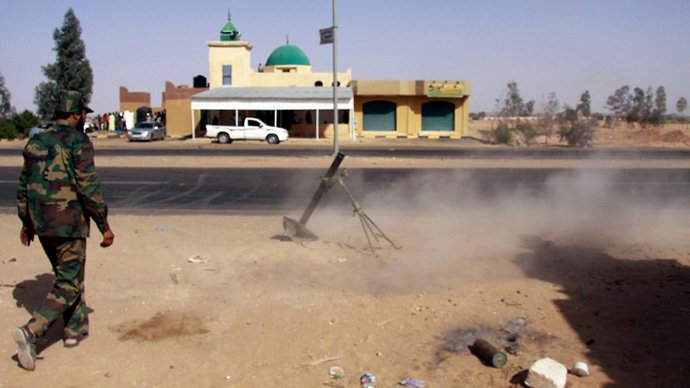 More than 40 people have been killed in an ammunition depot explosion in southern Libya, Reuters reported, citing a security official. The death toll could rise further, the source added.
The blast occurred Thursday in Brak al-Shati, near the city of Sabha, as a group of 43 locals and African migrants were reportedly trying to steal weapons. Other reports suggested they were trying to steal copper.

The official said that the depot is still on fire and some people might be trapped inside.

Meanwhile, four soldiers were killed in Benghazi as clashes between the army and militant Islamists of the Ansar al-Sharia group continue in the key port city. Three soldiers were killed after they stopped a car loaded with weapons, explosives and large amount of money, Wanis Bukhmada, commander of the security forces in Benghazi, told a news conference.

Another serviceman was shot dead by an unknown gunman Thursday morning. 
In Benghazi, which has been plagued by an upsurge of violence in the past few months, army officials publicly appealed to Islamist militias Thursday to lay down their weapons.

"Brothers of the Ansar al-Sharia, you are Muslims and we are Muslims. We don't differ on religion ... but don't impose something which is not part of the religion," Salah Obeidi, army commander of the eastern region, said at a news conference.

For more than two years, Libya has suffered from fragile security and a breakdown in central authority, as the government struggles to control numerous armed militias that overthrew the regime of Colonel Muammar Gaddafi back in 2011.