Libyan air force attacks targets in south after gunmen storm airbase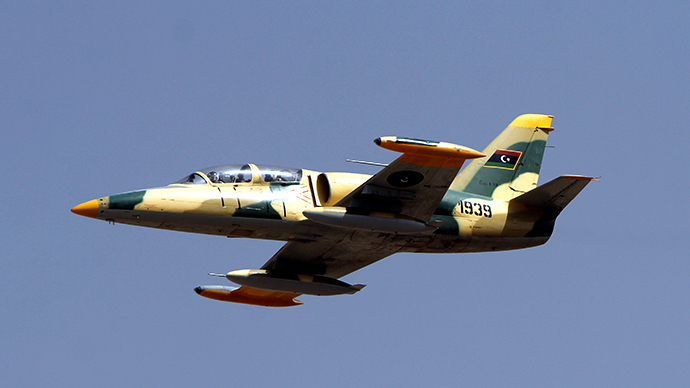 Libya has launched air strikes against militants in the south of the country in an attempt to end the armed clashes. Libyan Defense Ministry blamed forces loyal to ousted leader Muammar Gaddafi for sparking the unrest.
"A force was readied, then aircraft moved and took off and dealt with the targets," Defense Ministry spokesman Abdul-Raziq Shabahi told reporters in Tripoli as quoted by Reuters.
The Libyan government put the troops on alert after gunmen stormed an air force base near the southern city of Sabha, 770 kilometers south of the capital Tripoli. The assailants also stormed at least two military bases in the city, an unnamed military official said according to the AP. After attackers entered the air force base, Libyan Prime Minister Ali Zeidan said the government was still in control of the town and its civilian airport, according to Reuters.
Earlier in the day, Libya's General National Congress declared a state of emergency during an "extraordinary session" about the situation in the southern town of Sabha, following violence in the region that has been raging for days, AFP reports. Since the clashes started a week ago, at least 31 people have been killed in the fighting between the Arab Awled Sleiman tribe and Toubou minority tribesmen.
"The troops from Misrata have been commissioned by the government to conduct a national task ... to spread security and stability in the region," Zeidan said, as quoted by Al Arabiya.
By the evening, defense ministry spokesman Abderrazak al-Shebahi said the army had recaptured the Tamenhant base, tracking the militants of the former supporters of the ousted leader Muammar Gaddafi after they fled into the desert.
"We know them and we are going to track where they are going," al-Shebahi said.
The United Nations Support Mission in Libya (UNSMIL) called on Saturday for the "immediate end to the armed clashes" in the city of Sabha and urged all the sides to "resort to peaceful means to resolve the differences" and "restore calm." The mission has also called for a thorough and impartial investigation of the events.
The clashes come as Tripoli struggles to contain heavily-armed militias, tribesmen and Islamists, some of whom took part in toppling Gaddafi in 2011 but have since refused to disarm.
Earlier, two Italian construction workers were also kidnapped by unknown assailants in the country's volatile east. According to a security source quoted by Reuters, the Italians were kidnapped in the radical Islamist stronghold of Derna, east of Benghazi, where they had been working at a cement factory.
Since the deadly assault at the US consulate in September 2012, Benghazi has been rocked by a wave of assassinations of army and police officers as well as car bombings. A mix of militias and armed tribesmen has also seized the main oil export ports in eastern Libya, pressing for political autonomy and drying up the country's crucial oil revenues.
You can share this story on social media: