State of emergency declared in Libyan capital amid fresh violence
Published time: 17 Nov, 2013 03:32
Edited time: 17 Nov, 2013 04:00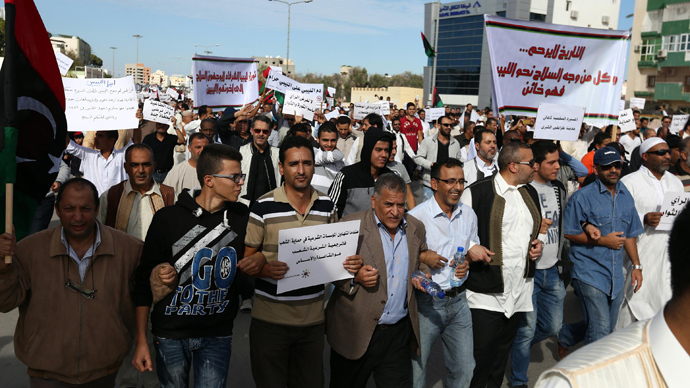 A 48-hour state of emergency was declared in the Libyan capital of Tripoli after fresh clashes erupted on Saturday. Vehicles full of fighters from Misrata headed to Tripoli from the eastern suburb of Tajura, according to media reports.
Violence in Tripoli reignited at sundown as fighting between militia groups intensified, Ukranian medics working on the ground told ITAR-TASS.
"After a break in fighting, you could hear shots being fired once again over Tripoli," one medic said. "Hospitals received more dead and wounded. We haven't seen this in Tripoli since the 2011 armed conflict."
The state of emergency was declared in the city after at least one person was killed and dozens wounded in another wave of violence on Saturday, Al Jazeera reported. The unrest began in the capital on Friday. More than 40 people were killed and another 400 were wounded.
"Officially, there were more than 40 victims in the clashes in Tripoli in the past two days, but according to our data, the number of victims is much larger," one of the medics said.
Due to the situation in Tripoli, some of the streets in the city were blocked off. Local residents formed protection brigades by their houses in order to ensure safety from the militias, the medics added.
Libyan Prime Minister Ali Zidan has appealed for restraint, stating that "the coming hours and days will be decisive for the history of Libya and the success of the revolution."
On Saturday, thousands of protesters gathered to remember those who died in Friday's clashes, as the government declared three days of mourning. Zidan also demanded that all armed militias leave Tripoli "without exception." 
"The existence of weapons outside the army and police is dangerous," he said. "All armed militias need to leave Tripoli, without exception." 
Friday's clashes began as thousands of protesters gathered in Tripoli on Friday, calling to intensify the security presence and end the militias' rule which was established in 2011 after the uprising that ousted leader Muammar Gaddafi. The protesters marched from a downtown mosque to the headquarters of the militia waving Libyan flags and chanting slogans such as "We want an army, we want police." 
According to a Reuters report, the militia fired an anti-aircraft cannon into the crowd. The protesters initially fled, but then returned heavily armed. The majority of stores in the city were closed following the clashes.
The main cause of the violence is Libya's weak government and armed forces which are struggling to control militias, Islamic militants, and other fighting groups which have refused to surrender their weapons two years after assisting the NATO-backed ouster of Gaddafi. 
Part of the militia was formed from local brigades of rebels, including Islamic militants who fought against Gaddafi's government. After the fall of the leader, the government tasked the former rebel forces with maintaining security. However, the militia has not been put under state control, prompting the armed groups to act on their own agenda.