Hide-and-ship: Did the US know Libyan weapons were en route to Syrian rebels?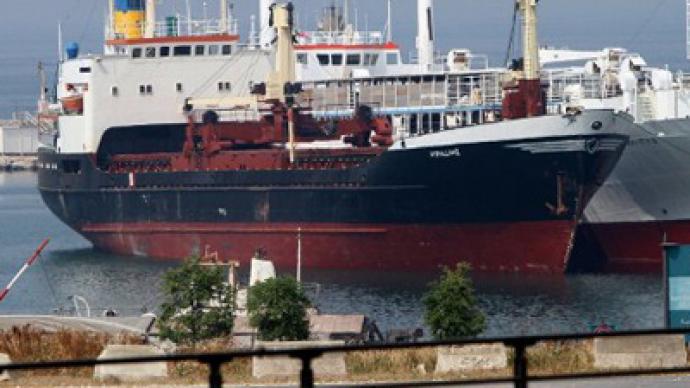 The US and NATO have some questions to answer about the massive weapons cargo seized by Lebanese intelligence officials, Franklin Lamb tells RT. He says they surely knew the shipment was on its way to Syrian rebels, but still turned a blind eye.
The Sierra Leone-registered ship Lutfallah II, carrying three containers filled with heavy machine guns, shells, rockets, rocket launchers and other explosives has been intercepted over allegations that the arms were intended for Syrian rebel consumption. Some of the arms seized were labeled as Libyan. The ship's 11 crew members were detained and questioned by Lebanese intelligence officers. Lebanese military prosecutor Saqr Saqr says an investigation is underway. The ship was en route from Libya to the northern Lebanese port of Tripoli, according to the ship's owner. Lebanon's Tripoli is a hotbed of support for the Syrian opposition. Official Damascus has frequently complained about arms being smuggled from the area into the country. The vessel is now being held in Selaata, a port city 50 kilometers north of Beirut.Franklin Lamb, director of the NGO Americans Concerned for Middle East Peace, argues the nearly-successful delivery could hardly have come as a surprise to the US and NATO.RT: The shipment of smuggled weapons intercepted by Lebanon highlights a long-running issue. Is it high time for an international arms embargo on Syria?Franklin Lamb: This latest seizure of arms may be a major development in the Syrian uprising and what lies ahead for this region. There is an eyewitness, Hassan Diab, who saw the ship Lutfallah II, carrying a Sierra Leone flag, being loaded in Benghazi, Libya. We know that Qatar and Saudi Arabia control five warehouses in the area of Benghazi. So the great suspicion is that the intercepted arms are from those left over from the Libya campaign. The craft was loaded with three containers filled with 150 tons of weapons, though apparently the initial plan was to send as many as 15 containers. The boat went from Tripoli to Turkey, back down to Egypt and then to Libya, then to Tripoli, Lebanon. It was seized on the way there.What is remarkable about that adventure is that the Americans almost surely knew about it. NATO did. The Israelis did not touch the ship this time. The United Nations Interim Force in Lebanon (UNIFIL) did not stop this ship. It seems very clear that with all the differences (and we could name twenty or more) between the situation in Libya and the situation in Syria, the fundamental pillar – a regime change – is identical. This ship clearly headed to the so-called Free Syrian Army as other shipments have come from Lebanon into Syria. So, if anyone has to answer for the incident now, it is Washington and certainly Brussels with NATO. They have to say what they know about the ship.
You can share this story on social media: