Massive Mexico storm, flooding: At least 42 dead, 40,000 stranded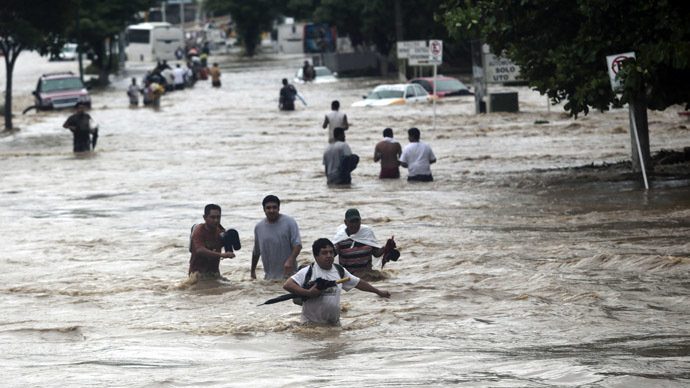 Two devastating storms converged over the Pacific Ccean to ravage Mexico, killing at least 42 people and stranding approximately 40,000 tourists in resorts in Acapulco in some of the worst flooding in decades.
What is left of Tropical Storm Manuel battered the Pacific coast as Tropical Depression Ingrid forced the closure of Mexican oil operations. Both storms weakened but not before at least 42 died in the states of Veracruz, Guerrero, Puebla, Hidalgo, Michoachan, and Oaxaca, according to the US National Hurricane Center. 

Among the most severely damaged was the Pacific resort of Acapulco, where the downpours quickly led to massive landslides that swept through buildings and roads. At Least 21 were killed in that region alone, Constantino Gonzalez, a Guerrero state emergency official told Reuters.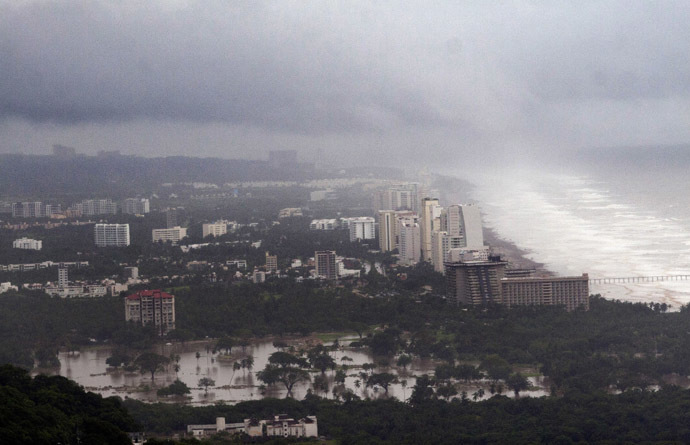 "Unfortunately, the majority of the deaths have occurred here in Acapulco due to landslides that completely buried homes," said Gonzalez. 
Many residents made their way through the stricken areas on jet skis, pedal boats, or improvised flotation devices, while others waded in up to neck deep water.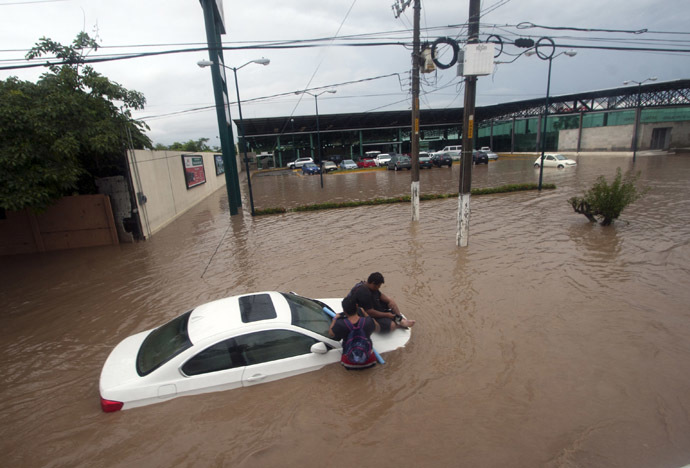 Some of the city's popular hotels experienced flooding, with tens of thousands of tourists the victim of cancelled flights and submerged golf courses. 
"
Tomorrow is another day, and we will just have to check whether or not the highway re-opens
," Martila Flores, a hotel worker, told Reuters via telephone.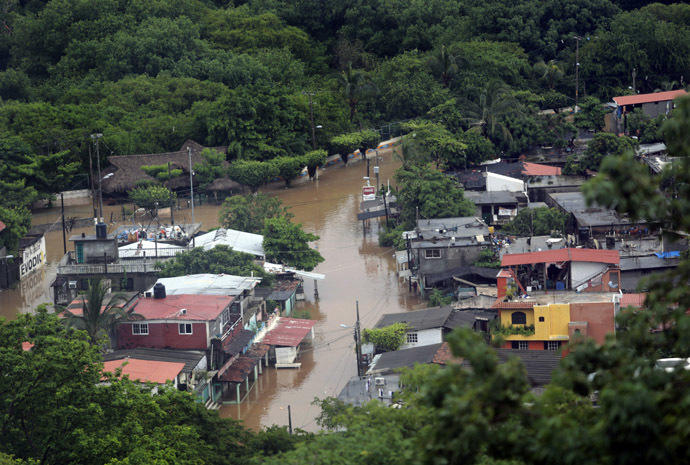 Approximately 23,000 people across the state of Veracruz, located on Mexico's Gulf coast, had to be evacuated from their homes, with nearly 10,000 taking refuge in emergency shelters. Twelve people were killed in the state when a landslide engulfed a bus and at least two homes. 
"These storms have affected two-thirds of the entire national territory," said Interior Minister Miguel Osorio Chong, calling the flooding "historic."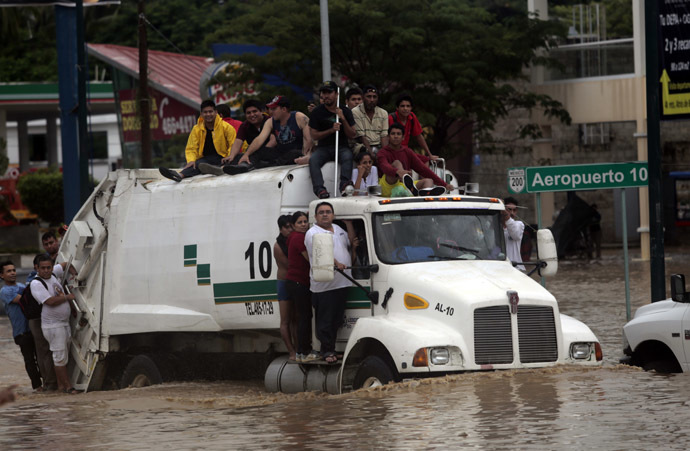 Pemex, the state oil monopoly, was forced to evacuate three oil platforms and stop drilling on platforms elsewhere in the region. The company announced on its Twitter page that it activated "emergency procedures" at the Francisco Madero refinery on the Gulf coast. That refinery alone is capable of processing 180,000 barrels of crude oil each day.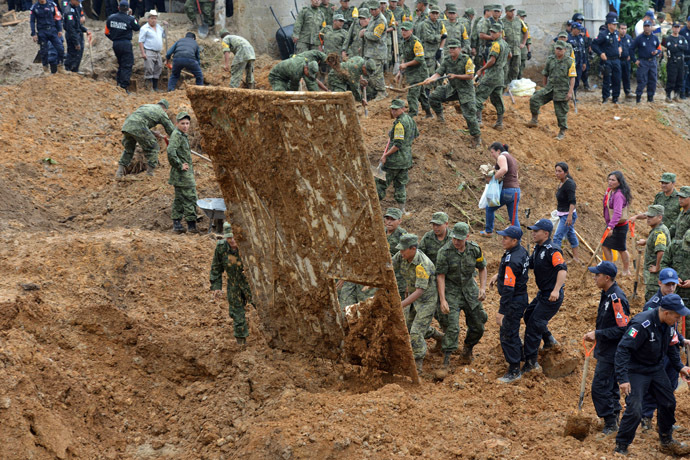 Mexican President Enrique Pena Nieto visited Acapulco and elsewhere in the Guerrero state Monday and, while the government has discontinued all inclement weather advisories, said "We have to plan to arrange for government funds to help."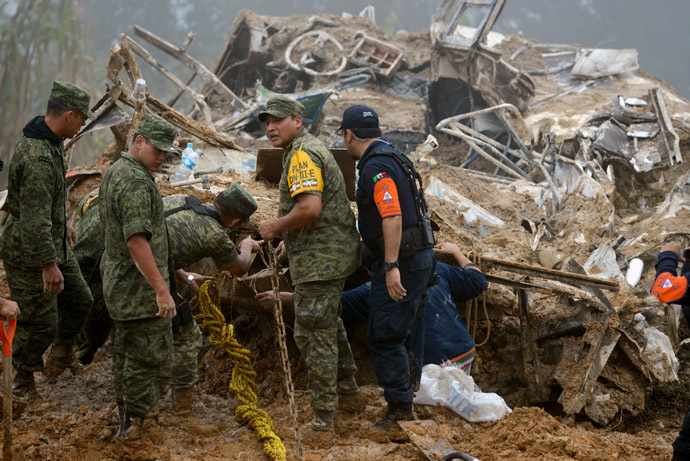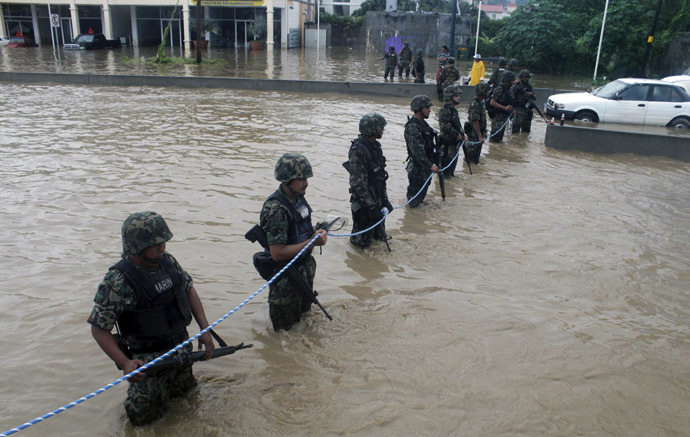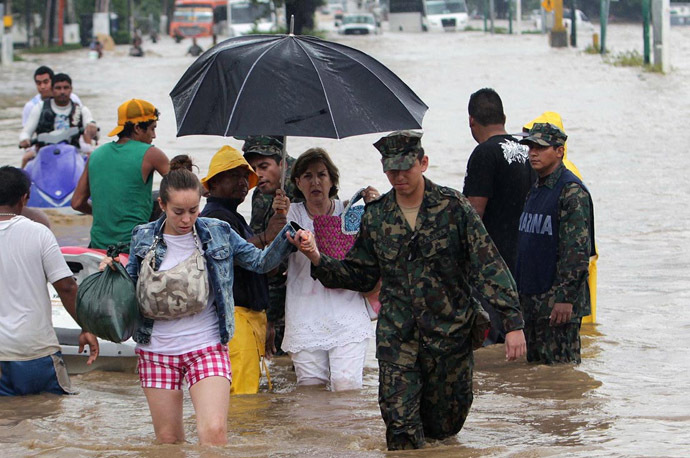 You can share this story on social media: