Australian lawyer to run 'serious' Assange senate campaign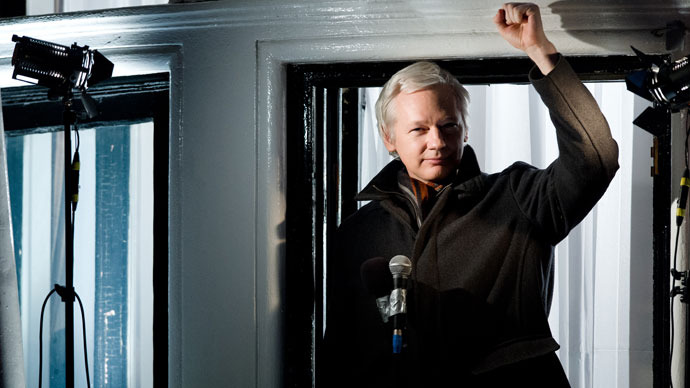 WikiLeaks founder Julian Assange has appointed former Australian Republican Movement head, lawyer Greg Barns, to run his campaign for a seat in Australia's upper house of parliament.
Assange's brand new political party, set up as part of its creator's bid to become an Australian senator in September 2013 elections representing the state of Victoria, has been open for membership since March 30.

The party must enlist 500 dues-paying members to officially register with the Australian Electoral Commission.

"It's most definitely a serious campaign," Barns, a high-profile political campaigner, told Australian radio, noting that the party will "offer a refreshing change from the Australian government culture of secrecy."

According to Barns, Assange's party has already won support from local philanthropist and former Citibank executive Philip Wollen.

WikiLeaks first revealed that the former computer hacker Assange was planning to run for a seat in the 76-seat Australian Senate a year ago. He submitted his application to the Australian Electoral Commission and had his political party incorporated in Australia in February.

The 41-year-old whistleblower, who is an Australian citizen, has been holed up in London's Ecuadorian embassy for nine months, after claiming asylum to avoid extradition to Sweden, where he is wanted for questioning on sexual assault allegations.

Assange fears that once in Sweden, he could be extradited to America where, according to his lawyers, he is most likely to face trial and possibly even the death penalty for the release of thousands of classified US diplomatic cables, some of them about the wars in Iraq and Afghanistan.

It's hoped that if Assange is elected, the chances are that the US and the UK could stop their persecution of him so as not to provoke a diplomatic row. Should he win a senate seat, Assange's freedom of speech would be protected by Australia's parliamentary privilege rules.

It's believed that chances are fairly small for Assange to win a senate seat, given that he would need to attract nearly 15 per cent of votes in Victoria.

However, even if elected as an Australian senator, Assange may still be unable to be physically present at the Australian upper house and take his seat from July 1, 2014, because he might still be trapped in London's Ecuadorean embassy. The UK authorities have promised to detain him the minute he steps foot outside of the embassy in light of the European Arrest Warrant issued against him.

The WikiLeaks founder has not ruled out the possibility that, if he happens to win the election, but is unable to return to Australia, a WikiLeaks Party nominee could fill his seat in the senate.

On April 1, WikiLeaks announced a press conference, set to take place next Monday, and generating rumors about its possible connection to Assange's political party.

The new "Special Project K" was publicized on Twitter where a countdown to the event, planned to be held in the National Press Club in Washington on 8 April, has been installed.