'Useful, but no breakthrough': Russia, US stalled after Ukraine crisis talks
US-Russian talks on Ukraine have not ironed out the two countries' differences, with Washington saying it won't recognize the results of the Crimean referendum and warning of Russia sanctions, and Moscow reiterating it will respect the republic's choice.
Foreign Ministry Sergey Lavrov and Secretary of State John Kerry met Friday in London for a fresh round of talks on Ukraine, trying to find a diplomatic solution to the political crisis in Ukraine. After six hours of dialogue – which both the diplomats called "useful" and "constructive" – the sides admitted that differences remain.
"We haven't got a common vision in terms of practical steps that foreign countries – Ukraine's foreign partners – could take. But the talks were certainly helpful to get a better idea of how well we understand each other in the present situation," Lavrov told reporters.
Tensions between Moscow and the West have particularly intensified as the Autonomous Republic of Crimea readies to hold a referendum on whether it wants to remain part of Ukraine, or to join Russia.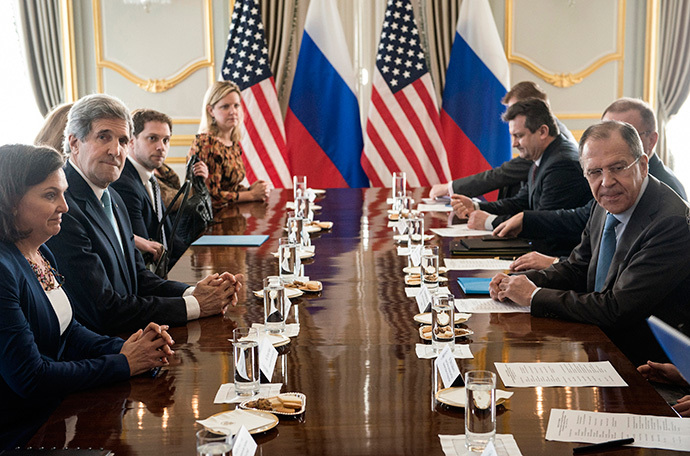 The republic, which has an ethnic Russian majority, announced it was going to hold a vote on March 16 shortly after a violent uprising in Kiev resulted in the ouster of President Viktor Yanukovich. The region refused to recognize the coup-imposed government fearing that the new leadership will not represent their interests. The revoking of the law on minority languages – including Russian – only added to concerns of Crimeans, who have since staged mass protests and asked Russia for protection.
'No one cancelled self-determination right'
Moscow says that it will respect the choice of the Crimeans, but will only comment on the referendum after its results are announced Lavrov said, adding that further speculation currently makes no sense.
"No one has cancelled people's right to self-determination which is written in the UN Charter," Lavrov said.
The US, however, argues that the upcoming vote is illegal and warns it is not going to recognize its outcome.
"We believe the referendum is contrary to the constitution of Ukraine, contrary to international law, is in violation of that law, and is illegitimate," Kerry said. "Neither we, nor the international community will recognize the results of this referendum."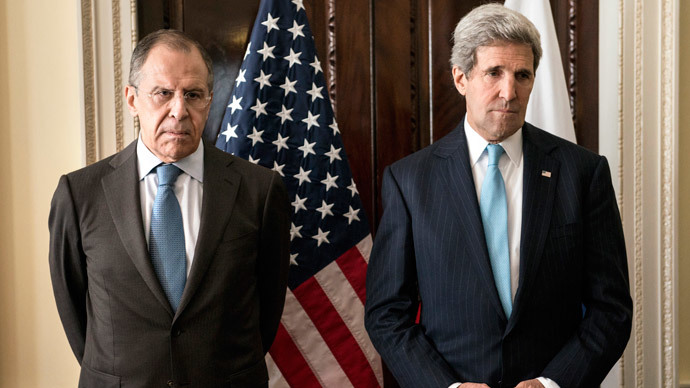 Earlier, President Putin observed that the right to determine their future that was granted to the Albanians in Kosovo cannot be denied to Crimeans or residents of any other regions.
The West, however, refuses to draw parallels between Kosovo and Crimea, saying that it is a different story. As German Chancellor Angela Merkel put it earlier in the week, the "situation is in no way similar to what is happening today in Ukraine."
Sergey Lavrov noted Friday that Crimea has a special meaning for Russia.
"If our Western partners say that Kosovo was a special case, we respond to that saying that Crimea is even more special. Crimea is a case that cannot be considered separately from history," the minister said. "For Russia, Crimea means incommensurably more that the Comoro Islands for France and the Falkland Islands for Britain."
Russia has no 'invasion' plans in Ukraine
According to Lavrov, during the talks Kerry did not threaten Moscow with any sanctions over Ukraine, adding that Russia's partners understand that sanctions would be counterproductive.
"Our partners also understand that sanctions are a counterproductive instrument. If such a decision is made in Western capitals, it would be their decision," Lavrov said. "But that certainly would not be for the benefit of mutual interests, and for the development of our partnership."
The diplomat also underlined that Russia has not and "cannot have" any plans to invade southeastern regions of Ukraine.
"We proceed from the assumption that the rights of Russians, rights of Hungarians, rights of Bulgarians, and, essentially, Ukrainians must absolutely be provided and protected," Lavrov said.
He noted that thanks to additional measures and public self-defense squads – which are set to prevent a repetition of events similar to those on Maidan in Kiev - that there have not been violations of law in Crimea.
"I would like to assure you that we do not plan not to provide transparency on what we are doing," Lavrov said.
US ready to 'respond quickly' to Crimea referendum
Speaking after the talks, Kerry said that President Obama made it clear that there will "consequences if Russia does not find a way to change course".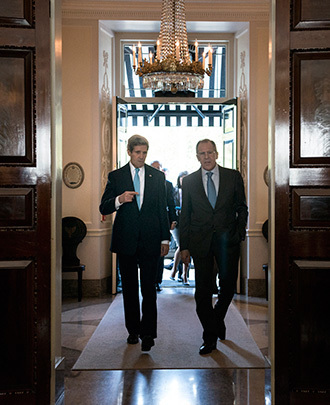 "We don't say that as a threat, we say that as a direct consequence of their choices," Kerry added. "If Russia does establish facts on the ground that increase tensions or that threaten the Ukrainian people then obviously that will beg an even greater response and there will be costs."
Kerry also said that his country remains "deeply concerned about the large deployments of Russian forces in Crimea and along the eastern border."
He suggested drawing all forces back while the diplomacy is working, and the proposal, along with other US suggestions, will be passed over to Putin.
Meanwhile, the White House has already dubbed what it called Russia's failure to take steps to ease the crisis "regrettable" and warned it was ready to respond quickly following the March 16 referendum.
"We have obviously not gotten to a situation where Russia has chosen to de-escalate, where Russia has chosen a path of resolving the situation peacefully and through diplomacy. That is regrettable. We will have to see how the next several days unfold," White House spokesman Jay Carney told a briefing, Reuters cited. "We stand ready to respond should the referendum go forward on Sunday."
Moscow opposed to 'substitution of notions'
The sides also talked the Western-backed idea to set up an international contact group to find a solution to the Ukrainian political crisis. Lavrov said that Moscow disagrees with its proposed format.
As suggested by Western partners, the goal of such a group would be the promotion of "a direct dialogue between Moscow and Kiev."
"We believe that it is a clear substitution of notions, since the crisis was not the fault of the Russian Federation," Lavrov said.
You can share this story on social media: