​Kiev risks ruining 4-party talks if force used in Ukraine's east – Lavrov to Kerry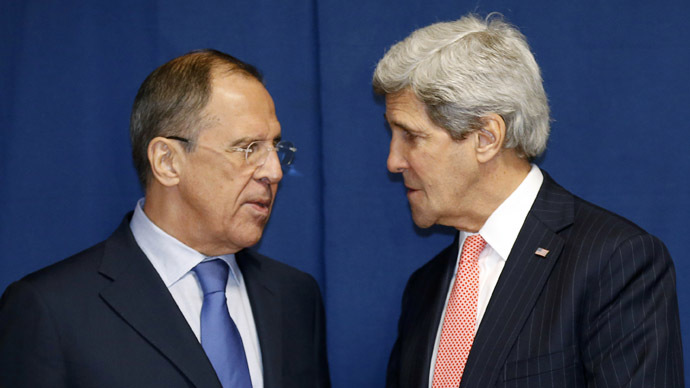 If Kiev fulfils its threat to use force against desperate South-eastern Ukrainians, it will undermine the prospect of a four-sided meeting in Geneva as well as other cooperation on the Ukrainian crisis, Russian FM Sergey Lavrov told his US counterpart.
In a phone call on Friday the top diplomats discussed the Ukrainian crisis and preparations for a meeting in Geneva planned to take place next week.
Lavrov has warned John Kerry that "if Kiev's threats to use force against people driven to despair in the southeast are carried out, prospects for further cooperation on the Ukrainian issue, including a planned four-party meeting in Geneva, will be foiled," according to Russia's foreign ministry's statement.
"The leadership in Kiev is demonstrating its inability to bear responsibility for the fate of the country and to effectively engage all political forces and regions in an inclusive process of drafting a new constitution," the ministry said.
Lavrov once again drew Kerry's attention to the fact that the political crisis in Ukraine – particularly the south-eastern regions – was caused by the "present Kiev authorities' failure to take into account the legitimate needs and interests of the Russian and Russian-speaking population."
The US Secretary of State in the meantime expressed his concerns over the mass protests in the south-eastern regions of Ukraine, claiming that was the "result of 'instigation' and nearly direct intervention of the Russian side," the ministry said.
However, Kerry has stopped short of providing any concrete facts whatsoever, instead repeating that "Russia must remove its people from the South-East."
According to a senior State Department official, US Secretary of State John Kerry also said that if Moscow does not de-escalate the crisis in eastern Ukraine and "move its troops back from Ukraine's border," there would be "additional consequences."
The Russian Foreign Ministry was prepared to consider solid information about "Russian agents" allegedly operating in Ukraine.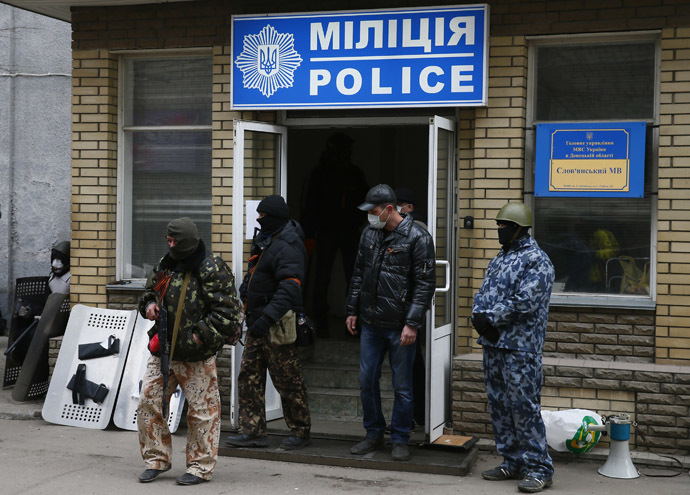 In a phone conversation, Lavrov recalled similar complaints from the coup-imposed Ukrainian FM Andrey Deshchytsia, who has also failed to provide a single piece of evidence.
"If the American side has concrete information to this effect, we are ready to consider it," Lavrov told Kerry.
Elaborating on a phone call further, a US State Department official told Reuters that Kerry "expressed strong concern that attacks today by armed militants in eastern Ukraine were orchestrated and synchronized, similar to previous attacks in eastern Ukraine and Crimea."
Speaking to Reuters on condition of anonymity, the official claimed that "militants were equipped with specialized Russian weapons and the same uniforms as those worn by the Russian forces that invaded Crimea."
"We are very concerned by the concerted campaign we see underway in eastern Ukraine today by pro-Russian separatists, apparently with support from Russia, who are inciting violence and sabotage and seeking to undermine and destabilize the Ukrainian state," said a spokeswoman for the White House National Security Council, Laura Lucas Magnuson.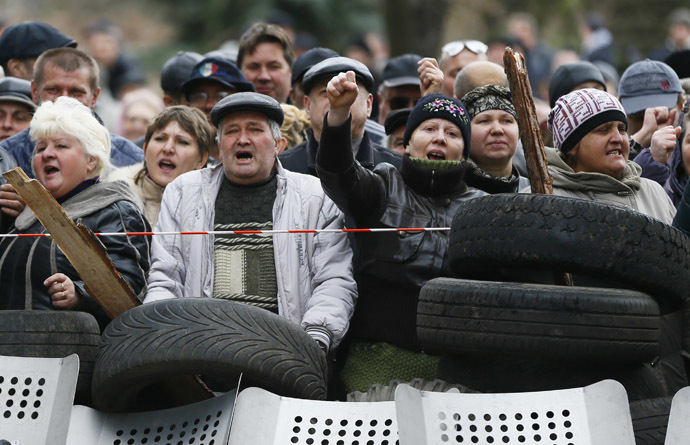 The protests in south-eastern Ukraine were stemmed on the fact that the people were being ignored by Kiev authorities for over two months and while their own Russian culture was being ripped away from them, the Russian FM said in an interview on Friday.
Protest rallies have been taking place in the region every weekend since the coup deposed the government in Kiev back in February.
Tensions escalated this week when – desperate to attract Kiev's attention to their problems – protesters in several cities, including Donetsk, Kharkov and Lugansk started seizing local administration buildings. Ukraine's Interior Ministry promised a harsh response to the riots in the east, especially in the "separatist regions" of Donetsk, Lugansk and Kharkov. The coup-appointed authorities said they would arrest all violators, "regardless of the declared slogans and party affiliation."