West, Kiev apply double standards to protesters in E. Ukraine – Lavrov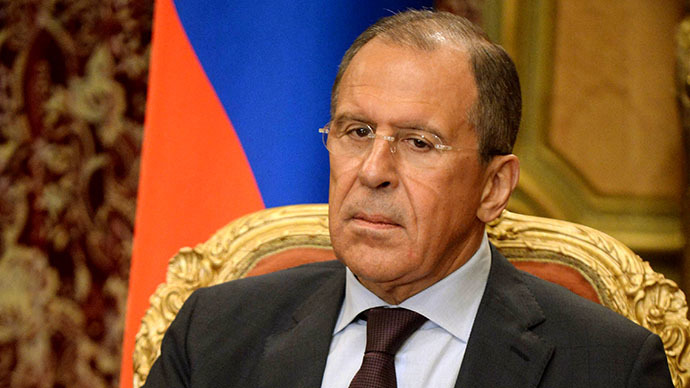 Western countries and Kiev authorities are applying double standards to activists in eastern Ukraine protesting against the coup-appointed government, forgetting similar protests in the capital's Independence Square, says Russian FM Sergey Lavrov.
The self-imposed government ignored adopted laws which they passed themselves, for example, an amnesty for all participants in the riots, according to the agreement from February, 21 on crisis regulation, Sergey Lavrov told popular TV host Vladimir Soloviev at Russia's Channel One show on Friday.
New authorities "amnestied those who were against the [President Viktor] Yanukovich government," said Lavrov, "So those who 'were kinking' in Maidan are no longer guilty."
Now the Kiev government says this very amnesty law will be applied to only to those in the south-east who did not take part in mass riots or did not instigate them.
"It turns out that they totally amnestied themselves, but decided to press charges against those people who attempted – quite gently – to simulate what had happened in Maidan," said Lavrov. The Russian FM stressed protests in the south-east were stemmed on the fact that the people were being ignored by Kiev authorities for over two months and while their own Russian culture was being ripped away from them.
"So they decided to attract the attention of Kiev authorities this way," said Lavrov.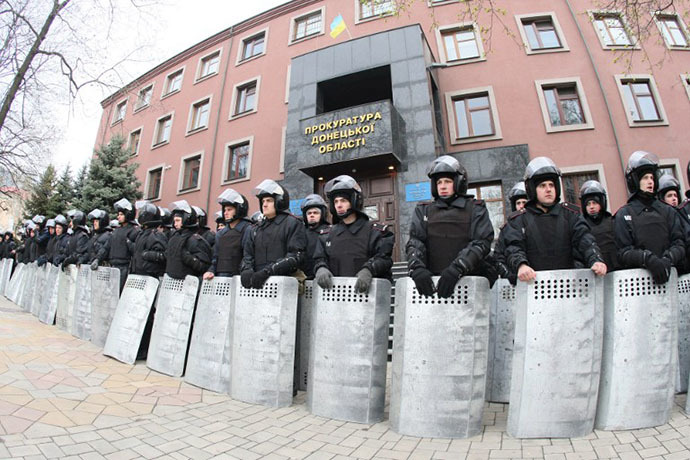 Tensions escalated in south-eastern Ukraine on Monday when protesters in several cities, including Donetsk, Kharkov and Lugansk started seizing local administration buildings, some clashes were also reported in Odessa and Nikolaev.
The country's Interior Ministry promised a harsh response to the riots in the east, especially in the "separatist regions" of Donetsk, Lugansk and Kharkov. The coup-appointed authorities said they would arrest all violators, "regardless of the declared slogans and party affiliation."
Moscow is also urging to provide for Ukraine's eastern and southern regions to take part in the upcoming talks with Kiev, Russia, the US, and EU on the current crisis which will take place in Geneva, April, 17, says FM Sergey Lavrov.
"However, we won't come to negotiations only for western countries to see that by talking with Ukrainian leader, we legitimize this power," says Lavrov.
Lavrov approved the decision of Ukraine's Party of Regions to send its presidential candidate Mikhail Dobkin to the Geneva talks. Dobkin has formed proposals, including making Russian the second official language in the regions and changing the budget.
According to Lavrov, south-eastern Ukraine "demands more powers for their regions."
"We want Ukraine to be integral. We call it [Ukraine] 'federation' as it may solve the problems of our close neighbors, friends and brothers, but we don't insist on this notion. It's up to Ukrainian nation to decide," he said.
Lavrov also criticized the reaction of the EU and the US who said Crimea cannot be compared to Kosovo – because Kosovo 'won' its independence from Serbia by tremendous bloodshed.
"It turns out that Crimea should have the same bloodshed as in Kosovo so that the West finally approved its decision to reunite with Russia. But should they? Excuse me, such parallels are absolutely unsuitable," says Lavrov.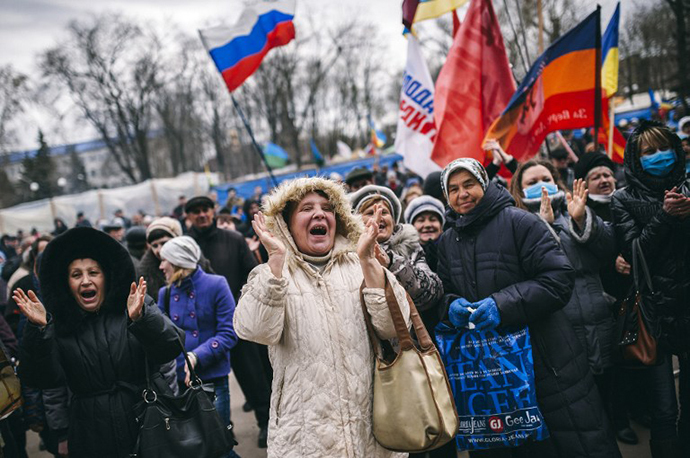 Lavrov denied allegations that Russian troops "are preparing to seize over Ukrainian-Russian border." On Thursday, NATO released images of what it called a current build-up of Russian troops near Ukrainian border. However, later sources in the Russian Defense ministry said the images were taken in August 2013 amid military drills.
"There were drills," Lavrov admitted talking of 2014. "We announced them long ago and nobody concealed this fact."
"Moreover, after requests were filed by the Ukrainian, European and American parties, we allowed inspections, invited representatives of those countries who visited the areas of the drills and, as they said, drew up a conclusion that they did not find any threatening military activities. Our representatives in the OSCE asked the inspectors to distribute this report via official channels. This is yet to be done."
The Russian FM slammed as "absurd" the recent sanctions applied to Russia by the US and the EU.
"We should understand that international relations are based on the proverb "what goes around comes around." We won't avenge, but we will take a balanced approach to every arising issue," said Russian FM.
However, not all countries back the US in its policies. Lavrov says that the BRICS countries have expressed strong support of Russia. According to the Russian FM, during the meeting at the Nuclear Security Summit in The Hague, the leaders condemned the one-side sanctions as well as intervention of some countries into the internal affairs of other countries.
"The majority of the people I talked to, in conversations which were not meant to be public, express understanding and behave themselves adequately. [One] can talk to them, discuss, trade arguments, at some points even agree," said Lavrov.
He added that Russia doesn't always say that its policy is the only correct one and that Moscow will not 'step back'.
"Not at all. Convince us, we never turn down reasonable arguments and compromises, because politics – is the art of the possible. It's not in our tradition to dictate to the rest of the world. This is inherent to other world powers. I want the "syndrome of the one polar world" to disappear quicker, because the world can only be multipolar. The more power other poles have, besides America, the more use it will bring Washington."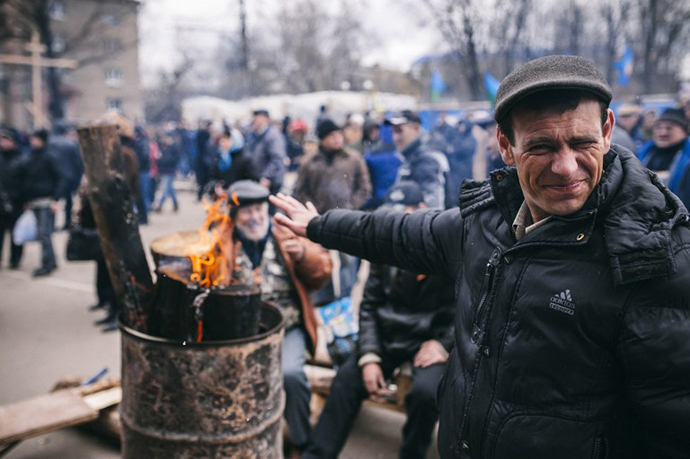 You can share this story on social media: