'Chance for Syria peace can't be missed' - Lavrov on Kerry talks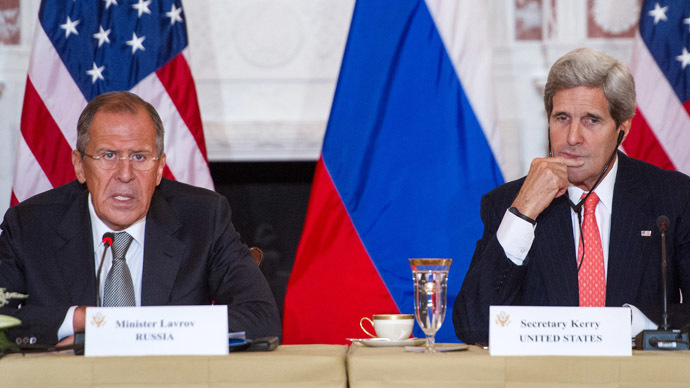 Russian Foreign Minister Sergey Lavrov is to meet with his US counterpart John Kerry in Geneva to hammer out the details of Russia's initiative to put Syria's chemical weapons stockpiles under international control.
The top diplomats are now slated to meet on Thursday night in the same city where a scuttled international peace conference had previously been set to take place.
During the meeting, Kerry and Lavrov will attempt to reach a deal on a UN Security Council resolution that would require Syria to put its chemical weapons stockpiles under international control, allowing for their further destruction. Syria would also be expected to join the Organization for the Prohibition of Chemical Weapons.
Russia remains opposed to elements of the French-drafted UN resolution, which included a timetable and the threat of force to facilitate Syria's acquiescence to the plan.
Lavrov, who met with his Kazakh counterpart Erlan Idrisov in Astana on Thursday, said "I'm positive there is a chance for peace in Syria, and it cannot be missed. Tomorrow we'll discuss this issue with Secretary of State John Kerry," Interfax reports.
Echoing sentiments previously expressed by Russian President Vladimir Putin, he said Russia's active diplomatic efforts were intended "to prevent external military intervention in Syria, which would only lead to further destabilization in the country and throughout the entire region."
Regarding the Russian initiative, which has "gathered widespread support," Lavrov noted it was forwarded with "the understanding that it will waive the use of armed force against Syria."
Lavrov further said a delegation of Russian and American chemical weapons experts who "have the necessary knowledge to identify relevant solutions to such issues" would be present in Geneva.
"It is necessary ensure Syria's adherence to the Organization for the Prohibition of Chemical Weapons, which would entail a declaration of Syria's chemical weapons storage sites and the disclosure of its chemical [weapons] program," he said.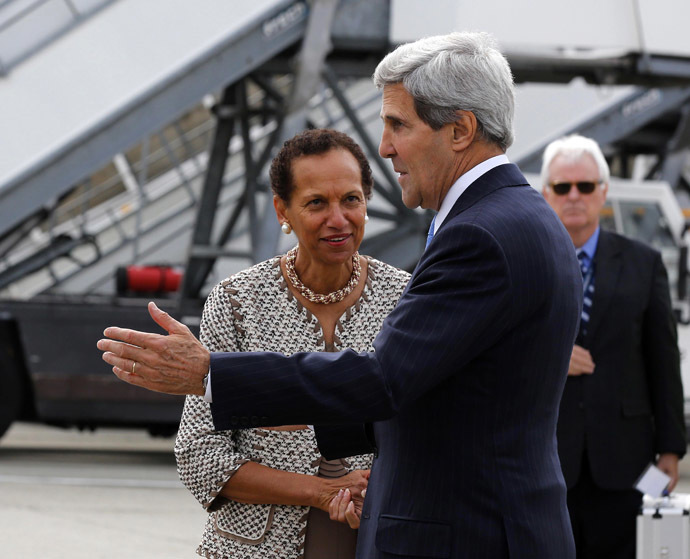 "On this basis the experts will determine which specific measures will be required to secure the appropriate means of storage," he said. "This is the technical side of things. To work out an appropriate, such experts are necessary."
Lavrov also said that the Russian-US meeting in Geneva was not intended to "usurp" the preparatory process for resolving the Syrian question.
"International experts must be involved in this work, UN experts, and experts from the Organization for the Prohibition of Chemical Weapons. We have already conducted substantive conversations with them," he continued.
Britain's Foreign Secretary William Hague said on Thursday plans to place Syria's chemical weapons under international control could help avert military action. He continued however, that any Syrian chemical weapons deal must identify all such arms so that they don't fall into the wrong hands.
Meanwhile, Russian President Vladimir Putin has maintained that the Syrian government could not hand over its chemical stockpile as long as the threat of force continues unabated. He has urged the US to help avoid force against Syria so as to "improve the atmosphere in international affairs and strengthen mutual trust."
In a speech on Tuesday, US President Barack Obama said that he had asked Congress to put off a vote requesting the use of military action against Syria in order to give diplomacy a chance to work.
The ongoing crisis was sparked by an August 21 chemical attack in a Damascus suburb which the White House blames on the government of Bashar Assad.
In a New York Times op-ed published on September 11, Putin said "No one doubts that poison gas was used in Syria. But there is every reason to believe it was used not by the Syrian Army, but by opposition forces to provoke intervention by their powerful foreign patrons, who would be siding with the fundamentalists."
He reiterated previous calls to "stop using the language of force and return to the path of civilized diplomatic and political settlement."


You can share this story on social media: