Lavrov: We did not threaten Kiev with sanctions, only warned of privilege loss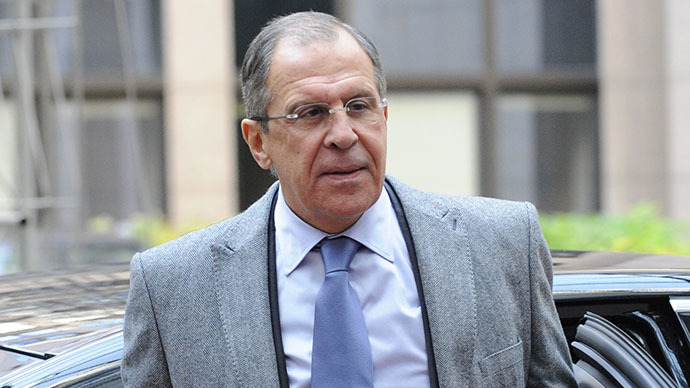 There has been no Russian blackmail against wannabe EU-member Ukraine, and existing agreements between the two countries clearly state that only certain trade privileges could be scrapped, Russian Foreign Minister Sergey Lavrov said.
The free trade agreement between members of Commonwealth of Independent States (CIS), which was signed and ratified by Ukraine in 2012, lists all the measures a country could use in the event of threatening the economic interests of others – and this does not include any sanctions, Lavrov said during a Monday press conference in Brussels, where he arrived for Russian-EU talks.

The agreement, which in fact was lobbied by former Ukrainian President Viktor Yuschenko, implies that any such state risks only losing membership privileges, the Russian FM stressed. In the case of Ukraine, it means going back to 'Most Favored Nation' (MFN) treatment defined by the World Trade Organization (WTO), of which both countries are member states. MFN is the term used to describe the code of equal treatment given by WTO nations to other member countries.

Russia would obviously need to scrap trade privileges with Ukraine to protect its own industries from collapsing if Kiev enters the EU trade zone, Lavrov said.

"One should understand, that economic issues should be built on economic considerations and not on ideas of utilizing the geopolitical space, and doing so for free," the foreign minister added.

The very idea of Ukraine having to choose between Moscow and Brussels is "false," Lavrov stressed. The Russian side has clearly shown to the EU that both the Russia-led Customs Union and the proposed Eurasian Union are actually leading to strengthening economic ties with Europe by making the economies of member states more competitive. Such ties should be based on equal, mutually beneficial terms – not the "slave-like" conditions that the EU would currently offer those countries.

The Russian minister said he asked on Monday how many association agreements the EU has with other states, adding that the EU could not give a clear explanation of why the states are not rushing to ratify such deals.

The real reason for that is the EU's wish to "obtain a practically unlimited access to the markets of the countries, which are being offered such agreements" at a time when their economies are obviously not as competitive as those of EU member states.

If states with weaker economies merge with the EU, their industries will lose competitiveness – which is why certain countries are unwilling to sign an EU association agreement straight away, Lavrov stressed.

Moreover, one might get an impression that the EU wants certain countries to open up their markets "exactly at the time when it is head and shoulders above them in competitiveness," he said.

Lavrov added that he believes it is not by chance that the EU-Ukraine association deal, as well as the EU's other agreements with Eastern Partnership states, were prepared "in secret." Only after the agreements had been initialed – that is, after they became not subject to any further change – the EU published them, thus making some of the largest trade partners of those states, such as Russia, unable to discuss the effects they could cause on trade relations.

The foreign minister called on the EU to stop "holding back from one another the things being planned or intended in connection with the countries that are big trade partners of both Russia and the EU."
EU-Ukraine deal 'not detrimental' to Russia – Ashton
Following talks with Russian Foreign Minister Sergey Lavrov, EU foreign policy chief Catherine Ashton said the EU is still committed in pursuing the Association Agreement with Kiev.

"Ministers confirmed again today the EU's readiness to sign the association agreement…as soon as Ukraine is ready and the relevant conditions are met," Ashton said.

"We believe the agreement provides the best way to address Ukraine's short-term economic challenges. Its signature too would send a powerful signal of confidence to international markets and to financial institutions," she said.

She added that ministers reassured Lavrov that the bloc's policy "would not have a detrimental effect on relationships with Russia in any way."

The EU plans to discuss the Ukrainian issue with Russia at a summit in January, in the "spirit of strategic partnership," Ashton said. She claimed Russia would benefit from a prosperous and stable Ukraine.

After the meeting, Lavrov said ministers agreed that "everyone should respect the sovereignty of any country, including Ukraine, and everyone should allow the peoples to make their free choice of how they want to develop their country."

Meanwhile, Ashton said the Ukrainian side outlined three major problems surrounding the Association Agreement - notably budget problems, energy prices, and problems industries face when restructuring to EU standards.

On Tuesday, President Viktor Yanukovich is set to meet Vladimir Putin in Moscow to discuss the possibility of securing a $15 billion loan and negotiating a reduction in natural gas prices.
You can share this story on social media: