Latvians stage shoe-throwing protest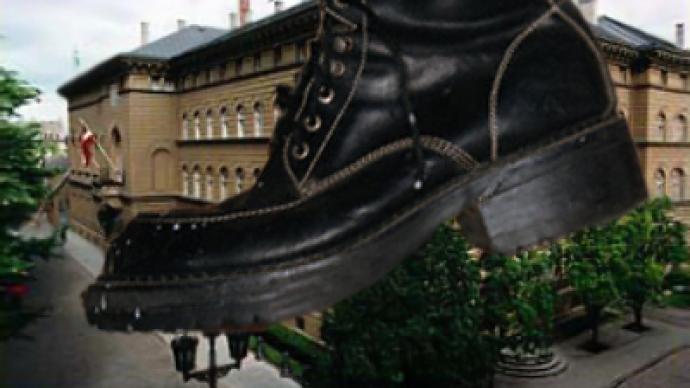 Residents of the Latvian city of Daugavpils have thrown shoes at a photo of the country's parliament, the Saeima, in protest against the inefficient economic policy of the government and the local authorities.
The shoe-throwing rally, staged by the non-governmental organisation "Movement for City Development", took place on Saturday, February 21. Around 400 people took part in the rally.
The organisers also urged the participants to throw snowballs at photos of local deputies and the city's mayor. An unpopularity rating was then made up based on the number of snowballs this or that deputy has merited.
With 100,000 population, Daugavpils is the second-largest city in Latvia.
The country is now suffering from both an economic and political crisis. In the fourth quarter of 2008 alone Latvia's GDP fell by 10 per cent. On February 20, the prime minister, Ivar Godmanis stepped down amidst criticism of his inability to handle governmental reform.
In mid-January a mass rally in the capital Riga against the government's anti-crisis programme turned violent.
You can share this story on social media: