Top Kuwait court orders parliament's dissolution, calls for new elections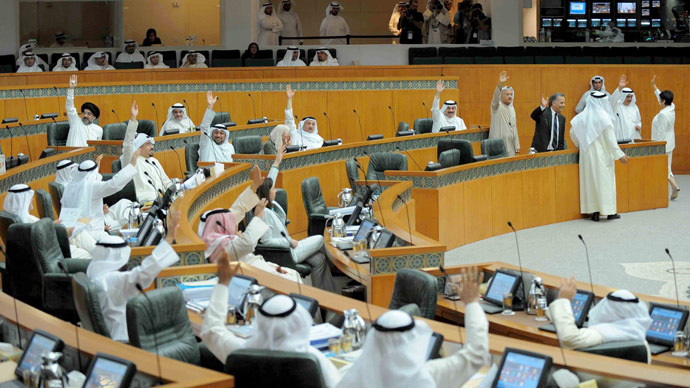 The Constitutional Court of Kuwait has ordered the Gulf state's parliament be dissolved and fresh elections be staged, Reuters reports quoting judicial officials.
The court made its ruling after examining an opposition challenge to changes to the electoral system decreed by the emir, Chief Justice Youssef Mutawa said.

In October, the emir issued his decree bringing changes to the 2006 law, reducing the number of candidates from which a voter can choose to just one.

The emir used a highly controversial clause in the country's constitution for the decree – which gives the emir powers to issue laws when necessary and in emergency situations. For instance, such is the case when the parliament isn't in session or has been dissolved. 
Judge Mutawa however said the hearing had decided not to make a ruling on the challenge, in effect leaving the emir's decree unchanged, but ordered the elections be restaged.

The current Kuwaiti parliament is entirely pro-government, since the opposition boycotted a general election the previous December.

The emir's October decree sharpened a political crisis in Kuwait, which owns more than six percent of global oil reserves, sparking a wave of street protests, some of which turned violent.