Teargas and truncheons: Kuwait police clash marchers in mass protest (PHOTOS)
Published time: 21 Oct, 2012 19:57
Edited time: 22 Oct, 2012 08:14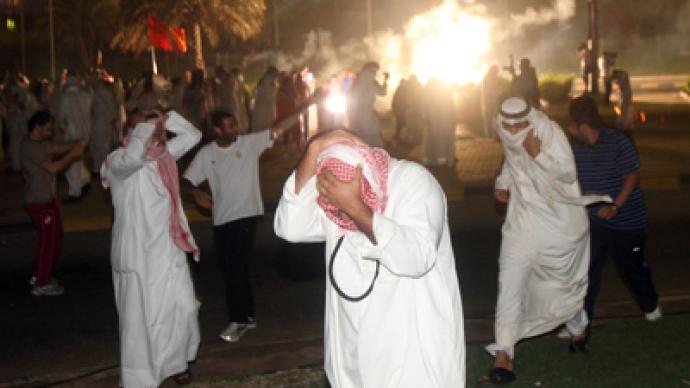 Kuwaiti Riot police clashed with demonstrators as thousands hit the streets of the capital to protest against plans to change the country's electoral law. Police have reportedly deployed teargas and stun grenades to break up the planned march.
Demonstrators attempting to meet at three different points across Kuwait City were swiftly intercepted by riot police on Sunday. Witnesses reported sporadic clashes between police defiant demonstrators throughout the capital. Several arrests were reported, including former Islamist MP Waleed al-Tabtabai, AFP reports.
The protesters had intended to converge on Seif Palace, which houses offices for the emir, crown prince and prime minister, in what organizers hoped would be "the biggest procession in the history of Kuwait."
Protest organizers had urged demonstrators to remain peaceful, but trouble was looming as the Interior Ministry had warned that it would deal harshly with anyone who met outside the allotted square opposite the country's parliament building.
Hundreds of police and dozens of patrols were deployed throughout the city in anticipation of the march.
The vast majority of the tens of thousands of demonstrators who took to the streets were male, though women also dotted the crowd.
The opposition is mainly led by Islamists who oppose changes to the voting rules which they believe will undermine their rising star during the planned December 1 parliamentary poll.
They have called for a boycott of the elections, arguing the amended electoral law amounted to an electoral coup against the constitution.
Islamists gained control of parliament following February elections, prompting the Western-backed ruling family to call new elections in December with amended electoral laws. The new rules will end the practice of multiple votes per person, instituting a one-vote system
"The type of government that exists in Kuwait, Bahrain or Qatar is a feudal monarchy, a relic of a bygone era. People in the region have seen the wake of the Arab Spring and democratization processes going on in certain parts of the Arab world. And then they look at their own countries, like Bahrain and Kuwait, and they see they don't have any real political rights, at least not by modern day standards. So their rage and indignation is real," geopolitical analyst Eric Draitser from Stopimperialism.com, explained to RT

Kuwaiti opposition supporters protest in Kuwait City, on October 21, 2012 (AFP Photo / Yasser Al-Zayyat)
Kuwaiti opposition supporters run for cover during a protest in Kuwait City, on October 21, 2012 (AFP Photo / Yasser Al-Zayyat)
A Kuwaiti opposition supporter is overcome by tear gas during a protest in Kuwait City, on October 21, 2012 (AFP Photo / Yasser Al-Zayyat)
A Kuwaiti opposition supporter holds up the flag during a protest in Kuwait City, on October 21, 2012 (AFP Photo / Yasser Al-Zayyat)
Kuwaiti opposition supporters gather during a protest in Kuwait City, on October 21, 2012 (AFP Photo / Yasser Al-Zayyat)
Kuwaiti opposition supporters run for cover as riot police fire tear gas during a protest in Kuwait City, on October 21, 2012 (AFP Photo / Yasser Al-Zayyat)