Kuwaitis take to streets ahead of crucial electoral ruling (PHOTOS)
Published time: 25 Sep, 2012 03:12
Edited time: 25 Sep, 2012 07:12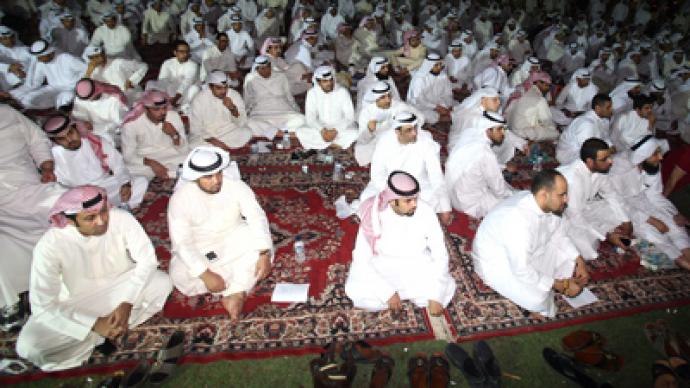 More than 10,000 Kuwaiti oppositionists rallied in front of the parliament building ahead of a decisive court ruling on an electoral constituency law amid rising tensions in the oil rich Gulf State.
­Demonstrators fear that a politicized ruling could endanger the opposition candidates' chances of victory in the next parliamentary election. The opposition says the government is unilaterally trying to change the constitutional system that has been in place for half a century.
On Tuesday, Kuwait's constitutional court is to reach a verdict on the legality of the 2006 electoral law that divides the country into five constituencies.
The opposition is worried that if the law is declared unconstitutional, as the government wishes, than the ruling elite will redraw electoral boundaries to give it an advantage in the next elections expected by the end of next year.
Forbidden to form parties, Kuwaiti politicians create blocs in parliament based on tribal ties and policy, after drawing support from various youth groups during opposition rallies.
In Kuwait's constitutional monarchy, the head of the ruling family, Emir Sheikh Sabah al-Ahmad Al-Sabah, has the final vote on the country's politics. He chooses the prime minister, who in turn picks a cabinet. This process has drawn major criticism.
Accusations have been mounting that the government has fixed elections and that corrupt candidates, with friendly ties to the ruling family, buy their way into the parliament.
But despite this, the opposition delegates have formed a majority bloc in parliament following a strong performance in February's election. But the constitutional court dissolved the opposition-dominated 2012 parliament and reinstated a more government-friendly assembly.
"The government wants to play with the electoral system. The electoral law is constitutional," businessman Hussein al-Ajmi told Reuters. "There is big corruption in this country, from the top to the bottom. The government is trying to make problems, to divide us, to lead us in a vicious circle."
Kuwait has been rocked by a series of political crises since 2006 during which the government resigned nine times and parliament was dissolved on five occasions.
­
Kuwaiti men rally in front of the parliament against a government move to amend the electoral law in Kuwait City, late on September 24, 2012 (AFP Photo / Yasser Al-Zayyat)
Kuwaiti men rally in front of the parliament against a government move to amend the electoral law in Kuwait City, late on September 24, 2012 (AFP Photo / Yasser Al-Zayyat)
Kuwaiti men rally in front of the parliament against a government move to amend the electoral law in Kuwait City, late on September 24, 2012 (AFP Photo / Yasser Al-Zayyat)