France under fire from PKK and Turkey as thousands protest Kurdish women's murder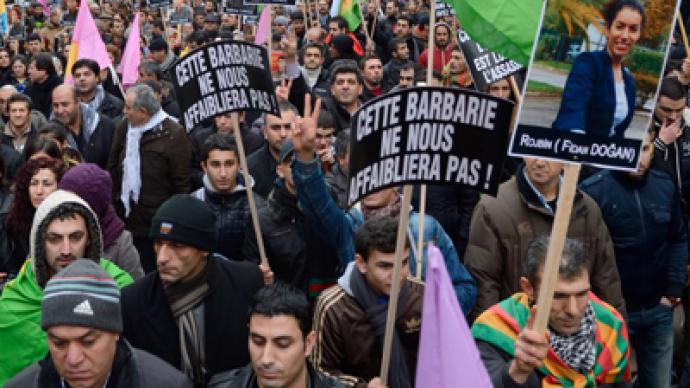 Thousands of Kurds have taken to the streets of Paris, demanding justice for the killings of three Kurdish women. Turkish Prime Minister Recept Tayyip Erdogan has demanded that France immediately clarify the circumstances of the deaths.
Erdogan has specifically requested clarification for the president's 'communication' with 'terrorists.'This follows the French president's remarks that the killing of three Kurdish women on Thursday was "terrible", adding that he knew one of the Kurdish women and that she "regularly met" with him.France has also found itself under fire from the separatist PKK movement which warned that it would hold France responsible if the killers were not quickly found.The triple murder triggered finger-pointing between the PKK and Turkey, with many Kurds blaming Ankara, and going so far as to call the deaths a 'political assassination'.The killing came at a sensitive time of talks between Ankara and the PKK leadership, with the sides having preliminarily agreed to end the three-decade conflict according to Turkish media report.In an official statement, the PKK called the murder an "attempt to undermine" the talks between Turkey and Ocalan, with Turkish officials having suggested the act might be either part of "an internal feud" or an attempt to derail the talks.The three victims of the attack were Sakine Casiz, a co-founder of the militant PPK, 32-year-old Fidan Dogan, a representative of the National Congress of Kurdistan, an organization based in Brussels, while the third woman was young activist Leyla Soylemez. The women are believed to have held Turkish passports. On Thursday, they were found shot dead in the Kurdish institute situated in the 10th district of Paris.French Interior Minister Manuel Valls told France-Info radio after he visited the scene that the assassinations were "intolerable", and "surely an execution."Thousands of demonstrators marched through the streets carrying Kurdish flags and giant banners with photos of the three females on Saturday. Protesters shouted "We are all PKK" as they walked through the neighborhood where the victims' bodies were found. "I came to the protest today because I feel concerned," 18-year-old student Aylin Erten told AP. "First of all as a French citizen I feel concerned because it is a shock for us. As a Kurd I feel concerned because these three women were symbols of our community and this crime didn't happen in Turkey or another country, it happened in France, in Paris."On Thursday, hundreds took to the streets of the French capital, after the Federation of Kurdish Associations in France (Feyka) called for a demonstration in Paris. The demonstrators were chanting"Turkey assassin, Hollande complicit," referring to French President Francois Hollande, AFP reported.
You can share this story on social media: