Hackers down Russian presidential site in 'powerful cyber-attack'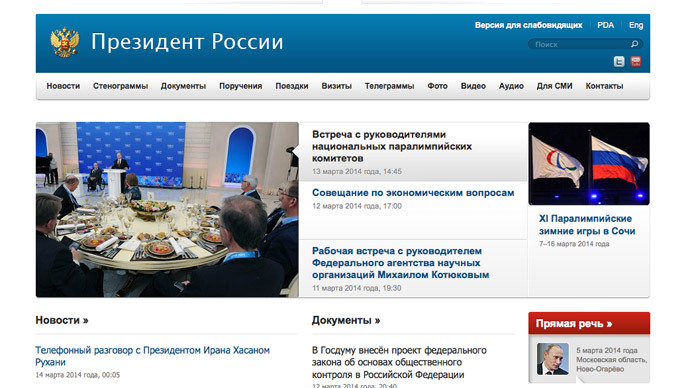 Unidentified hackers brought down the Russian presidency's site and the Central Bank's web page in a wave of online attacks. The website is now operational for most users.
"A powerful cyber-attack is underway on the [Kremlin] site," a Kremlin spokeswoman said, adding they had been unable to discern who had carried out the attack.

Specialists are now working to eliminate any disruption caused by the ongoing cyber-assault. An investigation has also been launched into the source of the hack attack.

"A serious DDoS attack is currently underway, not only on the Kremlin site, but also a number of other web portals," the Kremlin's press service told Russian news agency ITAR-TASS, confirming this is the most powerful cyber-attack ever carried out on the presidential site.

"Every possible measure is being taken to bring the site back online," said the press service. "At present the site is working for most users."

Russia's Central Bank also confirmed that its site had been knocked out by hackers on Friday morning.

"At the moment Central Bank's website is experiencing problems due to a hack attack. Central Bank is taking steps to restore the website and prevent further attacks," said a spokesperson from the Bank to the press.

The site now appears to be working, but is experiencing delays loading page information.
The Russian Foreign Ministry's website also suffered disruptions Friday, the ministry's Information and Press Department told Itar-Tass. They did not rule out that the problems could also be connected with hackers' attacks.
Russian media sites were hit by cyber-attacks on Thursday. Anonymous Caucasus claimed responsibility for taking down Russian Channel One's website, although it denied it had anything to do with the current situation in Ukraine. Meanwhile, the Russia-24 TV channel said on its website that the internet resources of the All-Russian State Television and Radio Broadcasting Company (VGTRK) were also targeted in a "massive network attack."

Earlier in the week Anonymous Caucasus targeted the website of news outlet LifeNews, slamming the organization as the "lapdogs of the FSB [Russian security service]."

DDoS attacks or denial-of-service attacks work by flooding the targeting server with communications requests, causing the site to work so slowly that it becomes unavailable.
You can share this story on social media: