Kosovo PM accused of link to organized crime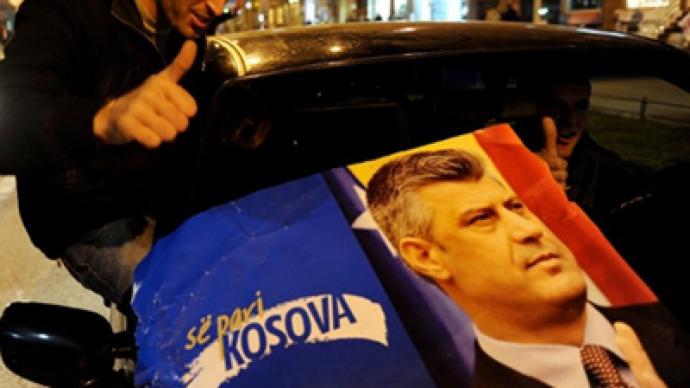 Kosovo's Prime Minister has been named as the head of a 'mafia-like' Albanian group, responsible for smuggling human organs, drugs and weapons, according to an inquiry by the Council of Europe.
A report by Council of Europe human rights rapporteur Dick Marty said that Thaci's criminal group dominated organized crime in the region for over a decade. Marty has also accused the international community of failing to act on intelligence they possessed."We found out that all this is already widely known to the special services in many countries and to police. Many people told us, face to face, they already knew about these allegations, but kept silent for political reasons, or were made to keep silent," he said. "The report found some facts that are unpleasant, to put it mildly," Marty added. "There are numerous similar pieces of evidence that make it obvious that these were crimes committed by the Kosovo Liberation Army. There has been no punishment for these crimes yet and not a single serious investigation has been carried out." Dick Marty stressed that authorities in Kosovo must now conduct a "tough, independent investigation". The European Union Rule of Law Mission in Kosovo (EULEX) said it will now launch its own probe into the allegations.According to the report, Thaci and his accomplices have carried out "assassinations, detentions, beatings and interrogations" during crimes dating back more than a decade. Some members of his group are also accused of smuggling individuals into Albania after the 1999 Kosovo war, where Serb prisoners were killed and their organs harvested.The report claims Thaci's links to organized crime date back to when his Drenica group became the dominant factor within the Kosovo Liberation Army.Vetevendosje party member Glauk Konjufca believes that western powers have intentionally closed their eyes to KLA criminal activities. "I think that the international community was using these kinds of corrupt politicians in order to push their aims, in order to not have resistance, to have their scenario all under their control so they could do whatever they wanted with Kosovo," he said. Official reactions to the report were emphatic. Russian Foreign Minister Sergey Lavrov said that the report has "worried Russia". "This document must not stay confidential. It is necessary to make it as widely available as possible," he said. "These claims are very serious and if they are confirmed they equal crimes against humanity." In turn, Serbian Foreign Minister Vuk Jeremic said that both Russia and Serbia have long tried to attract the world's attention to this information. "The report shows what Kosovo really is now and who governs it," he said.The report was first leaked barely 24 hours after Hashim Thaci's Democratic Party of Kosovo claimed victory in Sunday's general election, the first since its 2008 unilateral declaration of independence. Allegations of vote-rigging now pale into insignificance.The PDK, which denies all allegations of electoral fraud, dismissed Marty's findings as "baseless and defamatory".Marko Gasic from the British-Serbian Alliance for Peace says the information only springs up now because The Hague Tribunal was "scared of raising this issue too strongly." Also, they did not have any cooperation from the Interim Administration Mission in Kosovo (UNMIC). "The Kosovo Albanian authorities were, themselves, so completely implicated in the systematic cold-blooded murder of living human beings that they couldn't cooperate – they would be opening themselves up to the very exposure which has now happened," Gasic told RT. "UNMIK, which was put there in essence to keep the Kosovo part of Serbia and to develop organs of self-government for it, turned into a vehicle for NATO to control the complete succession process," he added.
Ivana Miloradovic from World News says she is hoping the allegations could be picked up by the International Criminal Court after The Hague Tribunal wraps up its work in the next couple of years."[The Hague Tribunal's] term is about to expire. But luckily, there is the International Criminal Court now, and these allegations might be interesting to the prosecutors there," Miloradovic said.
Nebojsa Malic, a Serbian historian and blogger, says he is not sure the report will lead to any criminal prosecutions, either of Sachi, who has been getting away with murder for years, or of Western officials."Basically, if this has been happening since 1999 or 1998, as it has been, according to the report, then just about every single high international official, from Bernard Kouchner onwards, has been implicated and could be put on trial for aiding and abating this hideous practice," he explained. "Somehow I don't think the Western European capitals will have any readiness too put their own high officials on trial."
The report focuses too much on organ trafficking, which, in fact, shows Europe is not even strong enough to come up with the real story against Washington's wishes, claims Christoph Hoerstel, government and business consultant. "And the real story is what is under cover, so to say. The German Army institute here in Berlin published, some years ago, that this Kosovo is just a multi-criminal, poli-functional space," he explained.Hoerstel believes Kosovo is being used by Washington and by Europe for two things: "it creates a highly-criminal mafia environment for terror management" and it also provides "a training ground for Al-Qaeda actions".
While allegations of organ trafficking have yet to be proven, there is clear evidence that NATO's human rights protection has gone awry in the region, says Misha Gavrilovich, an expert on the politics of the Balkans.'I do have to say here that NATO, which has effectively put the KLA in charge of Kosovo, has bombed themselves into Kosovo on the basis of protecting human rights. What we have now to face is the removal of human organs,'  Gavrilovich says. 'We do have very clear physical evidence of what's been going on in Kosovo – complete lawlessness – over 150 Serbian orthodox churches and monasteries have been desecrated and burned down.  Now something like that you do have very clear physical evidence – there is even greater physical evidence of some 200 000 people who have been who have been ethnically cleansed from Kosovo and are to be found in refugee camps in Southern Serbia,' the expert adds.
The inquiry has drawn reactions from foreign politicians, as well."The report prepared by the Council of Europe has very much worried Russia. This document must not stay confidential," Russian Foreign Minister Sergey Lavrov. "It is necessary to make it as widely available as possible." Serbian Foreign Minister Vuk Jeremic called the findings "horrifying.""The reports shows what Kosovo really is now and who governs it," Jeremic said.
You can share this story on social media: