Kim's dead? Top South Korean spy pressured to resign after intel blunder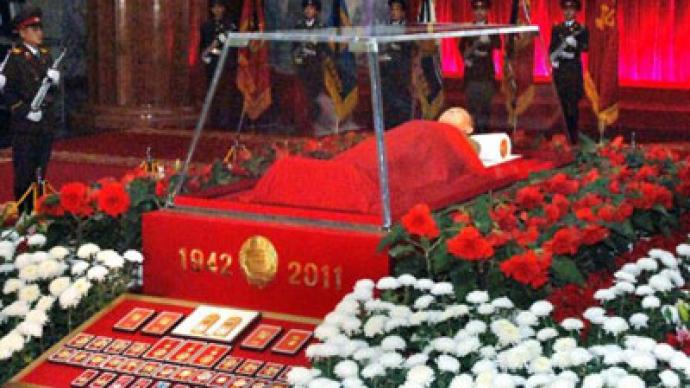 South Korean lawmakers are calling for the dismissal of the country's top intelligence chief for not knowing about the death of Kim Jong-il prior to Pyongyang's announcement – two days later.
Park Young Sun, a member of the opposition Liberty Freedom party, called on National Intelligence Service Director (NIS) Won Sei Hoon to resign for his "unacceptable" ignorance and poor management, Bloomberg News reports.  Amid fears that the death of North Korea's Supreme Leader could further destabilize the world's most militarized region, many South Koreans were livid to find their government seemingly caught off guard by Kim's passing.  Won had previously said, during a special session of the South Korean National Assembly Intelligence Committee, that spooks had been closely following Kim Jong-il's movements.  However, they lost track of him on December 15, and were unaware of his exact location when he died two days later.  The NIS chief went on to make headlines by stating that US military satellite photos proved the train Kim was allegedly traveling on when he died was in fact stationary – and in Pyongyang – at the officially announced time of death death.  Won's statement cast doubt on the North's official account, leading many to speculate that Kim could have been assassinated.  However,the controversial remarks also revealed a potential breakdown in the country's intelligence-sharing capability. Contrary to Won's statements, sources in the South Korean Defense Ministry said they believed Kim's train was moving at the time of his death. And as the National Defense Ministry went into damage control mode by underplaying the conflicting accounts, Intelligence Committee head Kwon Young-se was not buying it.  "This is a very serious matter, that there is a discrepancy in the intelligence communities," the Korea Joonang daily cites Kwon as saying in an interview with CBS Radio.  Kwon was also highly critical of Won's decision to "provoke Pyongyang" by challenging the North's official version of events."The North's leadership is extremely vulnerable right now, and inter-Korean relations are very delicate at this point," Kwon said. "It was inappropriate to openly challenge an announcement the North had put serious effort into," the Korea Joonang daily reports.  Kwon also accused South Korean President Lee Myung-bak of nepotism and undermining the country's intelligence gathering capabilities, by appointing under-qualified foreign affairs and security officials.  "Foreign affairs and security are different from other fields of society," Kwon said. "One failure can undermine the existence of a country. Therefore, officials handling foreign affairs and security should be appointed strictly on professional expertise, not close personal ties with the president." This isn't the first time Won has ended up in hot water.  In February, NIS agents were humiliated when they got caught in the hotel room of a visiting Indonesian delegation attempting to steal information concerning the sale of high-tech aircraft.While the scandal has resulted in a major overhaul of the NIS, Won managed to hold onto his position.
You can share this story on social media: