Have a heart! 'Tender-hearted' Kim Jong-un orders defectors shot – reports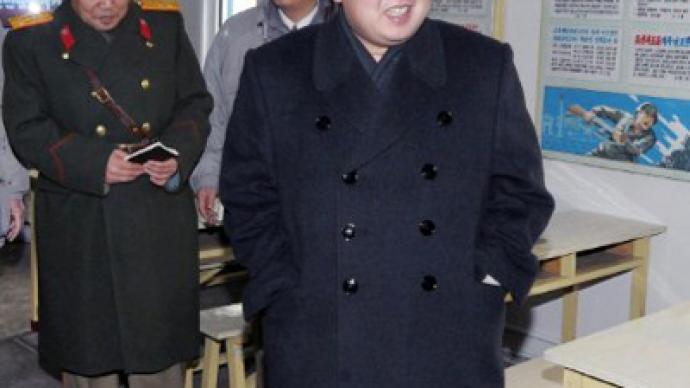 The North Korean regime does not seem to be softening with its new, young leader Kim Jong-un succeeding his father Kim Jong-il, as reports say he is taking tough measures on potential defectors.
Following the death of the country's longtime "Dear Leader" Kim Jong-il on December 17, power was handed to his son, who North Korean official media call a "meticulous and tender-hearted man." The official agencies burst with excitement and piety when Kim Jong-un was reported to have sent hot sweet drinks to mourners paying their last respects to his late father despite harsh weather conditions. But when it comes to more concrete actions, the young leader seems neither sweet nor tender-hearted – though he is surely meticulous. This week, sources reported Kim the younger gave an order to shoot defectors attempting to flee the country. According to the Japanese daily Sankei Shimbun, Kim issued an order not to let a single defector out of the country shortly after the death of Kim Jong-il was announced. The source is cited as presumably aware of the situation, being in a North Korea-China border area. Seoul's JoongAng Daily newspaper says that according to a reporter at Open Radio for North Korea, a Seoul-based media organization specializing in the North, "Kim Jong-un is ordering immediate executions when people are caught trying to cross borders [without permission]."And it looks like the words were followed by immediate action, as the US-based Radio Free Asia said on Tuesday that three defectors North Korea were shot dead while crossing the Amnok River (called the Yalu River in China) into China from Hyesan in the North's Ryanggang Province by North Korean security guards on the last day of 2011.Normally defectors prefer the warmer seasons, primarily being smuggled out on fishing boats. But this time, three men saw the winter ice covering the river as their lucky chance to cross into China. However, that luck turned bad, as border guards reportedly shot down the would-be defectors. What's more, under the new leader, the country is set to hunt down and imprison, or even kill, three generations of family left behind by defectors – successful or not – according to Joongang Daily. According to some sources in the country, there was no such practice during the Kim Jong-il era.The alleged killings are the first fatalities since Kim Jong-un ordered the borders closed following his father's death.
You can share this story on social media: