The Kim is dead, long live the Kim!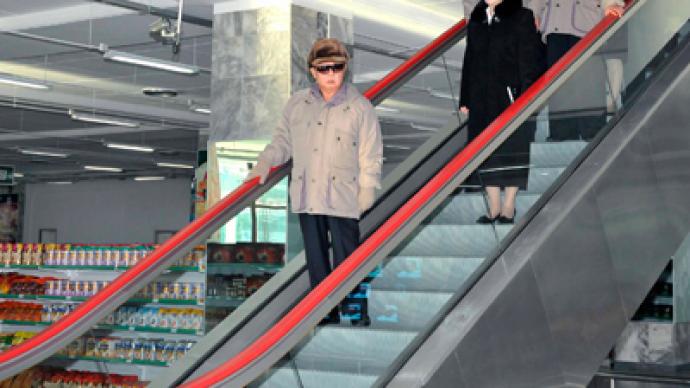 The final photos of the late North Korean leader Kim Jong-il have surfaced on the web. They show him and his successor son, Kim Jong-un, on a "field guidance tour" to the first and only supermarket in North Korea.
The photos were released by the Korean Central News Agency on Saturday soon after Kim Jong-il had passed away but before the information about his death was made public. Kim Jong-il, accompanied by his son, his sister and some other senior North Korean officials, strolls down the aisles of the Gwangbok Street Shopping Center, the first supermarket in North Korea's capital, Pyongyang. In some photos he checks out what looks to be DVD players, toilet paper and other household items, offering some advice to the officials in charge. He appears to be wearing a gray coat, a hat and sunglasses. The most important person accompanying Kim Jong-il was his youngest son, Kim Jong Un, who was named as the Great Successor following his father's death. Not much is known about the twenty-something Swiss-educated scion who will become the youngest leader of a nuclear state. South Korean newspaper Choson Ilbo presents an in-depth analysis of the other key officials trailing along. It notes the presence of Jon Il Chun, a high-school classmate of the deceased Supreme Leader and head of a special department responsible for the management of Kim's personal finances. The newspaper says his presence may point to the fact that the supermarket's profits were to go to Kim Jong-il's own private coffers. Chosun Ilbo also spots Ri Chol, the chairman of a North Korean committee responsible for attracting Chinese investment to the country. An unnamed South Korean Unification Ministry official says this means the supermarket was built with the help of Chinese investment. The Gwangbok Street Department Store, built in 1991, was renovated earlier this year after Kim Jong-il's visit to China, during which he toured a similar Western-style self-service supermarket in Yangzhou.
You can share this story on social media: