Joseph Kony forces children into sex slavery and violence - UN report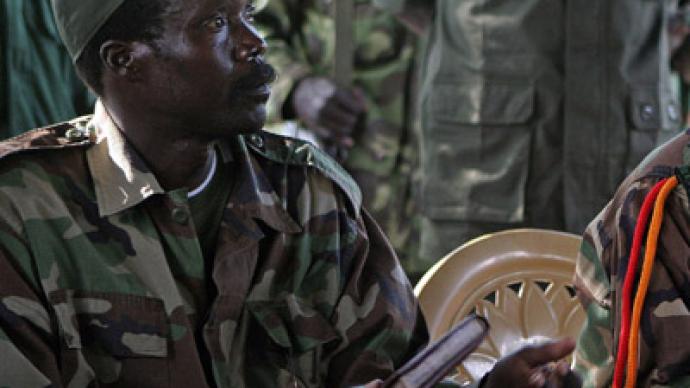 The Ugandan warlord Joseph Kony has kidnapped almost 600 children over the past three years forcing some of them to kill each other and work as sex slaves, a UN report has found.
­Kony – a self-styled mystic leader who was at one time determined to rule Uganda by the Ten Commandments – is wanted as a war criminal and has been on the run for a number of years.

Children were forced to join Kony's Lord's Resistance Army (LRA) and were used as cooks, porters and spies. They were also forced to fight as soldiers and were used as human shields.

"Some children were forced to use violence, including killing their friends and other children in the armed group." Ban Ki moon, the UN Secretary General, said in his report detailing the LRA's crimes against children, submitted to the UN on Wednesday.
Some of the boys were forced to drink "magical potions", which they were told would increase their physical strength and make them traceable if they escaped, while many of the girls became sex slaves and were forcibly married to adult combatants.

A further problem is that if a child does manage to escape and is reunited with their families, they can be ostracised by their former communities. Girls returning with babies are particularly likely to be stigmatised.

"Families that take in LRA victims are often accused by their community of supporting the LRA and young women escaping with babies are often seen as bringing bad luck." Ban Ki Moon said.  

Meanwhile the long manhunt for Kony continues.  It is estimated that between 200-500 members of the LRA are roaming the remote jungle in the porous border area between the Democratic Republic of the Congo, the Central African Republic (CAR) and South Sudan.
Farhan Haq, associate spokesperson for the UN Secretary General, told RT that the Central African Republic has many of its own internal political problems and that the LRA are further undermining stability in the country, "We are concerned about the ripple effect in what is a fragile region."
Mr. Haq added UN peacekeepers stationed in the east of the DR Congo have tried to do what they can to combat LRA operations in the area but they were already over stretched and under resourced.  

He claimed that the terrain in the area, often mountainous with thick forest, makes it difficult to track down the LRA.  

However, it is not only children who are in danger but the entire civilian population. The report says that 45,000 people in the region have been forced to leave their homes in fear of the LRA.

Late last year, 100 US Special Forces were deployed to help Ugandan soldiers track down Kony and his senior advisers.  DR Congo, South Sudan and CAR are preparing to join an African Union coalition to intensify efforts to capture him and hand him over to the international criminal court.

The head of the UN Office for Central Africa, Abou Moussa, said in an interview, "The LRA group doesn't have time to settle down anymore. They move a lot but I am sure they will have to abandon that in the end."

A recent report by Human Rights Watch said that since the beginning of 2012 the LRA had increased attacks in the CAR and were a serious threat to civilians.  
Last month the Ugandan army captured Caesar Acellam Otto, one of the LRA's top military leaders, in the CAR.