65 people killed and 190 wounded in Iraq, worst violence since 2008
A wave of bombings on Saturday night in Baghdad province have killed 65 people and wounded 190, officials said. Iraq has seen its worst violence since 2008; over 520 people have died in July.
Twelve car bombs and a roadside bomb exploded in Baghdad city; another bomb went off in Madain, to the south of the capital, a police colonel and a medical official said.
The bombs struck when a dozens of Baghdad residents were in cafes after the meal that breaks the daily fast during the Muslim holy month of Ramadan.
In the deadliest incidents, two car bombs killed 12 people in Karrada, a wealthy district in Baghdad, while two car bombs and a roadside bomb hit the downtown Zafraniyah area, AFP reported.
In the city of Mosul, some 400 km northwest of Baghdad, a roadside bomb killed a policeman on patrol and wounded another, while a car bomb southeast of the city killed a woman and wounded 22 people, including seven police officers.
Saturday proved to be the deadliest day of violence in Iraq since June 10, when attacks claimed the lives of 78 people.
The Saturday bombings came only a day after a suicide bomber blew himself up inside a Sunni mosque in central Iraq, killing at least 20 people in the middle of a sermon.
"I was in the first row of people praying. We were listening to the preacher give his sermon. Suddenly, a huge explosion shook the place," a 22-year-old student Salman Ubaid told Reuters.
It was unclear who was behind the blast which took place in the ethnically and religiously diverse province of Diyala which has recently seen a growing number of attacks.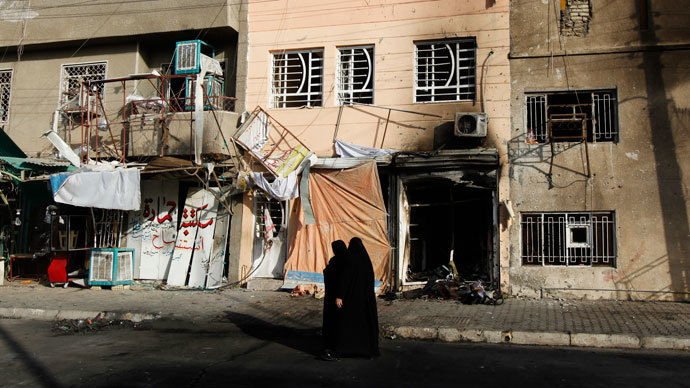 Growing violence has raised fears of a return to a large-scale sectarian conflict in the country where Shiite and Sunni Muslims have been struggling for years to find a peaceful way of sharing power.
Over 2,700 people have been killed in Iraq since the beginning of 2013, according to AFP figures based on security and medical sources.
Senior Iraqi officials and religious leaders remain silent on the reign of terror, however.
Although Prime Minister Nuri al-Maliki ordered a shakeup of senior security officers in May, the move failed to help curb the surge of violence.
Some analysts say, the growing discontent among members of the Sunni minority, which the Shiite-led government has failed to address, has sparked this year's surge in unrest.
Protests broke out in Sunni-majority areas at the end of 2012. On April 23, security forces moved against protesters near the town of Hawijah, sparking clashes that killed 53 people.
Over 450 people have been killed each month since April.
You can share this story on social media: