Dozens killed in string of Baghdad bombings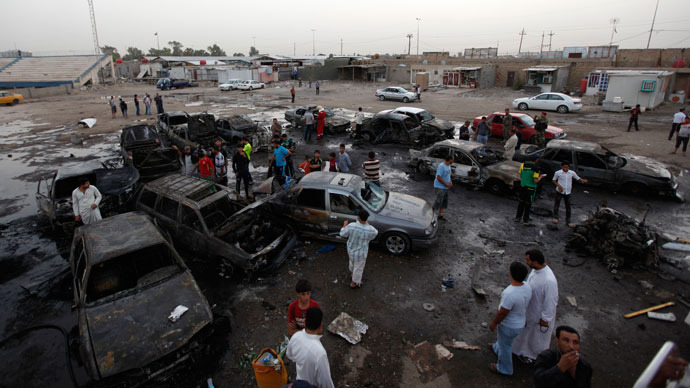 A series of blasts ripped through Iraq's capital on Monday, killing more than 70 and leaving many wounded, marking the latest in over 350 deaths this month as sectarian violence continues to overwhelm the country.
The precise number killed in the bombings Monday is uncertain, with agency figures ranging between 58 and "more than 70," with a further 180 wounded, according to security and medical officials cited by AFP. Kuwaiti news agency KUNI placed the figure as high as 82 dead, with another 130 injured.

Approximately twelve different blasts struck markets and shopping districts in Baghdad's Shi'ite areas. The explosions included twin bomb attacks just a few hundred meters apart in the Sadr City area of the capital, which killed 13.

"A driver hit another car and left pretending to bring traffic police. Another car rushed to take him away and right after his car exploded among people who had gathered to see what was happening," one bystander, Hassan Kadhim, told Reuters. "People were shouting for help and blood covered their faces."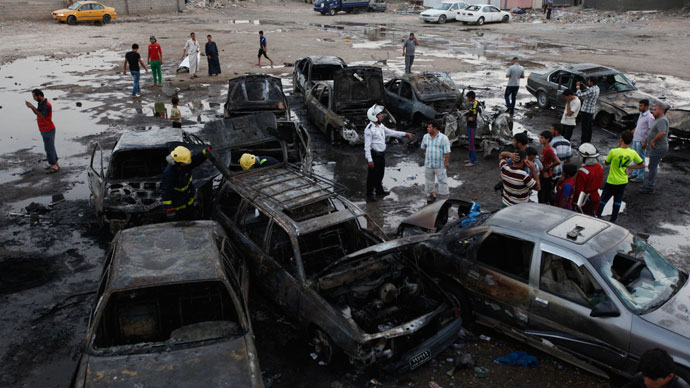 Two of the blasts, instigated by vehicles fitted with explosives, went off in the vicinity of used car dealerships in the northeastern district of Habibiyah, destroying dozens of cars as Iraq's national football team were playing Liberia in a friendly at Shaab stadium a short distance away.

"Guards are here, and a car explodes here," Fadhel Hanoun, a used car dealer told AFP, voicing anger at the loss of savings tied up in unsold cars, alongside the many deaths. "This is a failed state," he added.

No one group has yet claimed responsibility for the simultaneous attacks. However, they mark the latest in a series of assaults in both Sunni and Shiite regions, prompting fears that widespread sectarian violence is once more gripping the country.

A series of bombings only a week ago killed left at least 95 people dead on one single day. 76 people were killed in a string of bombings just outside Baghdad on May 17, and explosions in the capital left more than 35 dead on May 15.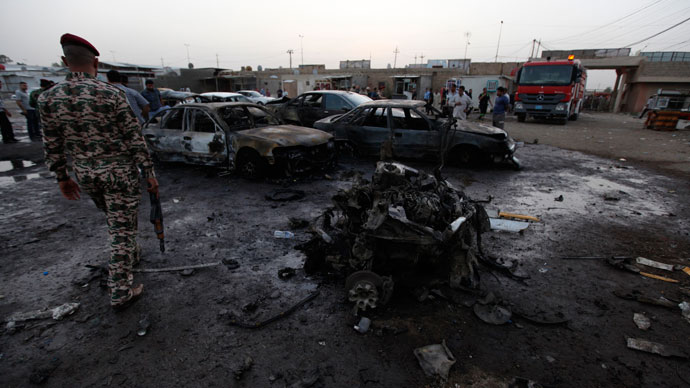 Across April, more than 700 people, including 595 civilians, died in Iraq "acts of terrorism," making it the deadliest month since June 2008, the UN's mission in the country said. The capital Baghdad has become the worst affected city.
Ten years after the US declared its victory over Saddam Hussein, Iraq is still mired in violence, with tensions between Sunnis and Shiites elevated since both the 2003 US led invasion of the country, and subsequent withdrawal of US troops in 2011.

"Americans have to take the blame for that because of the system they imposed in Iraq, giving independence to Kurds in the North, who of course were allies with them against Saddam Hussein, and then they are suggesting they would split the Shia alliance in the rest of Iraq and that opened up a Pandora's box, which really is almost impossible to stop now. But this is not going to stop sectarian violence,"
political analyst
Chris Bambery told RT
earlier this month.
Since US withdrawal, the Iraqi army and police force have faced severe difficulties in preventing an increase in insurgency and sectarian tensions.
Majority Shiites dominate the power centers in post-Saddam Iraq, amid Sunni complaints that some laws unfairly target them as a group and that they are treated as second-class citizens.