25 dead, over 60 wounded in suicide bomb attack at Iraq political rally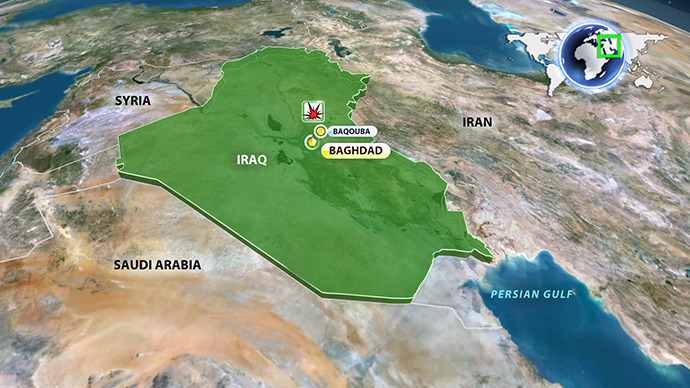 At least 25 people have been killed and 60 wounded after a suicide bomber detonated an explosive device at a political rally in eastern Iraq. It comes weeks before Iraqi elections, already postponed in several provinces due to bombings and protests.
The blast occurred as Sunni candidate Muthana Al-Jourani was hosting lunch for supporters on Saturday in the city of Baqouba, 60km northeast of Baghdad.
A grenade was also thrown at the meeting right before the suicide bomber blew himself up, according to police and hospital sources.
There was no immediate claim of responsibility for the attack. Such blasts are typically blamed on Al-Qaeda militants, who seek to undermine confidence in the country's government.
Reports said the election candidate himself survived the Saturday blast. Twelve other candidates have been killed in similar attacks during the run-up to the April 20 Iraqi vote. These will be the first polls since the withdrawal of the US forces from Iraq in 2011.
Only 12 of the country's 18 provinces will cast ballots on April 20, and concerns have been raised over the recent Iraqi government decision to postpone elections in two provinces due to the security situation.
The latest attacks come amid a recent spike in violence in Iraq, which claimed more than 270 lives in March alone. Earlier last week, at least 23 people were killed and more than 130 wounded after bomb blasts rocked four Shiite mosques in Baghdad and another mosque in Kirkuk.