Standoff between gvt, protesters intensifies, 24 hours before Kiev ultimatum ends
With 24 hours until Kiev's threatened deadline to use force against anti-government protesters occupying buildings in eastern Ukraine, reports emerge of tanks around the city of Donetsk. Several locals were allegedly injured trying to stop the convoy.
An eyewitness confirmed the information about military forces arriving in the city in an interview with RT.
"At about 2pm we received information that military hardware had arrived at our local train station. We went there and saw APCs, military vehicles and troops. The whole town gathered nearby. The soldiers tried to start moving, and the people tried to stop the vehicles," Lyudmila said.
She also noted the harsh response from the military when the locals attempted to stop them.
"The soldiers twisted the arms of pensioners, there were two men standing there and [the soldiers] drove over their feet [in tanks]. I was pulled back by local coalminers while I tried to stop the vehicles. They didn't even look at who was in front of them. The men started shouting for them to stop, saying there were girls and women in front of them, but they didn't care."
According to a decree signed by coup-imposed leader Aleksandr Turchinov, the local administration building in Donetsk and surrounding territory is an "important government facility, which is a subject to state protection."
The decree entered into force upon signature and Turchinov has already given Ukraine's state security service appropriate directions, Itar-Tass reports.
Ukraine's acting interior minister Arsen Avakov stated earlier on Wednesday that a "special police task force" had already arrived in Donetsk, Lugansk and Kharkov from western regions of Ukraine and was ready to take them under control within 48 – using force, if needed.
The buildings of power structures in the eastern cities of Donetsk and Lugansk remain under control of the protesters. While so far there have been no attempts to recapture the occupied buildings, activists continue building barricades preparing for a possible attack by forces shipped in from other regions of Ukraine.
People are burning bonfires to stay warm in front of the barricades and singing songs to keep up their spirits, with Russian and regional flags waiving in the background. Many women and elderly people are among those on nightwatch in the center of city.
"We will be on duty here all night, because the assault could begin at any moment," one of the activists told Ria Novosti. Thousands more people are ready to stand up against attackers at the first call of those keeping watch around the perimeter. Several times over the last few days activists assembled to train their response to emergency situations.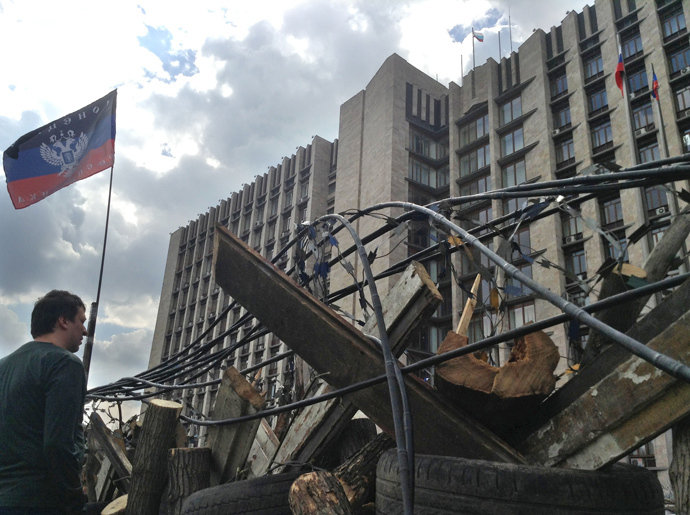 Activists expect the military operation to take place overnight in Donetsk and Lugansk simultaneously. Local administration in Kharkov was already stormed on Tuesday by armed men without insignia and masked law enforcement officers, after the local police in Kharkov refused to fulfil orders from Kiev.
About a hundred fighters from the newly-formed Ukraine's National Guard reportedly arrived in the airport of Donetsk, the deputy director of a local group called People's Militia of Donbas, Sergey Tsyplakov, told Ria Novosti.
"In Donetsk airport about a hundred of people from the National Guard have been housed," Tsyplakov said. "Around a hundred of Right Sector thugs are also in the city, as well as a hundred employees from a private US military company operating under contract with Kiev junta."
"Totally around 300 professionals or well-trained and motivated fanatics," Tsyplakov added. "This is a major force, but we are ready to fight."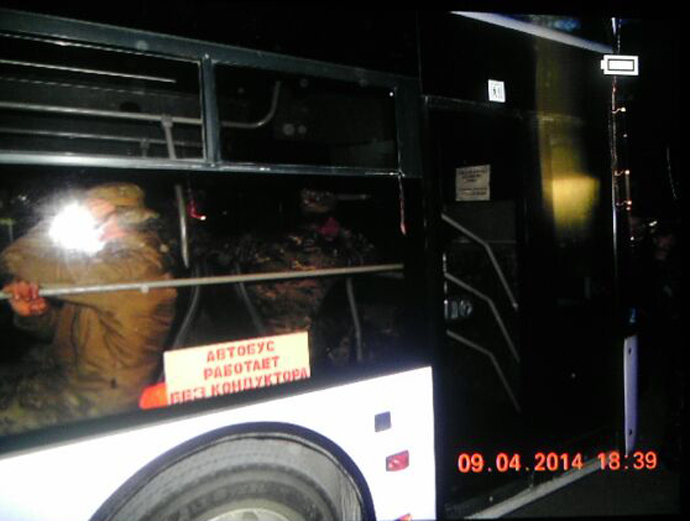 Earlier in the day, pro-federalization activists in Donetsk blocked two busses carrying unbadged armed men in camouflage near the military commissariat. According to Tsyplakov activists believe they were mercenaries but were unable to identify gunmen as they kept silent and refused to answer any questions.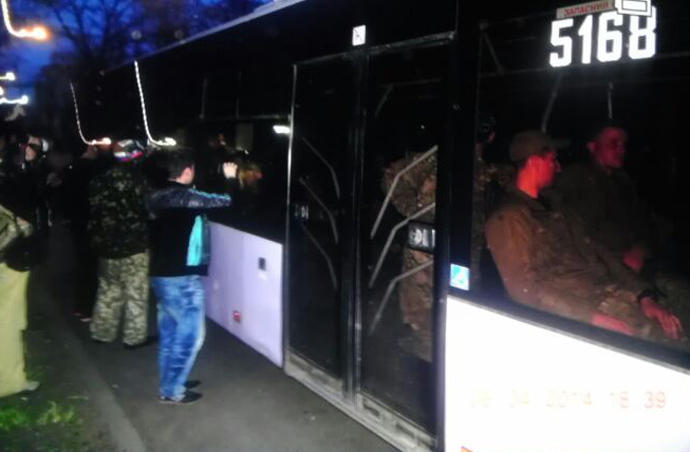 In the meantime, Ukrainian personnel and armored vehicles were spotted moving closer to the city of Donetsk. Amateur videos posted on YouTube show that locals were trying to stop machinery from progressing further.
Protests against the new government in Kiev have been continuing in eastern Ukraine for weeks now. On Monday, popular assemblies in Donetsk and Kharkov, where local administration headquarters were captured by protesters, declared independence from Ukraine and announced the creation of the independent Donetsk People's Republic and Kharkov People's Republic.
You can share this story on social media: