US reserves Syria strike option, Israel seeks 'results, not words'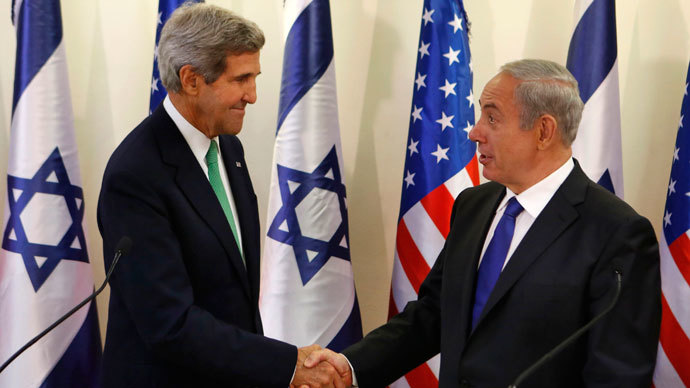 US-Russia deal on Syria will be judged on whether it achieves results, which is "the complete destruction" of Bashar Assad's chemical weapons stockpiles, Israeli prime minister, Benjamin Netanyahu, said.
The US Secretary of State, John Kerry, has arrived in Jerusalem to brief Netanyahu on the agreement he reached with Russian Foreign Minister Sergey Lavrov in Geneva on Saturday.

The accord calls on the Syrian government to provide information on its entire chemical arsenal, which will then be utilized by the international inspectors until mid-2014.

The US-Russia deal "has the full ability... to strip all of the chemical weapons from Syria" Kerry assured the Israeli PM during the meeting.

The Secretary of State also repeated that threat of the US-led military campaign against Syria remains real if Assad fails to comply with the accord.  

In his speech before talks with Kerry, Netanyahu also expressed hope that "the understandings" reached between Moscow and Washington on Syrian chemical weapons will be fulfilled, adding that "the determining factors will be actions and results – not words."

"These understandings will be judged by their result – the complete destruction of all of the chemical weapons stockpiles that the Syrian regime has used against its own people," he said.

"In any case, Israel must be poised and ready to defend itself, by itself, against any threat – and this capability and readiness are more important now than ever," the Israeli PM stressed.

Israeli Strategic Affairs Minister Yuval Steinitz, who is close to Netanyahu, said the US-Russia deal has both "disadvantages and advantages" for the Jewish state.

"On the one hand, it lacks the necessary speed. On the other hand, it is much more comprehensive, as it includes a Syrian commitment to dismantle the manufacturing facilities and to never again produce (chemical weapons)," he told Israeli Army Radio.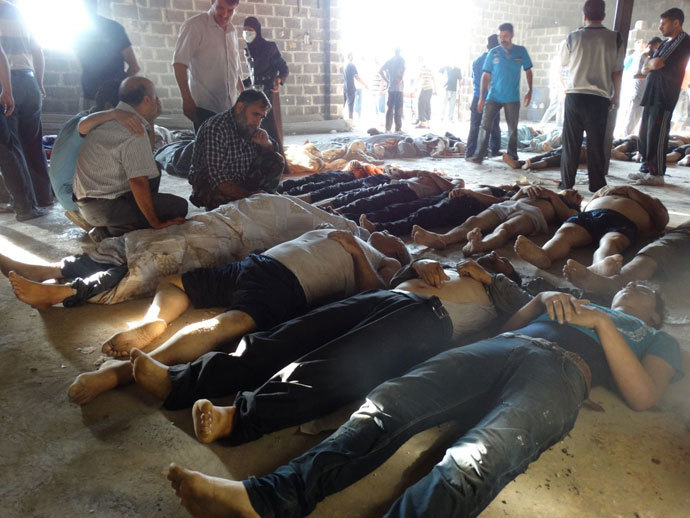 The chairman of the Israeli parliament's Foreign Affairs and Defense Committee, Avigdor Lieberman, also appeared on Army Radio, stressing that Israel's intelligence would be very helpful in verifying the completeness of information Syria provides on its chemical arsenal.
"We will understand Assad's intentions only in a week when he is meant to hand over a full list of all the chemical weapons at his disposal, and I think Israel has a not bad idea of what chemical weapons he has," he said.

Meanwhile, Reuters reports that Israeli officials have expressed dismay in private about the way Barack Obama has handled the Syria crisis.  

They fear that the possible failure to follow through with the military action against Assad will give courage to Israel's main rival in the region, Iran.

The US and its allies blame Assad forces for using sarin gas against peaceful civilians in an alleged chemical attack near Syrian capital, Damascus, on August 21.

Despite the Syrian government denying accusations and no proof of its guilt being presented by Washington, Obama announced that there'll "limited military" action against Assad as use of chemical weapons can't be tolerated.

But the US strikes were put on hold after a Russian proposal to hand the Syrian chemical weapons arsenal to international inspectors for destruction was fully backed by Assad's government.

The civil war, in which the government is fighting the Western-backed Islamist militants, has been raging in Syria since March 2011, claiming over 100,000 lives, according to UN estimations.

You can share this story on social media: