Over three dozen slain in tribal water resources raid in Kenya (PHOTOS)
Published time: 21 Dec, 2012 22:05
Edited time: 22 Dec, 2012 02:05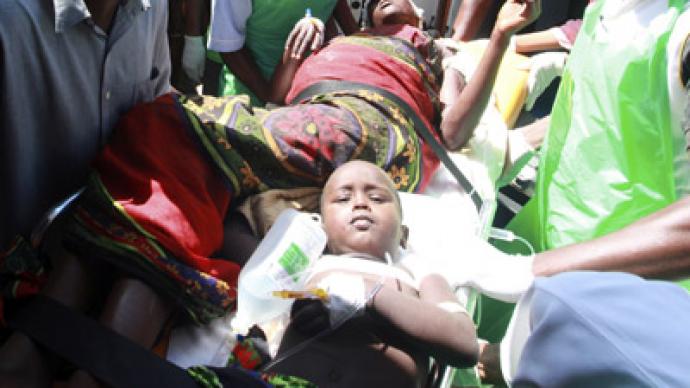 At least 39 people including women and children have been slaughtered in a violent tribal clash over water resources in Kenya, as the feud between farming communities reached its peak.
­Thirteen children, six women, eleven men and nine attackers were killed and forty-five houses were burned when Pokomo farmers attacked a village of the semi-nomadic Orma herders at dawn in the Tana River Delta. Spears and AK-47 weapons were used in the slaughtering according to law enforcement.
Sixteen casualties have been taken to the Malindi District Hospital where all available medics were mobilized, according to the Kenyan Red Cross.
More than 110 people were killed in raids between the Pokomo and Orma in August and September this year.
The violence stems from competition for water access and pastures, according to Institute of Security Studies. But it could also be linked to of political boundaries and next year's general elections, says the UN humanitarian coordinator for Kenya, Aeneas C. Chuma. 
The Pokomo claim the land along the river and the Orma claim the waters of the river.
Children injured during an attack in their village in Tana River district receive treatment inside a ward at the Malindi district hospital December 21, 2012. (Reuters/Joseph Okanga)
Members of the Kenya Red Cross attend to injured villagers after an attack at Tana River district in Kenya's coastal Tana Delta region December 21, 2012. (Reuters/enya Red Cross/Handout)
Paramedics at the Malindi district hospital assist a woman and her child, injured when their community members were attacked in Tana River district in the Tana Delta region December 21, 2012. (Reuters/Joseph Okanga)
Paramedics at the Malindi district hospital assist a woman and her child injured when their community members were attacked in Tana River district in the Tana Delta region December 21, 2012. (Reuters/Joseph Okanga)
A child injured during an attack in her village in Tana River district rests inside a ward at the Malindi district hospital December 21, 2012. (Reuters/Joseph Okanga)