Mosque bombing kills at least three in Kenyan capital (PHOTOS)
Published time: 7 Dec, 2012 20:58
Edited time: 8 Dec, 2012 04:39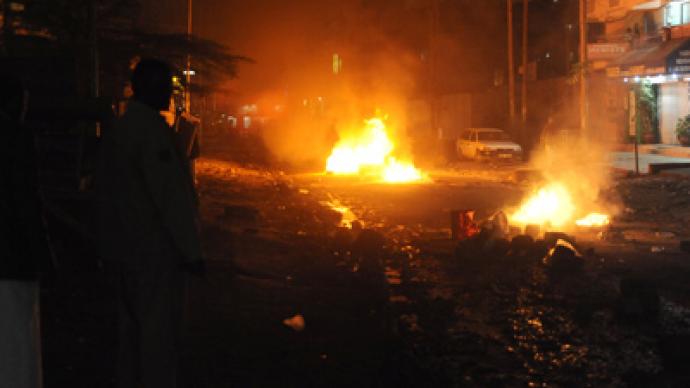 At least three people have been killed and eight wounded after a large explosion in Nairobi. It's the third deadly blast in two months popularly attributed to militant group al-Shabaab.
­Emergency teams have been sent after the explosion, near a mosque in the majority Somali district of Eastleigh, the Kenyan Red Cross said.
A grenade was thrown into a crowd of worshippers as they left the mosque after evening prayers. A number of demonstrators took to the streets after the the explosion, but have been contained by police as emergency teams rushed the injured to hospital.
"There are eight others in hospital. Among them is a member of parliament," the Red Cross reported.
The Friday explosion followed a recent roadside bomb blast in the same district, which killed one and injured eight, AFP reported.
A November bus bombing in the district took another seven lives, injured dozens, and provoked ethnic clashes.
No group has claimed responsibility for the series of attacks so far, although the Kenya-based Islamist group Muslim Youth Center praised the recent blast on Twitter.
The group supports the al-Qaeda offshoot al-Shabaab, a militant group that has recently struggled with Kenyan government forces but has denied involvement in previous bombings.
Al-Shabaab's militants are often blamed for attacks in Kenya, AFP said.
The fundamentalist Islamist group has vowed revenge after Kenyan troops entered Somalia in 2011. In October last year, Nairobi declared that it had the right to defend itself after a number of militant kidnappings of Europeans inside Kenya. Initially, the Somali government welcomed the support from "our Kenyan brothers." 
As of 2012, the Kenyan contingent is aided by another 18,000 African Union soldiers supporting the UN-backed government.
Peopke stand as smoke billow from fires in a street, on December 7, 2012 following a large explosion outside a mosque in Nairobi (AFP Photo / STR)
People inspect blood stains on a road, on December 7, 2012 following a large explosion outside a mosque in Nairobi (AFP Photo / STR)
A wounded man of Somali origin is wheeled into the Kenyatta national hospital on December 7, 2012 following a large explosion outside a mosque in Nairobi (AFP Photo / Simon Maina)