Kenya shopping mall siege: LIVE UPDATES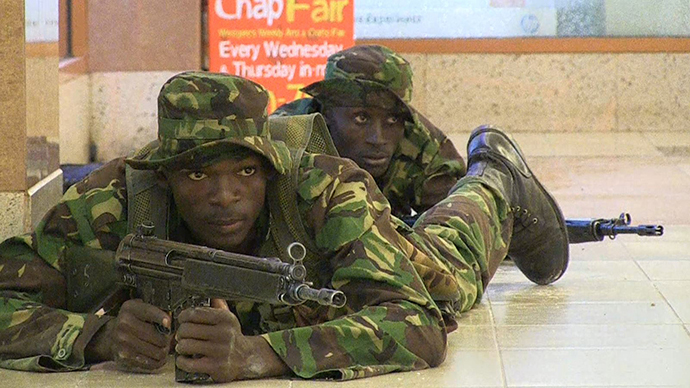 Al-Shabaab, the al-Qaeda-linked Islamist group took dozens of people hostage, among them foreigners, after seizing the Westgate shopping mall in the Kenyan capital of Nairobi on September 21. At least 67 people were killed during the four-day siege.
Sunday, September 29
15:17 GMT: Kenyan security services have made another arrest in connection with the attack, a top official said, but declined to say how authorities believe the person was involved in the siege, AP reports.
So far, 12 people were arrested since the hostage siege, but three were later released, Interior Minister Joseph Ole Lenku told reporters on Sunday. He refused to clarify if any of those arrested had been in the shopping center during the attack.
Wednesday, September 25
09:06 GMT: The hostage-takers, after boasting about killing a total of 137 hostages, then declared the majority of them were buried under the rubble of the collapsed roof of Westgate mall.

Tuesday, September 24
16:46 GMT: Sixty-one civilians have been killed in the attack by the Somali Al-Shebaab militant group on the Westgate shopping mall in Nairobi, Kenya's president, Uhuru Kenyatta, told a news briefing.

Kenyatta added that, starting Wednesday, three days of mourning for the victims will be held in Kenya.

16:41 GMT: Five of Nairobi's Westgate shopping mall attackers were killed and 11 more detained by the authorities, Kenyan President Uhuru Kenyatta told a news briefing in the city.

Forensic experts are currently working to identify the nationalities of the insurgents, he added.

16:39 GMT: 16:39 GMT: The siege at the Westgate shopping mall in Nairobi is over, Kenyan president, Uhuru Kenyatta, told a news briefing in the city.

'We have ashamed and defeated our attackers', says Kenyan president Uhuru Kenyatta

— AFP Africa (@AFPAfrica) September 24, 2013
16:35 GMT: New gunshots and an explosion were heard in Nairobi's Westgate shopping mall, Spain's EFE news agency reported.

The area around the shopping mall is cordoned off, with all car owners asked to remove their vehicles from the parking lot.

Despite the authorities announcing that all the hostages had been freed, the messages posted by the militants on Twitter claim that they're still holding people in the mall.

14:13 GMT: Authorities in Somalia are working in close cooperation with Kenya on the Westgate shopping mall siege, Somali Prime Minister Abdi Farah Shirdon said.

The prime minister said the Nairobi attackers included not only Somalians but also representatives of different nationalities.

13:49 GMT: Further attacks will follow the Nairobi Westgate shopping mall siege if Kenyan troops are not pulled out of Somalia immediately, the Al-Shebaab militant group threatened.

"If not, know that this is just a taste of what we will do... you should expect black days," Ali Mohamud Rage, an Al-Shebaab spokesman, said in a video released by the terrorists. "We will make them suffer what we suffer in southern Somalia, we are giving a warning to the Kenyan government and to all those who support it."

Kenyan troops invaded southern Somalia to attack Al-Shebaab bases two years ago, joining forces with a local militia warlord to push the jihadists from the key port of Kismayo.

12:20 GMT: Gunfire and an explosion were heard in the aftermath of the hostage rescue, as Kenya's forces cleared the Westgate mall.
11:50 GMT: The roof of the Westgate mall has collapsed, according to AFP.

10:20 GMT: The UN Envoy for Somalia, Nicholas Kay, said that the price of walking away from Somalia would be very high, Reuters reports. 

"Security remains the number one challenge, the control and defeating of al Shabaab is key to this," Kay told the press in Geneva. "The amount of money that we're talking about that's required for the extra effort in Somalia would be very small. But the cost of walking away would be very expensive."

He also asked for an increased military support to be given to African troops to counter al-Shabaab's terrorist activities, but added that now is the chance to bring to stability to Somalia.

"They have, for example, not a single military helicopter for a campaign in a country that is the size of Afghanistan physically. This is a mission that needs extra resources in terms of enablers - helicopters and armoured vehicles, and possibly a surge also in numbers of troops."
He promised that the cost of the proposed effort to clamp down on the militants would be very small compared to what the international community spent in Afghanistan, Mali and Iraq. But the price of failure, he added, would be very high.

"The Westgate attacks show that the threat from al Shabaab is international, we have seen it before in Kampala and I fear we could see it again elsewhere too. The ideology and terrorist intent respects no borders," Kay said.

10:00 GMT: Kenyan police say they are currently sweeping the mall and checking for explosives.

A local official also said that the city morgues is preparing for the arrival of a large number of bodies of the victims of the Westgate mall attack, which currently stands at 62. There are many bodies remaining inside the mall, according to an AP witness - a brother of one of the soldiers taking part in the military operation.

08:50 GMT: The militants  claim there are still live hostages inside the shopping mall, according to various international news sources.

08:40 GMT: The al-Shabaab militia claims they have spoken to their 'mujahideen' (fighters) and despite earlier claims that the fighting could be coming to a close, say "the fighting has just started."

08:15 GMT: The militants are disputing the claims that foreigners were among the ranks of the hostage-takers. And those that claim they are American or British "do not know what is going on," Reuters reports.
At the same time, a British security source says it is "a possibility" that Samantha Lewthwaite, a UK citizen, was involved with the militants, but added that no conclusive evidence exists yet to support the claim.

07:47 GMT: As Kenya's military searches Westgate mall for remaining terrorist elements and finds out more about their identities, al-Shabaab claims the 'mujahideen' are "still holding their ground," Reuters reports.

07:24 GMT: Al-Shabaab now claims on their Twitter that they are changing into uniforms of dead soldiers.

#AlShabab claims that they are changing into uniforms of dead soldiers. Might be diversionary #WestgateAttackpic.twitter.com/6nv3xgeyWQ

— Robert Alai (@RobertAlai) September 24, 2013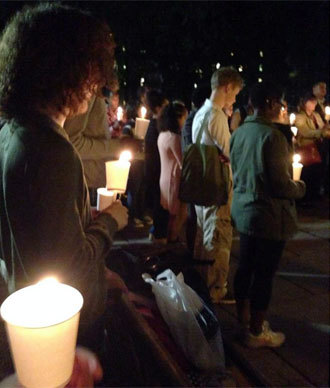 04:20 GMT: Latest reports of gunfire come after the interior ministry assured the public that its forces were "in control" of the situation, after freeing all hostages. The gun shots were accompanied by an explosion and followed by security forces carrying a body out of the mall, the AP reports.
03:47 GMT: Bursts of heavy gunfire can be heard from inside the Nairobi shopping mall, a local source told Reuters. A number of witnesses have reported on Twitter that they heard explosions coming from inside the building.

00:17 GMT: At least three Westerners were among the militants that perpetrated the Nairobi mall siege, Kenya's foreign minister said Monday. "Two or three Americans" and "one Brit" were among the perpetrators, Amina Mohamed said in a Monday interview with PBS Newshour. The Americans of Somali or Arab origin were 18 to 19 years old and resided "in Minnesota and one other place." The British extremist was a female who has "done this many times before," Mohamed said. 
Plume of smoke from #Westgate Mall siege dominating Nairobi skyline. Extraordinary picture by @alykhansatchu#Kenyapic.twitter.com/IYFp37rw0X

— Jon Williams (@WilliamsJon) September 23, 2013
Monday, September 23 
23:43 GMT: US President Barack Obama has called the Nairobi mall attack a "terrible outrage" and said the United States is "standing with Kenya" and providing all the cooperation it can.

21:36 GMT: US authorities are looking into reports that residents of Western countries, likely including the United States, were among the armed terrorists that attacked Westgate shopping mall, US security sources told Reuters.
The United States was notified through official channels that Kenyan authorities now believe that foreigners were among the attackers, the source said. Julius Karangi, Kenya's chief of general staff, said earlier that the attackers were "clearly a multinational collection from all over the world."
20:58 GMT: The terror attack on Westgate shopping mall was carried out by Al-Qaeda, not al-Shabaab, Kenya's foreign minister told Al Jazeera. 
First images emerging of hostages being freed at #Westgate. #WestgateAttackpic.twitter.com/ObxGbVtpnr

— Yassin Omar (@yassinomar) September 23, 2013
20:23 GMT: A Kenya government spokesman told AFP that the Nairobi mall siege is nearing an end, with special forces meeting no resistance from militants. All hostages are believed to have been evacuated, the spokesman added.

"We think that everyone, the hostages, have been evacuated but we don't want to take any chances," said government spokesman Manoah Esipisu. "The special forces are doing their job and yes, I think we are near the end."
18:40 GMT: UK's Secretary of Defence Philip Hammond has told Sky News that the confirmed number of Britons among the victims of the attack has risen to six - from four - and the death toll may not be final.

16:35 GMT: The White House has released a statement saying that it has no hard information about the involvement of US citizens in the Nairobi hostage-taking, but is nonetheless aware of Al-Shabaab attempting to recruit Americans. Earlier, American media reported that FBI is investigating several members of the Somali diaspora in the US in connection with the attack.

15:20 GMT: Kenya Defence Forces, which have been conducting the operation, say they have sealed off the building and are scanning the floors of the shopping center one by one.
KDF has dominated all floors of Westgate Mall building. Troops are now concentrating on clearing the building

— Kenya Defence Forces (@kdfinfo) September 23, 2013
They have also published an updated death and injury toll. 62 people are dead, as reported before, and 65 are still receiving treatment in hospital. 11 soldiers have been injured. More than 200 civilians have been rescued.

13:25 GMT: While the amount of hostages left inside has been described as "minimal" by officials, fire exchanges between the terrorists and security forces can still be heard, reports AP.
Shooting in the streets outside #Westgate , feels like possible endgame.

— Jason Straziuso (@jstraziuso) September 23, 2013
12:50 GMT: The Kenyan Red Cross has revised the number of deaths in the mall attack to 62, reducing the death toll by seven. The previous number was wrong due to double counts of some bodies as they were moved from morgue to morgue.
11:50 GMT: Two shopping mall attackers have been killed and others wounded by Kenyan troops, Interior Minister Joseph Lenku told journalists. Some of the Kenyan forces sustained injuries in the firefight. Four blasts were heard by reporters stationed outside.

The minister said all of the attackers were male, but some were wearing female clothes, which probably explained witness accounts, which said there were women among the terrorists.
He added that the plume of smoke rising over the mall comes from mattresses, which have been set alight by the gunmen as a decoy.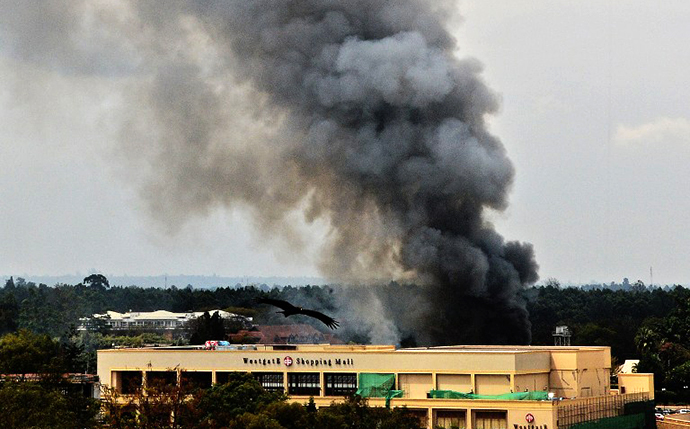 11:20 GMT: A suspected member of the terrorist group currently holding hostages in a Kenyan shopping mall was arrested in the Netherlands. Muhammed Hussein Ahmed, a 38-year-old Dutch citizen, was detained after he bought a plane ticket to Turkey, Dutch TV RTL reported.
11:11 GMT: Some of the hostages held by militants have been rescued in the latest twist of the rescue operation, AFP reports citing Kenyan police chief.
10:48 GMT:
Last assault met with explosives. Just what I predicted. Basement was cleared of attackers but not explosives. #WestgateAttack

— Robert A. (@RobertAlai) September 23, 2013
10:20 GMT: Heavy gunfire, explosions heard at the Kenyan shopping mall, witnesses report. Smoke is seen rising from the area. TV footage from the scene showed Kenyan troops running into the complex.
"It is us who caused the explosion, we are trying to get in through the roof," one security official, who asked not to be named, told Reuters at the scene.

Journalists and their cameras have been moved and no longer have a clear sight of the mall.

09:50 GMT:
Mother inside with a 9 week old kid. Hostages not being fed. No clear confirmation that the 9 week old kid has been killed. #WestgateAttack

— Robert A. (@RobertAlai) September 23, 2013
08:49 GMT: At least 69 people are confirmed to have been killed and 63 more recorded missing in the attack, Kenya Red Cross said Monday. The 63 recorded missing are thought to include both hostages still being held by Islamist militants, as well as those possibly killed in the three-day-long siege.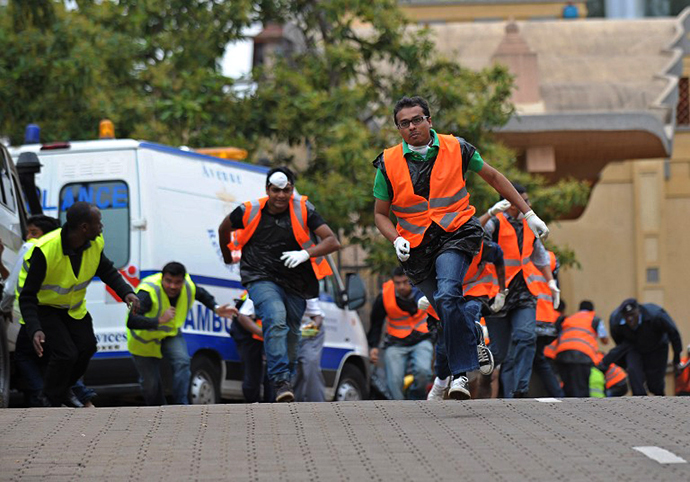 06:48 GMT: International Criminal Court proceedings for the trial of Kenya's deputy president have been put on a week's hold as a result of the hostage crisis, Reuters reports.

06: 38 GMT: Two blasts accompanied by brief gunfire were heard from inside the Nairobi mall, according to a Reuters witness.

The news comes as Israeli advisers are aiding Kenyan forces with developing a strategy to end the siege, after having earlier tried and failed to enter the building.

"Israelis and Kenyan forces have tried to enter Westgate (mall) by force but they could not, the mujahideen (fighters) will kill the hostages if the enemies use force," Sheikh Ali Mohamud Rage, Al-Shabaab spokesman said earlier in clip posted on the website www.somalimemo.net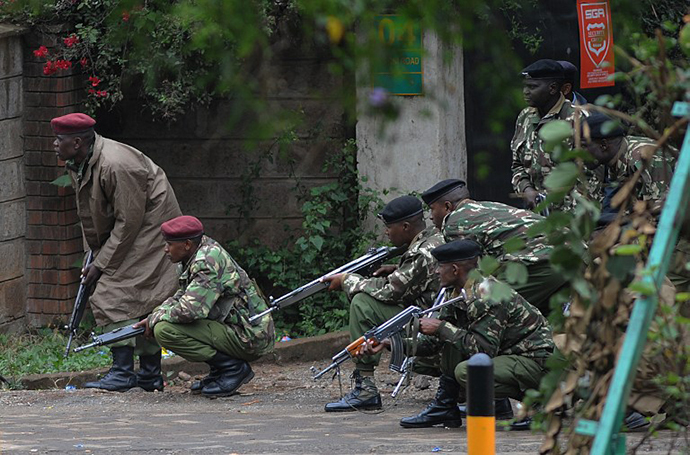 05:40 GMT: The militants have threatened to kill hostages as a result of the Kenyan troops moving in on their positions inside the mall, Al-Shabaab spokesman said, according to Naharnet.

05:38 GMT: As Reuters journalists reported bursts of rifle fire from inside the Westgate complex, there also appeared to be clashes taking place inside the building, according to Abbas Guled of the Kenyan Red Cross.

As day broke, following a quiet night, Reuters journalists near the upmarket Westgate complex heard bursts of rifle fire and muffled blasts. A Kenyan Red Cross official, Abbas Guled, said there appeared to be clashes inside the building.

03:20 GMT: There are reports of heavy gunfire being heard from inside the Westgate shopping mall, according to AFP. A security source told the news agency that an assault is underway.
Sunday, September 22

23:54 GMT: The shopping mall siege is not over yet, BBC quoted Kenya's military as saying. The military added that the top priority is getting the hostages out alive, which makes the operation very delicate.
22:57 GMT: US Secretary of State John Kerry said the attack demonstrates the "seriousness" of the threat posed by Somali militants. The US has increased its security in response to the attack by "ruthless and completely reckless terrorists."
22:54 GMT: The FBI has begun investigating whether Americans were involved in the Nairobi mall attack based on terrorists' tweets, sources told NBC News.
JUST IN: FBI is investigating whether Americans were involved in Nairobi mall attack, based on tweets from terrorists, sources tell NBC News

— NBC Nightly News (@nbcnightlynews) September 22, 2013
22:01 GMT: A Kenyan military spokesman confirmed that "around 10" hostages are still being held by militants inside the Nairobi mall. Also, AP cited the spokesperson as saying that most of the rescued hostages were adults. 
21:28 GMT: Among the dead is a 38-year-old Chinese woman. Her son was injured and is currently in hospital in a stable condition, the Chinese Embassy in Kenya said in a statement.

21:24 GMT: Australia's Department of Foreign Affairs and Trade stated that a dual Australian-UK national was killed in the shopping mall siege.
21:06 GMT: Kenyan military spokesperson Colonel Cyrus Oguna confirmed that "most of the hostages have been released, and the Kenya Defence Forces has taken control of most parts of the building" where at least 68 people were killed.
20:40 GMT: Four military personnel were injured during the latest rescue operation, Kenya Defence Forces stated.

20:37 GMT: Kenyan authorities have regained control of most of the mall and have rescued most of the hostages, Kenya Defence Forces tweeted. 
Most of the hostages have been rescued and security forces have taken control of most parts of the building

— Kenya Defence Forces (@kdfinfo) September 22, 2013
19:55 GMT: At least four American citizens were injured in the attack in Kenya, the US State Department said in a statement. The wife of a foreign service national working for the US Agency for International Development was killed, US officials said.

18:30 GMT:
Kenyans turned out in their 1,000s Sunday to donate blood for #WestgateAttack victims. Remarkable scenes in Nbi pic.twitter.com/1MzNlXXl8k

— Charles Onyango-Obbo (@cobbo3) September 22, 2013
18:15 GMT: The death toll in the Westgate mall siege has risen to 68 after nine more bodies were brought out from the building, Kenya's Red Cross said on its Twitter account.
17:50 GMT: One of the victims of the terrorist attack was Peruvian doctor Juan Jesús Ortiz, former deputy head of the Kenyan branch of the United Nations Children's Fund (UNICEF), Peru's Ministry of Foreign Affairs said in a statement. Ortiz's daughter was injured during the attack. The 63-year-old physician was a UNICEF consultant on issues of public health systems.

17:00 GMT: Kenyan troops have launched an assault on cornered Somali militants holding people hostage in the Westgate shopping mall.

"Godspeed to our guys in the Westgate building," Kenya's National Disaster Operation Centre said in a message on Twitter. "Major engagement ongoing."

16:55 GMT: US President Barack Obama called Kenya's President Uhuru Kenyatta to say that the US will support Kenya's efforts to bring the perpetrators of the shopping mall attack to justice.

16:30 GMT:
MILITARY SOURCE: Operation is ongoing and we hope that this will end tonight. #WestgateAttack

— Robert A. (@RobertAlai) September 22, 2013
16:00 GMT: Former Kenyan Prime Minister, Raila Odinga, said that the militants had established contact with the country's authorities. He did not mention the attackers' demands.
Beside Kenyans, among the victims of the attack are also citizens of France, the UK, Canada, China, South Korea and India and a prominent African poet from Ghana, Kofi Awoonor.

15:47 GMT:'A big blast''occurred at the Westgate shopping mall, AP's correspondent Jason Straziuso reported on his Twitter account. He added that the cause of the explosion was unknown.

15:30 GMT: Russia's President Vladimir Putin has sent a telegram of condolence to Kenya's President Uhuru Kenyatta, saying Russia strongly condemns this act of terrorism, the Kremlin's press-service reported.

15:14 GMT: Security forces have "a good chance" of neutralizing the attackers at the shopping mall, said Kenya's president Uhuru Kenyatta.

"The criminals are now located in one place within the building. With the professionals on site, I assure Kenyans that we have as good a chance to successfully neutralize the terrorists as we can hope for," he told reporters.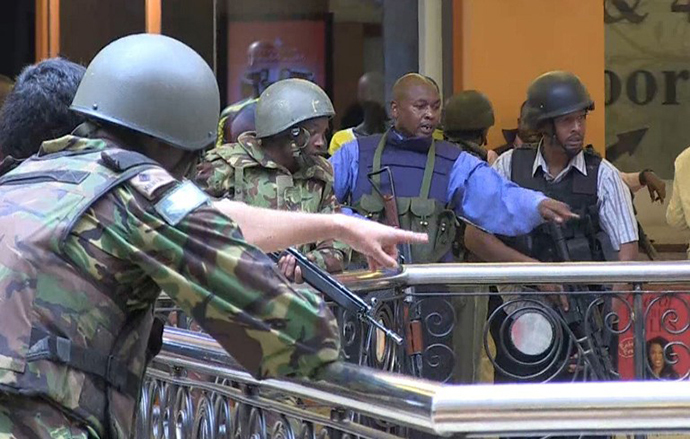 Kenyatta also said his nephew and the nephew's fiancée were among the 59 confirmed killed.
"Soon we will severely punish the organizers," the President said. "They have to pay for their unworthy and brutal actions."

The government also received reports of both male and female attackers, consistent with accounts given by witnesses who said they saw women involved.

15:04 GMT:

Army helicopter close to #WestgateMall just visible in background. First time so close since Sat attack. pic.twitter.com/WzPBoPRTj3

— Jason Straziuso (@jstraziuso) September 22, 2013
15:00 GMT: Britain's Foreign Ministry confirmed on Sunday that three Britons were among the dead. Meanwhile, earlier two French citizens were confirmed dead in the attack, France's presidential office stated. Also, two Canadians have been killed, including one diplomat, according to Canadian Prime Minister, Stephen Harper.

14:00 GMT:
Another big volley of gunfire from inside #WestgateMall just now.

— Jason Straziuso (@jstraziuso) September 22, 2013
13:00 GMT: Nairobi Hospital is reporting that the facility has run out of blood bags, although the number of willing donors remains high, Kenya's Ministry of Interior posted on its Twitter account.

You can share this story on social media: