Kazan Boeing-737 crash: 'Normal' pilot-to-ground control conversation before nosedive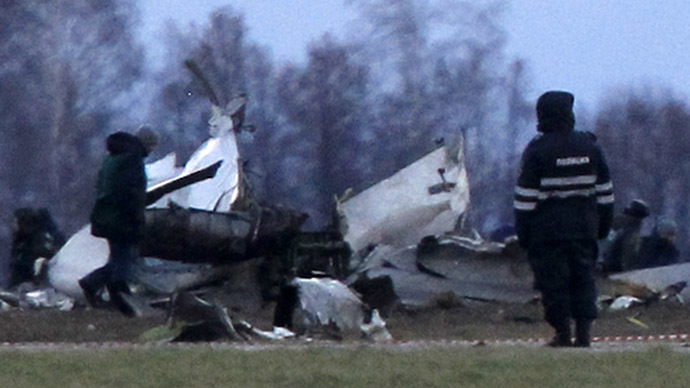 The conversation between pilots of the Boeing-737 that crashed at Kazan airport and air traffic controllers did not indicate any emergency, Russia's Investigation Committee has said in its probe into the crash, which claimed 50 lives.
"The pilot's last word was a go-around, which he said after ground control ordered him to gain altitude of 500 meters," Investigative Committee spokesman Vladimir Markin said of the Nov. 17 crash, in which all 44 passengers and six crewmembers died. He added that the pilots' conversation with air traffic controllers was "normal" until the crew reported that they were on the wrong approach for the runway.

Investigators are continuing their examination of the tapes from surveillance cameras and recordings of the crew's communications with the control tower.

On Wednesday, crash investigators found a recording of cockpit conversations from the plane and sent it to Moscow for analysis. The voice recording was missing when its container was found Nov. 18, the day after the crash.

On Tuesday, investigators retrieved data from one of the plane's the flight recorders, or black boxes.

Russia's Interstate Aviation Committee concluded that the crew lost speed in a steep climb, then overcompensated and sent the plane into a near-vertical dive.

Both of the plane's pilots put the engines on maximum power, raising its nose up at a sharp angle. This led to a quick loss of speed, and the plane stalled.

In 45 seconds, the plane rose to a height of 700 meters, and then plummeted to the ground at a speed of more than 450 kilometers an hour. The nosedive came just 20 seconds or so after pilots reported that they were attempting a go-around.

Investigators believe these final maneuvers were carried out manually by the pilots, as one of the plane's two autopilots was switched off.

Records showed that the aircraft's engines and other systems were working fine until the moment the plane hit the ground, the Aviation Committee said, drawing the conclusion that the pilots' maneuvers, not the engines, were likely at fault.

Among the victims on the Tatarstan Airlines Boeing-737 were Irek Minnikhanov, son of Tatarstan President Rustam Minnikhanov, and the head of the regional branch of the Federal Security Service. A British woman, 53-year-old Donna Bull, a teacher in Cambridge, was also among the dead.

MPs in Russia's State Duma have submitted a bill calling for a ban on the use of civilian aircraft older than 20 years for the transportation of passengers, cargo or mail delivery, or other aviation services.

You can share this story on social media: