Karzai wants US to halt operations on civilians as condition for security deal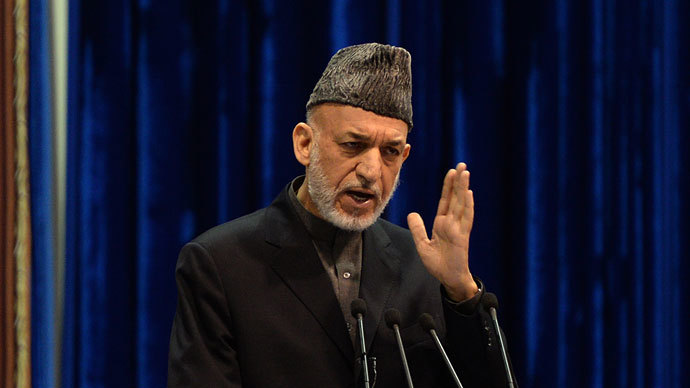 Afghan President Hamid Karzai is calling for the United States to cease all military operations on civilian homes and show a clear dedication to the peace process before a security pact is signed, his spokesman said Tuesday.
Karzai set the conditions in a meeting with US National Security Advisor Susan Rice, the US envoy to the region and the NATO commander in Afghanistan, Reuters reported. "President Karzai outlined new conditions for signing the agreement and indicated he is not prepared to sign the BSA promptly," the White House said.
The conditions included returning Afghan citizens from the US detention center at Guantanamo Bay as clear step in launching the peace process ahead of the scheduled exit of most US and NATO forces beyond 2014. 
Karzai's new conditions for a Bilateral Security Agreement (BSA) come after he rejected the endorsement of the BSA by an assembly of Afghan elders on Sunday. The Loya Jirga (grand assembly) recommended Karzai sign the agreement that would allow US troops to stay in country beyond 2014. 
Karzai said he would not sign an agreement until after the April presidential election - in which he is not running - because, he says, there should be peace before a deal is signed.

"If there is no peace then this agreement will bring misfortune to Afghanistan," Karzai said in an address to the Loya Jirga. "Peace is our precondition. America should bring us peace and then we will sign it."

Rice told Karzai it was "not viable" to defer a deal until after the election, according to the White House, echoing earlier sentiments from Obama administration officials.

"It would not provide the United States and NATO allies the clarity necessary to plan for a potential post-2014 military presence," she said.

Rice was in Afghanistan meeting with US soldiers when Karzai requested a meeting with her in Kabul.

"Without a prompt signature, the US. would have no choice but to initiate planning for a post-2014 future in which there would be no U.S. or NATO troop presence in Afghanistan," she said during the meeting.