Deadly warning? Blast hits near site of Kabul's key talks on US-Afghan security pact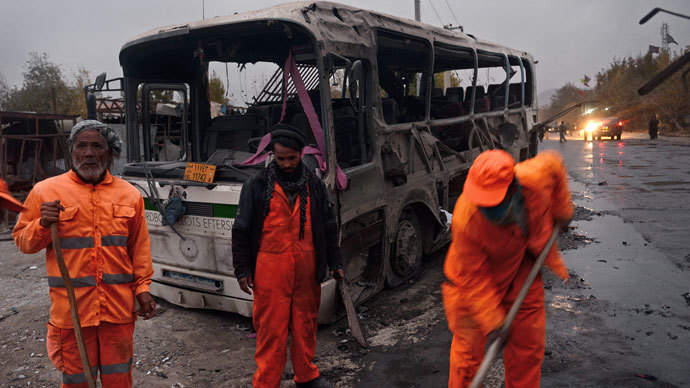 A powerful car bomb has gone off causing casualties in Afghanistan's capital, Kabul, near the site where around 2,500 prominent Afghan elders will gather next week to debate a contentious security pact with the United States.
At least six people have been killed and more than 20 injured in the attack on Saturday, according to the Afghan Interior Ministry.
The explosion occurred at around 3 pm local time (1030 GMT) in the western part of Kabul,  just about 100 meters from a large tent where Afghan tribal elders and civil leaders will get together on Thursday for a national assembly known as Loya Jirga.
The suicide bomber rammed his car into an Afghan army vehicle, which was providing security for the site of the assembly, Reuters reported citing a defense ministry spokesperson.
Police said the area was "packed with civilians". 
Just after "a big bang" near the Jirga compound there were ambulances "carrying people in blood," at least three of the injured were wearing army uniforms, a witness said, as cited by AFP.
The Afghan Interior Ministry said that security forces had identified the attacker and pursued him shortly before the explosion. "He detonated himself after police opened fire on his vehicle," the ministry said in a statement.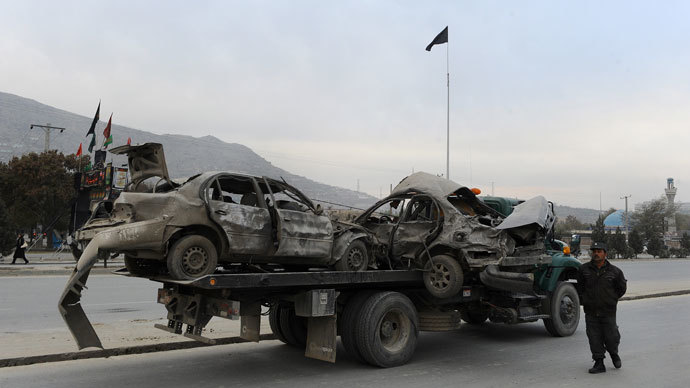 So far, no one has admitted to being behind the attack.
Hours before the bombing, Afghanistan's President Hamid Karzai and American negotiators finally finished a draft of the Bilateral Security Agreement (BSA), AP reported. The pact will allow American troops to remain in Afghanistan, after most of the NATO troops withdraw from the country at the end of 2014. The document will also determine how many American soldiers and bases can stay on Afghan soil.
However, Kabul said that before signing, the document must be approved by the Loya Jirga. Karzai called on the Taliban and their allies on Saturday to join the national assembly on November 21 to decide whether to accept the draft BSA.
"We invite them, please come to this national jirga of Afghanistan, raise your voice, raise your objection... and share your views," Karzai told reporters in Kabul. 
You can share this story on social media: