Multiple suicide bombers, gunmen attack Afghan traffic police HQ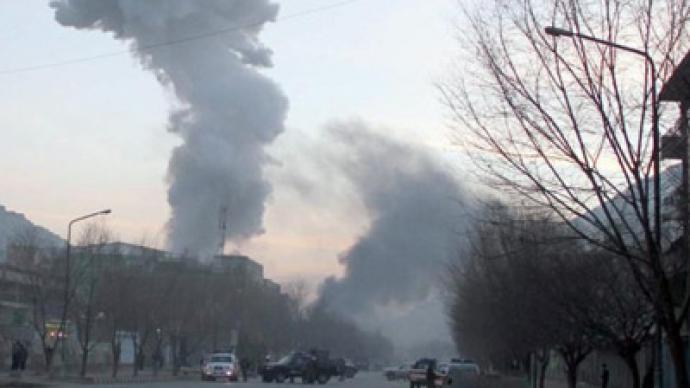 A suicide bomber has blown up a car near an Afghan government building in western Kabul. Explosions and hours of heavy gunfire between police and militants followed, as at least three more attackers wearing suicide vests entered the facility.
"Three terrorists have been killed, two others are holed up in a room, they may blow themselves up any minute,"  Deputy Interior Minister General Abdul Rahman told Reuters. The assault also left three traffic police dead, and four others wounded.The attack is reportedly still ongoing in the three-story building, with the sound of gunfire and explosions coming from the facility.The attackers targeted the traffic police headquarters in the Deh Mazang district of the city, TOLOnews TV producer Abdul Wali Siddiqui wrote on Twitter.Afghan police have confirmed at least two explosions in and around the facility, AP reported. The initial blast was "very big, massive," a witness told AFP. "There are firefighter trucks, ambulances and police all over the place. The gunfire comes from that direction and the building's top floors are on fire."Taliban spokesperson Zabiullah Mujahid claimed responsibility for the attack."It's very clear the more and more the Afghan security sources are getting into the lead, the more they are targeted by the insurgents,"  Brigadier General Gunter Katz, a spokesperson for the NATO-led International Security Assistance Force (ISAF), pointed out to Reuters.It is a second suicide bombing in less than a week targeting Afghani law enforcements headquarters in the capital. Last Wednesday, a suicide bombing attack on the headquarters of the Afghan intelligence service and Interior Ministry was followed by a nearly half an hour long gun battle.
You can share this story on social media: