Scarlett Johansson ad becomes online meme for Israeli-Palestinian conflict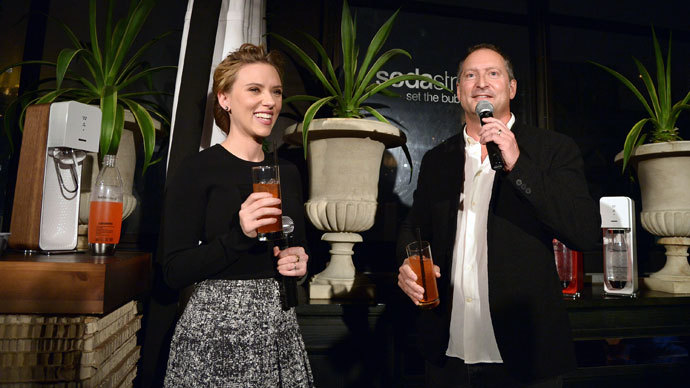 The web has been flooded with images featuring Scarlett Johansson Photoshopped into some grim pictures of West Bank territories. A major political meme these days has been inspired by the actress's cooperation with an Israel-based company.
The images appeared following announcements of Johansson becoming brand ambassador for SodaStream, a firm which operates a factory in an Israeli settlement in the occupied West Bank.

Pro-Palestinian activists have always rejected any idea of Israeli enterprises operating on the land they want back. They have thus blasted the Hollywood celebrity for her deal with SodaStream. Much of the indignation spilled out into the web in the form of reworked images of the company's ads.
Scarlett Johansson enjoys a refreshment in the employee lounge at #SodaStream's West Bank factory: pic.twitter.com/FRDns5ZwjL

— Abe Greenhouse (@grinhoyz) January 26, 2014
#ScarlettJohansson's #SodaStream Endorsement Deal Conflicts w/ Charity Work http://t.co/cY4rxILPuv@nytimes@Oxfampic.twitter.com/QUwmXQoDuR

— Maie ⭐ (@Maie_AD) January 26, 2014

Johansson also came under fire from the poverty-fighting international humanitarian group Oxfam, she has been ambassador for since 2005.

"Oxfam respects the independence of our ambassadors," the group's official statement reads. "However Oxfam believes that businesses that operate in settlements further the ongoing poverty and denial of rights of the Palestinian communities that we work to support. Oxfam is opposed to all trade from Israeli settlements, which are illegal under international law."
Scarlett Johansson "This #Sodastream is going to look so great in my kitchen" @Oxfamhttp://t.co/cH7FNkT12d#BDSpic.twitter.com/L9UClkEhD3

— Stephanie Westbrook (@stephinrome) January 25, 2014
Scarlett Johansson talks of equal rights...under occupation?! @Oxfamhttp://t.co/H6Zu2OWL5H#BDS#NoScarJopic.twitter.com/IWpMhBIiks

— Stephanie Westbrook (@stephinrome) January 25, 2014
The actress has however defended her controversial contract with SodaStream.

"I remain a supporter of economic cooperation and social interaction between a democratic Israel and Palestine," she said in a statement published by the Huffington Post. "SodaStream is a company that is not only committed to the environment, but to building a bridge to peace between Israel and Palestine, supporting neighbors working alongside each other, receiving equal pay, equal benefits and equal rights. That is what is happening in their Ma'ale Adumim factory every working day."

Despite Johansson also praising Oxfam, the group reacted by saying it was "considering the implications of her new statement and what it means for Ms. Johansson's role as an Oxfam global ambassador."

SodaStream employs 550 Palestinians at its West Bank factory and echoes Johansson's statement by saying they work on equal terms with their Israeli co-workers.
You can share this story on social media: