'Jedi' most popular alternative faith in UK – Census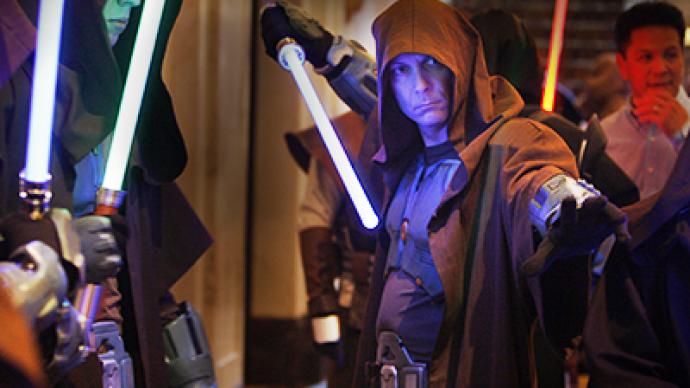 'Jedi' is now the most popular faith in the 'Other Religions' category in England and Wales. Those identifying with the Star Wars creed outnumber atheists, taking seventh place among all the major world religions, the 2011 census revealed.
2011 census- Census was held on Sunday 27 March 2011.- It is based on data from 26 million households.- Census is held every ten years since 1801.- In England and Wales it is carried out by the Office for National Statistics
The number of Jedi Knights have in fact nearly halved in the last decade, declining from 390,127 followers in 2001 to 176,632 in 2011. Despite the drop in numbers ,'Jedi' still remains the top alternative faith and ranks seventh overall after Christianity, Islam, Hinduism, Sikhism, Judaism and Buddhism.Adherents to "the Force" represents 0.31% of all people in England and Wales.Another big shift revealed by the 2011 census is that people are moving away from religion all-together. 13.8 million of respondents refused to identify with any faith at all, selecting the "No religion" box and 29,267 said they were atheists. Also, the census showed that 6,242 people subscribe to the Heavy Metal religion, which was set up in 2010 by the Metal Hammer magazine.The eastern city of Norwich is the epicenter of the non-religious population, with just over 40% of residents choosing not to identify with any religion. As well, the city has the highest percentage ofHeavy Metal acolytes and third highest concentration of Jedi Knights. Overall, more than 4 million decided not to state any religion at all. Other non-mainstream faiths included: 56,620 Pagans, 39,061 Spiritualists, 2,418 Scientologists and 20,288 Jainists (an Indian religion that teaches non-violence towards all living beings). The census figures also showed that Britain has become more diverse, with 86 percent of residents in England and Wales identifying themselves as white, down from 91.3 percent in 2001. London is the most cosmopolitan city in the UK, with 45.8 percent of residents classifying themselves as "white British." Also, 37 percent of the capital's residents were born abroad and 24 percent are not UK citizens.
You can share this story on social media: